Freekbass talks: "Readers - don't sell your first bass"
Introduction
Chris 'Freekbass' Sherman is a man on a mission - to bring bass to the world. Are we going to help him along the way? Of course we are! Listen up as the great man talks the low notes.
"Funk bass, to me, is having a strong respect for the space, and playing with the silence as much as playing with the note. You're creating a beat with notes and gliding on that hypnosis that the funk creates."
These are the words of the great Freekbass, whose bass skills make him the best-known low-end purveyor ever to come out of Cincinnati, Ohio - apart from Bootsy Collins, that is, who comes into Freek's story in a rather crucial way, as you'll see.
A rising star for the last decade or so and a man whose performances at two London Bass Guitar Shows to date have left audiences speechless thanks to his fleet-fingered funkiness, Freek has earned his spot on our cover several times over.
We sat down with him shortly after he announced a new signature bass from New Zealand's Stonefield luthiers, keen to find out what makes the Freek tick. Read on and learn...
Is bass a full-time occupation for you, Freek?
"This is it! I tour all the time, I record and teach when I'm at home or online through TrueFire. I have a student in Germany, I had one in South Korea - it's really nice because I can meet people on the road who don't live in Cincinnati and can still take lessons."
Have you ever done anything else, career-wise?
"No - I've always been a bass player. I don't know how to do anything else, ha ha!"
Tell us how growing up in Cincinnati affected you as a musician.
"Cincinnati really has its own sound. In the 1950s King Records started here, where James Brown did a huge chunk of his hit songs, and it's where Bootsy Collins got hooked up with James - because he's from here too. He was in exactly the right place at the right time.
"In the late 70s we had the Ohio Players from Dayton, which is 40 miles up the road, and in the 80s there was Midnight Star and then the Deele, which was [R&B singer] Babyface's band. So there's always been a huge funk thing from this city, no matter which part of it you're from. When I was a kid a lot of my friends were listening to Green Day and Nirvana, but I got into funk because I was listening to Dr Dre and Zapp."
How did you get into bass?
"My parents bought me an acoustic guitar when I was around seven years old, although the strings were a mile off the neck and it made my fingers hurt. Then I played drums as my first real instrument, and when I was 12 I got my first bass.
"I remember when I was in fifth or sixth grade, a jazz band was playing at my school and I was sitting right in front of the bass player. I remember it like it was yesterday - the guy had an SG bass, and the tones that came out of it just drew me to it. I played the guitar, and I still do, but there was something about guitar which felt delicate, like if I played it too hard it would break."
So bass was your destiny, so to speak?
"You read so many articles about musicians who became bass players by default: like, 'Everyone was playing the guitar in the band so I had to choose bass'. I genuinely chose the bass: it wasn't a second or third choice for me. I don't want to sound cheesy, but it was a real 'Luke Skywalker discovering the lightsaber' moment! It felt as if I was called to the bass: it felt like my instrument, one that was speaking to me and that would be my voice."
What was your first bass?
"My first bass was a Fender Musicmaster, the short-scale one. I'm so mad that I don't have it any more. It went when I was at the age when I was selling one thing to get another. You remember how the case smelled when you lifted up the lid? I remember that certain Fender smell. Readers - don't sell your first bass. Even if you never play it again, in later life you'll wish you still had it."
Did you study the instrument?
"I had some lessons at a local music store, but not many, because I started playing in a band pretty quickly, probably before I should have. There's a local rock radio station over here called WEBN that used to have classified ads on at seven o'clock every night, and I remember I heard that there was a 12-year-old guitar player looking for a bass player of the same age to form a band. So I thought 'It's me!' and phoned this guy up, who had a blues band. They had been playing a few years, but I'd only had my bass a few months."
How did it go?
"I went to the rehearsal and I was so lost, but they stuck with me for some reason - I'm not sure why! - and I spent a whole week playing bass for 20 hours a day. After that first rehearsal, I thought 'I'm not going to the next rehearsal without being prepared', so it was a blessing in disguise because it forced me to study. At the rehearsal the following week, I was fine - or at least good enough to get by, even though we were doing some Weather Report stuff, including Birdland, which is pretty deep for a kid."
That's tough stuff for a beginner.
"Definitely. Later I went through my Jaco phase, like every kid does - 'I'm gonna be the next Jaco!' and so on - and then I got heavily into Rush. I worked all through the summer of eighth grade at a music store so that I could buy a black Rickenbacker 4001, having sold the Musicmaster to get the down payment for it."
Did you get your Geddy Lee chops down?
"To an extent! I was playing in a band called something cheesy like Fountain Of Youth, and we played a big venue here in Cincinnati called Bogart's, a 1500-seater place. We played a bunch of Rush tunes, and while a lot of people play YYZ, we played La Villa Strangiato. I worked on that 10-second bass solo for a good 15 hours a day until I got it down."
What was it about Geddy's playing that appealed to you?
"First off, his tone. It jumps out at you, and the fact they recorded all their music live, which appealed to me as a listener. I saw Geddy playing with Yes at the Rock And Roll Hall Of Fame online recently, and of course it was amazing - and I saw Rush about four years ago for the first time since I was a kid, and I got to meet the guys. We talked for a little bit about the music business. It was really nice."
The next stage
So when did you start slapping?
"The owner of the music store where I worked used to leave me in charge, and I'd obviously be bored, so I'd play a million instruments all day. One day, a guy from a local funk band came in and sat down and started slapping and popping on bass, and of course my eyes got as big as saucers because I'd never heard this before. I said 'How are you doing that?' and he showed me a few Larry Graham licks every time he came in.
"He told me to go get some Cameo CDs, so I did, and I learned a lot from those, because those bass parts were mixed high and looped over and over again. He kept coming in and teaching me stuff, and that's how I got into it. I wish I could remember his name - I'd love to call him up and thank him!"
When did you turn pro?
"The blues band that I mentioned earlier actually did paid gigs, even though we were only 12 years old. I was playing clubs for a few years with them, and then I went to the School Of Performing Arts here in Cincinnati - you're familiar with the other School Of Performing Arts in New York from the Fame series, I'm sure.
"I studied music theory five days a week, and I had a composing class and played upright bass in a jazz band. It was a truly amazing place. I was actually planning to go to college and become a classical upright bassist."
So what happened?
"When I graduated I got a bunch of money and was going to spend it on an upright bass, but a buddy and I decided to go to LA and form a band instead. We started recording and ended up playing rock, funk, dance band kind of stuff, and that's when my career took a radical left turn. I started playing clubs and it went from there. I was in a band called Shag, which was my first funk band - a big 10-piece band with horns and the whole nine yards, and we had a pretty good buzz around Cincinnati and we started touring nationally. We opened up for Outkast in New York when they were just getting big, which was pretty neat."
How did you get your stage name?
"A guy named Gary 'Mudbone' Cooper was Bootsy Collins' singer back in the day, and had his own band, Sly Fox, in the 80s. They had a hit called Let's Go All The Way, which I later did a version of. Gary was looking to reform Sly Fox and wanted to find musicians to demo songs with, and I was just starting to make a name for myself in this area, so he contacted me and we did some demos together.
"I just thought Gary was in Sly Fox, but it turned out that he was in the whole Parliament-Funkadelic circle too, so one day he asked me to play bass on a Jimi Hendrix-themed album for a Japanese label. Bootsy was producing it, and Gary told me that we were going to go over to Bootsy's place to record it, and my head pretty much started spinning, like we were in a cartoon! I was tripping about that all day."
How did you get on with Bootsy?
"Me and Boot hit it off straight away. I remember him opening the door - he looked about 20 feet tall. When we were recording, he said to me, 'Hey, you got that freaky bass thing going, man!' and the next session he started calling me Freekbass - and so did everybody else. That's how it stuck."
What happened next?
"A couple of weeks later he asked me if I wanted to write some songs with him, and of course I said yes. I went over there and he taught me how to record and sample, and gave me a bunch of lessons about the industry and life philosophy. He really gave me the keys to so many doors by introducing me to people.
"For example, I was recording an album and Bootsy asked me if I wanted [late, legendary P-Funk organist] Bernie Worrell to lay down some keyboards. I said 'Sure!' and Bernie came and stayed at my house and we wrote songs. It was amazing. Just as Bootsy happened to be at the right place at the right time to join James Brown's band, I was in the right place for Bootsy to help me. He really took me under his wing. It was very special."
What basses have you played over the years?
"After the Rickenbacker 4001, I had a BC Rich Mockingbird for a short time, thanks to Tiran Porter from the Doobie Brothers, who I was a huge fan of. That's another bass that I ended up selling, like an idiot. Then I'd go between Fenders and crazy boutique basses. When I was with Shag I played MDX basses, which were these crazy custom things made in the shape of the band's symbol."
Mostly, you've played Fenders - correct?
"I love Fender Jazz basses - I have a 1975 Jazz that I play quite a bit, and I've just found a '72 that I told Geddy Lee about when I met him. I can't wait to pick it up. You know what those basses are like: you can throw them off a roof and the neck will still be perfect. I was into active electronics when I was younger, but now I like everything to be passive. With all the effects that I use, an active bass would get a little bitey. Passive pickups give me a much rounder tone."
Signature model
Tell us about your signature Stonefield.
"I love that bass to death: it feels like home every time I play it. I met Tomm Stanley from Stonefield at the London Bass Guitar Show in 2016, and what initially caught my eye when I walked past their stand was the floating bridge that the basses have.
"I kept looking at it and thinking 'What the hell is that? That looks like a bridge from an upright bass or a cello'. After I'd walked past about four times, Tomm grabbed me and said 'Freekbass, are you gonna come over here and play this thing or what?' So I did, and I loved it."
What do you particularly like about it?
"Obviously the tone is great, but the neck has a thickness to it that is really meaty. I play really hard and heavy, which is why I don't play five-strings because I need the spacings of four-string basses, and Stonefields have a really nice, full, wide string spacing that felt so comfortable. Tomm and I exchanged details and he approached me about being an endorser. Not long after that he said 'Why don't we do a signature model for you?' and I said I thought that sounded wonderful."
What spec does it have?
"One essential feature is the Funk Plate, which sits under the strings between the neck and the pickup. The action is perfect on the bass, but the distance between the strings and that point on the body was a little higher than I wanted, so Tomm created this ramp for that purpose. It really matches the space that a Jazz bass has there and it's really useful for double thumbing. If you have too much height there, it almost feels as though you get under the strings too much."
What else is in the bass rack?
"I've also got an Anaconda Jazz and another Jazz made by the Bass Centre in London, again because I met those guys at the London Bass Guitar Show. I really liked the Status which Chris Wolstenholme of Muse plays, too - I spent a lot of time at the Status stand at the LBGS. One day I hope to get one of those."
What other gear do you use?
"I've been with D'Addario and Eden for the last few years. I love their stuff and I'm really excited to be with them. For pedals, I've been using a lot of Jim Dunlop: their stuff is great, especially their fi lter pedals. A lot of filters will suck your low end out, but not Dunlops, because they're designed for bass. Pigtronix make great effects, too. For me, pedals are the same as tattoos are for some people: you can't get enough of them!"
So what's next for you?
"Freekbass has been hiding in the shadows for a little too long, and it's time for the world to hear a bit more of me. You guys are obviously a big part of that, and I appreciate it. I have a new manager, who also manages Living Colour, and 2017 is going to be very exciting for me. I'm looking forward to seeing your readers on tour!"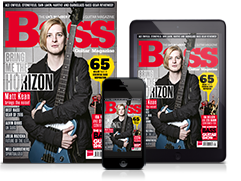 We're the UK's only print publication devoted to bass guitar.
Subscribe for star interviews, essential gear reviews and killer tuition!