Doug Rappoport on tonal secrets, gear and the epidemic of poor rhythm
Introduction
Last year, we paid a visit to Norway's Notodden Blues Festival where we enjoyed the company of Supersonic Blues Machine, a band whose nucleus comprises Texas-born blueser Lance Lopez, drummer Kenny Aronoff and bassist Fabrizio Grossi.
The band's debut album, West Of Flushing, South Of Frisco, attracted a host of blues superstars as guests, including Billy Gibbons, Robben Ford, Warren Haynes, Eric Gales and Walter Trout.
Describing themselves as "not just a band… a comradeship, a melting pot of ideas", the Supersonics took to the stage in Norway for a set of the most intense blues 'n' boogie our ears had ever witnessed.
On the side of the stage that night stood Doug Rappoport, a fiery player, whose style is difficult to define. He's had a dalliance with the shred fraternity and delivered albums that blend hard rock with a blues-infused panache and astonishing sensitivity. We asked him to define himself as a guitarist:
"God, man, I don't know… Probably either a hard-rock blues player or a heavy-blues rock player," was his reply. We asked him how he came to be a part of The Machine…
"Through Lance. He sent me a text, which read: 'Hey, man - do you want to join my new band, Supersonic Blues Machine?' and I said, 'Yeah.' They had a gig coming up in two weeks and they needed another guitar player. Fabrizio was going to call a bunch of guys and Lance said, 'Let's just get Doug.' So they brought me onboard sight unseen and that was it."
Gigs and guitars
What's your regular gig?
"I've been touring with Edgar Winter for about 14 years. That's been my main gig, as well as being a session player - as much as you can do sessions any more. I was an instructor at GIT for a couple of years, that was a neat experience. So teaching, sessions, touring with Edgar and I've also toured with a lot of classic rock guys such as Rick Derringer, Pat Travers, Kim Simmonds from Savoy Brown and Pete Rivera from Rare Earth.
"I just sort of came on the scene right when it was ending. I came from the shredder guys, but arrived on the scene when it had already died and gone, so I found myself in the grunge. It's just steadily been getting more and more over as the years go by.
"It's very expensive; if you want to go and see some guy play at The Baked Potato, you're going to pay 20 bucks parking and you've got a two-drink minimum and each drink is like eight bucks and then the tickets are 20 bucks and so, to go out and see somebody is $50, $60, $70. Nobody wants to do that any more."
What pushes buttons for you on guitar these days?
"I think the thing that always wins me over, whether it's shredding or non-shredding, would be intensity. I like ferocity. That could be Pete Townshend hitting one chord and shaking his guitar. I'll take that over the most amazing shred any day, even though I love shred. I love Eric Gales, I'm a huge Eric Gales fan because he's so intense and he packs emotion into everything he does."
What sort of gear are you using, currently?
"My number one guitar is a Knaggs. I was a Les Paul/SG player for years. I swear by Les Pauls, I just love them. I met this guy who said, 'I'm going to get you off Gibson,' and I said, 'No, it's just never going to happen,' and he'd arrange for some guitars to be sent to me. So I'd play them and send them back and then he sent me a Knaggs and I picked it up and it really kinda knocked my socks off and that's what I use now."
What do you like to run the Knaggs into in terms of amplification?
"My favourite amp right now is a Friedman Steve Stevens Signature. I've also just got this new amp called Purple Nightmare, which is made by Driftwood. They're German guys and they just do made-toorder and a lot of the metal guys are now using it - metal and djent - and it does everything from hard rock all the way to the über drop-tuned heavy mega stuff."
How do you keep enough dynamics in a hot sound from an amp?
"Lower output pickups: I started using those since I got the Knaggs. It allows for more dynamic range and, if they're good pickups and they're potted, you can actually put a lot of distortion on them, but they clean up beautifully."
Get rhythm
Do you use pedals or do you go straight into the amp?
"I like pedals. I'm exploring that more these days. I've always been a right-into-the-amp kinda guy and then when I was at GIT, I got to hang out with Scott Henderson and Scott started getting into pedals a lot and he was telling me about how it adds a lot more low end and all that stuff and so since then I've been exploring that a little bit.
"Seymour Duncan's got some pedals that are quite good. He's got an 805 [overdrive], which I really like, and he's also got a pedal called the Vise Grip, which is a compressor that sounds really great clean and it also does magical stuff to overdrive."
How do you set up your compressor?
"I couldn't tell you specifically, I just sort of mess with the knobs and think, 'Well, that sounds great,' but I'm not really sure what it's doing. It doesn't have names like Ratio or Threshold, it's got Attack, Sustain… other names. I'm not sure what they do, really."
Changing tack and talking about your teaching experience, what are the main things students overlook these days?
"In my experience, there's a lack of understanding of rhythm. In fact, at GIT, when people come to get their degrees, they have little subjects that are different from their main subject and I would go to meetings and say, 'These kids need to take drum lessons, they need to learn to keep time, learn how to subdivide beats…' It's amazing how little they know about that."
What's a good exercise to get students in the rhythm zone?
"Depending on their experience, I go as basic as clapping. I will actually physically write out on the board or a piece of paper 'One, two, three, four,' and then I'll do eighth notes and subdivide them - put a plus sign right between 'one' and 'two', 'two' and 'three' and 'three' and 'four' and have them clap it out. Then I'll do the same thing with triplets and then 16ths.
"When we get to the 16ths, I'll say, 'One-e-and-uh, Two-eand- uh, Three-e-and-uh, Four-e-and-uh' and I'll circle random sub-beats and have them tap their foot, count out loud and clap those rhythms over and over again. And then I get them to stop counting and I tell them, 'You know what you're doing now? It's called a groove - now you're grooving!'
"Then I get them to move freely through quarter notes, eighth notes, triplets and 16ths all within the same tempo so they can master some rhythm. That's all it is. Nuno Bettencourt is a great rhythmic player; he is like a drummer.
"If you listen to the way he plays the stuff he does, it's amazing. But what I really love are guys like Eric Gales - and I like to do it myself - where they almost release themselves from time and somehow they find the end of the phrase and they land on the 'one' perfectly. In order to be that good, to be that free with time, you have to be really good at playing in time."
Hand tone and Tosin
Do you think that simplicity is often overlooked in lead playing? For example, where some players aim to fire off a stream of 16th notes when something far more basic would do a better job?
"Partly. I think what's overlooked are the subtleties. It's okay to play fewer notes or whatever, but what I'm seeing missing from players these days is hand tone and picking tone.
"I think that's because kids are learning 'paint by numbers' - that is they go on YouTube and have someone show them where to put their fingers. Whereas my generation learned from our little cassette tapes and records and you had to sit there and rewind it over and over.
"Then you find yourself wiggling the string like Eddie Van Halen did or getting it to squeal the way he did and these are things you get from hours of doing that, figuring it out on your own and it sorta seeps into your playing. I think it's something you have to feel. I think naturally, when you're young and you're starting out, you're more dazzled by the technique. Then, when you get older, you start to enjoy the other nuances."
Who is around at present who you think is moving the instrument forward?
"I'm a big Eric Gales fan, and I've seen some other guys. Daniele Gottardo, he's an Italian guy, who does a lot of the two-handed stuff - I call them piano players and it really does nothing for me. But he's got great tone and he's dazzling with the two-hand arpeggio stuff. He's so musical, the way he does it, he actually makes music and he digs deep.
"I like Tosin Abasi [from Animals As Leaders]. That stuff he does with his thumb is just fantastic. Warren DeMartini is my big hero and all praise to Edward Van Halen, he's like a god to me. I like the stuff the young metal guys are doing, the djent guys - I think they come up with fantastic rhythms and really creative lines and wide intervals. Really impressive; I like the direction it's going."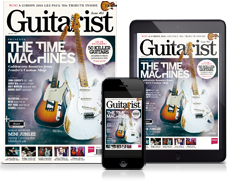 The magazine for serious players
Subscribe and save today!