Danny Worsnop talks starting his own acoustic guitar company, vintage Martins and going country
Introduction
He's used to penning metal anthems with Asking Alexandria and We Are Harlot, but now you'll find Danny Worsnop's records filed in the 'outlaw country' section. In this candid interview, he talks to us about launching his own acoustic guitar brand and battling his inner demons...
When it comes to on and off stage debauchery, the genre that leaps to mind is rock 'n' roll. However, everyone seems to forget that country musicians were chucking radios out of hotel rooms years before Elvis was even inaugurated as king.
With that in mind, it makes sense to see vocalist/hell-raiser Danny Worsnop of Asking Alexandria and We Are Harlot trading skull-piercing metal for whiskey-swigging outlaw country.
Attitude is something that Worsnop has in spades, but country music demands a true heart and soul that cannot be falsified. Considering Worsnop's battles with his inner demons, it was only a matter of time before he picked up a guitar and wrote down his struggles, pains and desires. The result is The Long Road Home, Worsnop's first solo project and a bold move that sees him bare all.
"It wasn't a conscious decision when I started writing these songs - it just happened," says Worsnop.
"I started writing whatever was inside me and what was going through my brain. This is how it came out and I couldn't be happier with it."
When asked if there's much difference in working practices between metal and country, in terms of songwriting at least, Worsnop replies: "Not a lot. I kind of just sit and write from inside myself every time anyway. I never consciously sit and try to make something sound authentic because it always is. I take very little credit for these songs - they wrote themselves.
"I don't think people realise how many classic rock songs are country songs," he continues. "Almost every Aerosmith hit was a country song written by a country writer which then took off, hence the amazing songwriting. It's the same with Journey, The Rolling Stones, Led Zeppelin... They all just made country songs with distortion pedals."
The Long Road Home
For anyone yet to hear the album, The Long Road Home touches on both sides of the Worsnop coin.
There's the fun-loving character his fans have grown to love; then the darker side of his inner psyche surfaces, painting a picture of his life-long struggle with depression, drugs and personal loss. Is this Worsnop at his most vulnerable, we wonder?
"Yes, and that's because it was never supposed to be heard. This was me writing as a form of self-therapy because I don't talk about things. I just bottle up everything then fill that bottle with liquor and drink that too. It was a chance for me to go over some of my inner demons. Then my producer [Jim Kaufman] sat me down and said, 'You know you have to release this, right? You can't write songs like this and not share them.'"
Ask Worsnop if there's a single from the album that he's particularly proud of and he's quick to answer. "I'd say 'High' or 'Quite A While'. Or any of them," he offers. "It's such a magical album and I still listen to it all the time."
Taking into account that his followers of the metal variety might not understand this change of pace, how has the record been received by them and others?
"So far it has been really well received, and, you know, there's always going to be people who aren't going to like it and that's fine. It would be naive of me to expect them all to like it. At the end of the day, I've come from two very different kinds of music."
Though not exclusively recognised as a guitarist per se, this doesn't mean Worsnop isn't a dab hand at the acoustic. As a songwriter, the acoustic guitar has helped him unlock songs that would have otherwise gone unheard.
"I picked up the acoustic guitar when I was about three or four years old," he remembers.
"I took a couple of lessons, then I put the guitar down because I really wanted to play drums. Then I picked the guitar up again when I was around 12 and played pretty much up until the first Asking Alexandria record.
"Because I got so consumed with touring I didn't touch the guitar for a few years, then I started again a few years ago," he explains. "Fortunately, it was like riding a bike for the most part."
Writing weapons
Worsnop has a genuine fondness for guitars, even if they primarily serve as songwriting tools, so he must have quite the collection of them at home. What, we ask, does his current collection of six-strings consist of?
"My main writing guitar is a [Martin] CEO-7. I wrote a couple [of songs] on a big old Martin 12-string, too. That was probably the dumbest idea I could ever come up with, because any songs you write on a 12-string that you then put onto a six-string turn into completely different songs. It changes everything into a Led Zeppelin song," he says.
"I mean, I loved everything I was writing but unless you record it on a 12-string it's just not going to work."
When it came to recording songs for The Long Road Home, Worsnop took a rather unfiltered root. Instead of the high-gloss finish of his previous metal offerings, he decided that his acoustic sound had to be as natural as his songwriting.
"I tried to go as raw as possible. I used an old '50s Martin, just mic'd up and nothing on it - we went straight into it. Funnily enough, that guitar was owned by the comedian Steve Martin, which is cool. We recorded the album on that. The album is so dry and we just left it super-basic."
Worsnop's passion for acoustics actually goes much deeper. In fact, he's in the early stages of setting up his own acoustic guitar company based in the States.
"I have some new acoustics coming, which I assume I'll be primarily writing with. It's a whole new company and [these guitars] are going to be amazing instruments. I'll hopefully put them into production at the end of the year.
"They're built in Arizona but they are going to be available everywhere," Worsnop continues.
"I think I have five different woods to go through. I'll definitely have a 12-string model, but I don't want to get into the specifications of them because I don't know yet. Like I said, I haven't even strummed one yet. We'll wait for the first one to be done and we'll see from there what we want to change; what works and what doesn't."
As our chat comes to its inevitable end, we ask what advice Worsnop could give to other songwriters out there? After all, even at this young age he has a lot of material under his belt.
"Just be honest in everything. Lock yourself in a room and go places that scare you. Songwriting should be uncomfortable. You should feel something when you write a song," he says.
"If it's a sad song you should cry, if it's a happy a song you should be grinning. It should be something you [want to] listen to all day long."
The Long Road Home is out now.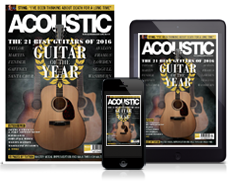 We're the UK's only print publication devoted to acoustic guitar.
Subscribe for star interviews, essential gear reviews and killer tuition!