Danelectro's Billionaire pedal series promises tonal riches
Danelectro was among the very first companies to offer ultra-affordable stompboxes, and for 2017, the US guitar co has launched four new offerings.
Spanning overdrive, rotary, boost and tremolo, the new pedals all come in at $79 or under, while the Battery Billionaire promises vintage-style tone from vintage-style batteries… The jury's still out on that one.
Anyhow, these all sound pretty tasty from demo videos, and all four feature true bypass switching, die-cast cases and high-gloss classic car finishes.
Head on through the gallery to check 'em out, and visit Billionaire Tone for more info. They're available in the USA right now, with European/UK availability TBA.
Danelectro Billionaire Pride Of Texas
PRESS RELEASE: Aces the bluesy tone of one of the greatest players ever to walk the earth. Fattens up signal without loss of clarity or voice. Adds push and fatness to single coil or humbuckers. Plenty of boost for crunch rhythm or solos.
If you can take only one pedal into the studio to record your dream tune, make sure it is this one.
Danelectro Billionaire Big Spender Spinning Speaker
PRESS RELEASE: Best ever spinning speaker tones. Rich, lush and sparkling. Ramp switch lets you initiate next ramp move and select direction of ramp move (up or down).
Even if you never liked spinning speaker effects, you'll love this. Mesmerizing!
Danelectro Billionaire Billion Dollar Boost
PRESS RELEASE: Secret weapon of A-list Irish and Brit rockers. Reissue of rare 1980's "hidden gem". Stellar boost of all frequencies plus clean pre amp with gobs of gain. Crisp clean tone with volume set at 50% or less. Hits amp for crunchy bite with volume past 50%.
Don't listen unless you want to own it. You will never part with this one.
Danelectro Billionaire Filthy Rich Tremolo
PRESS RELEASE: Danelectro invented the thickest, deepest amplifier tremolo in the late 1940's. Billionaire brings back this original Danelectro technology for the richest tremolo tones ever.
One listen and this will be a prized part of your arsenal.
Danelectro Battery Billionaire
PRESS RELEASE: Juicy tone from vintage 1960's style batteries! (DC supplies and alkaline batteries eat your tone.) Danelectro's vintage batteries offer superior tone to most pedals.
4x 9 volt outputs. Quick battery change with easy open lid. "Kill switch" cuts power to all 4 DC outputs (no need to unplug input cables from pedals).
Includes 4 DC cable, 4 Danelectro 9 volt vintage batteries. Small footprint. Feed your pedals something they like!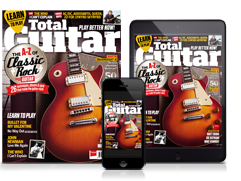 Stay up to date with the latest gear and tuition.
Subscribe and save today!