Dan Owen talks Patrick James Eggle, Mick Fleetwood and conquering adversity
Introduction
Serendipity: hearing - in Dan Owen's Open Hands And Enemies - an EP from a young English singer-songwriter with a voice that can stop you in your tracks as you're pulling together a feature about 'ones to watch' in 2017.
But that serendipitous moment stretched further when we rang Dan Owen and he told us that his go-to guitar was the exact one that our sister magazine Acoustic featured on the cover of a 2015 issue.
The story that put that guitar in Owen's hands is one that defines his career and stems from a tragic accident that forced him to reconsider the trajectory of his young life.
But, as in everything, context is key, and Owen's path started when he was nine years old and sitting in a school assembly.
"The person who would become my guitar teacher came into school and asked if anyone wanted to play the guitar. He played She'll Be Coming Round The Mountain and I put my hand up," Owen says. "He started teaching me the building blocks of music and guitar playing, which really got me into the blues."
Joining the firm
From there it was a short journey to performing live, filling in the gaps of his guitar teacher's sets in pubs when he was 13, accompanied by his older sister's singing.
The duo moved to open mic nights and began playing gigs together, but the partnership ended when his sister left for university when he was 16. Owen carried on regardless, handling singing duties himself because "I had no one else to sing for me".
Unlike his sister, Owen had no plans to head to university and had decided on a career as a luthier when he left school at 16.
"I went to start training to be a carpenter and joiner with a view to going into fine cabinet making and guitar making," Owen says. He'd even arranged work experience with Patrick James Eggle, whose workshop is based in Oswestry, close to Owen's home. But then a freak accident put his plans in jeopardy.
"A month or two before [the work experience] I was in a workshop and a chunk of wood got flicked out of a machine and hit me in the eye," Owen explains. "My left eye doesn't work properly anymore. I have constant double vision and struggle with depth perception."
A new path
Owen started his work experience anyway, but after working on a couple of guitars soon realised that his eye injury was making things difficult. Eggle was left in the unenviable position of telling Owen the news.
"I couldn't do the fine work because my hands and my eyes don't sync up as well as they should," Owen says. "I think Pat felt a bit bad that he had to be the one who told me that things weren't going to work out for me as a guitar maker - although I already knew it."
Owen underwent a period of reflection, though his next move seemed obvious. "I'd always gigged since I was 13. I never believed that I could make a living out of it though. The eye accident was the worst and best thing that ever happened, because it forced me to think 'You've got to do this now', because I couldn't do anything else. I didn't have any qualifications."
He jumped into action, learning, by his count, 60 or 70 blues songs that he could reel off and began contacting pubs within a two hours' drive from his house.
"I found five or six pubs within each town or city and I'd ring them up," he says. "I was ringing 30 or 40 a day to get one gig, but I was really determined. I annoyed a lot of pubs. After the first year I did about 150, and though I did the same in the second year I was able to be more selective."
Famous instrument
Owen kept in touch with Eggle as his music career began to take off and on a return visit to his workshop found that Eggle had made a guitar with him in mind.
"It was actually one that you'd featured on the front cover of Acoustic. So the one that you had in for review is actually going round touring with me. It looks so nice on your front cover and now it's a battered thing, but I know Pat loves that."
The model in question was a PJE Kanuga Custom: a Sitka spruce topped slope-shouldered dread with Honduran mahogany back and sides. It scored perfect marks back in issue 111's review, so we know that Owen is in good company musically. While he uses a Martin DCPA1 Plus, which lives a tone down, to start his set, it's the Eggle that bears the brunt of the workload.
"Having been in the workshop and seeing how he builds them, I just don't think I'll buy a guitar off anyone else, because I know it's going to be absolutely perfect," Owen says. "I remember that if it had a piece of glue sticking out half a mil on the inside of the guitar Pat wouldn't let it out of the workshop."
That Eggle has racked up plenty of miles at Owen's side, and it can prepare for plenty more throughout 2017. As we speak, Owen has just announced a series of headline dates across Europe and the UK.
"I can barely believe it. I think I'm a bit addicted to touring. I've toured the UK solo, but I've never been to Europe on my own. I've got no idea if anyone will come," he says. "I suppose the first one will be quite hard."
Owen is prepared for hard work, though. Long stints as a support act to Kaleo and Birdy, and those years spent travelling through pubs and clubs on his own have got him in fighting shape, and he's not burnt out on the process yet, either.
"I can see how people might fall out of love with touring, but it hasn't happened for me yet," he says. "I try and stay healthy on tour and I think that's the key. The motto is 'inhale nothing but steam and drink nothing but water'."
Fleetwood fix-up
It's the attitude of someone who knows that 2017 is shaping up to be a hectic year.
His initial EP and singles were released on LAB Records, but he reveals that a major label deal has been struck. What that entails in the modern music age is up for debate, however. What are the label expecting from their new charge?
"Releasing more music and more touring, that's the plan for 2017. Maybe an album, but definitely more tracks on the way to an album," he tells us.
"I am thinking that the traditional album might not be as important [as it was in the past]. That's just because of how everything's working with Spotify. I was talking to my manager and the label the other day about it.
"It doesn't feel like a waste… but it sort of is, because half of the tracks will just be around and not pushed into the playlists. I'll definitely have an album, because I want to get the songs out there and sell them at gigs, but we'll see what happens."
Owen is a savvy young man - the epitome of the modern musician, perhaps. Hardworking, talented and well aware of what it takes to get ahead these days: a well-populated social media presence and viral videos, for example. The latter of which brought him some unexpected attention when Mick Fleetwood reached out after seeing him perform a cover of The Ballad Of Hollis Brown.
"Mick Fleetwood would ring me and we'd be on the phone for an hour. We'd head to London and go for dinner. He'd give me loads of advice. It was really surreal, but it did happen."
Bluegrass roots
With his formative years spent playing blues - via a brief detour into prog rock - he's unashamedly leaning on tradition when it comes to inspiration with his guitar playing.
"I really love bluegrass music, so I'm trying to learn some more bluegrass licks," he says.
"There's one song where I play a little bit of bluegrass in my set, and I'd like to get that more into some of my playing. It'll take me ages to learn it, but I'm trying the Foggy Mountain Breakdown, so I can pick up the licks. I used to play tons of blues, and I think that comes into my playing and writing now."
When we tell him that he's been selected as one of our 'Acoustic Artists of 2017' we ask if they are any other people we should be watching out for:
"Rag'N'Bone Man will go stratospheric," he says. We tell him that the Brits Critics' Choice winner still turns up to his local open mic night: "Yeah, I find it hard to leave the open mic nights too.
"All my mates back home run jam nights, so when I'm back I just go sit in the pub and play with all my mates. It's a nice thing to do. I never force myself to play, but I just always end up sitting down and doing something."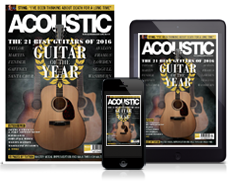 We're the UK's only print publication devoted to acoustic guitar.
Subscribe for star interviews, essential gear reviews and killer tuition!