Bowling For Soup talk pop-punk evolution, going acoustic and keeping the band alive
Introduction
Bowling For Soup's Jaret Reddick and Erik Chandler discuss swapping out their usual gear for acoustics, surviving the world of pop-punk and if they are ready to be considered classic rock.
"I was in the car with my daughter and a song by Republica came on," says Bowling For soup frontman Jaret Reddick, as part of a lively debate we've just started about when Mötley Crüe started to be considered classic rock.
"My daughter was born in 2003, but the song came out 10 years before that. and, I was born in 1972, so 10 years before me was '62, which i consider to be full-on classic rock. so it got me thinking, 'is this classic rock to her? What the fuck is happening?' When you think of classic rock, it's Led Zeppelin and Creedence Clearwater Revival."
Bass-playing bandmate Erik Chandler interrupts his thought process with a worrying realisation: "But that means we have songs that must be classic rock now!"
Despite being a mainstay of last decade's pop-punk scene, BFS aren't quite in the same classic-rock-realm of Mötley Crüe, as referenced in the band's hit song 1985. But when you pull a stunt like stripping back your loudest, silliest songs to just a pair of acoustic guitars and sell out Union Chapel, you're definitely approaching that overblown and dramatic world.
Last year was a busy one for the four-piece from Wichita Falls, Texas. The group released a brand new album, Drunk Dynasty, and a recording of their Acoustic In A Freakin' English Church performance from 2013.
Bassist Chandler, who plays acoustic guitar and adds vocals for the acoustic gigs, also released a solo album called The Truth – but all this came just three years after BFS performed a Farewell tour around the UK, which Reddick addresses: "I think the Farewell tour idea got a bit misunderstood. We marketed it more as 'not goodbye, but farewell'.
"We were all going through a bunch of shit. Erik got divorced, so did I, and I had some crazy health stuff for a few years and, this is probably the first time I've said some of this, but I was working out custody of my children and sorting out life shit.
"Gary [Wiseman, BFS's drummer] had a two-year-old kid at home and his wife is a nurse and we just had life to do. The idea was to slow everything down, and it's the best thing we ever did. When we did come back in February this year, it was awesome, and once we started playing again, everyone had great attitudes. Even the crew was a lot happier."
For a change of pace in 2013, Reddick and Chandler performed some acoustic songs at Download Festival after the full band finished its set. And they followed this up with a few other acoustic dates, concluding at London's Union Chapel in September.
This took the duo back to their earliest days, when the band first started in Texas, as Reddick explains: "Erik and I started playing in pubs to make some extra money, and a year later that's all we were doing. We played acoustic on the nights BFS weren't playing, and the other nights we were just playing BFS."
New arrangements
The pair has continued the acoustic performances in the United States, but they had never done anything quite like the London concert. Reddick says:
"When we filmed our farewell show at Union Chapel, we thought we'd do 31 minutes and we ended up playing 41 tracks. I like those nights. We never know what's going to happen. We take turn picking songs and have cheat sheets because we play a lot of old BFS, and also, Erik did new arrangements for songs like Punk Rock 101 and Really Cool Dance Song."
"And also with this stuff," Chandler adds, "I'm a freaking bass player and I'm not always playing the notes of whatever the chord is, so I need reminders a lot of the time."
When the whole band is performing together, Reddick will often announce to the audience that the next song is one that hasn't been played in years. "It's not uncommon for us to be doing something and one of us goes, 'just follow me'," Chandler says.
Reddick admits: "I like to surprise them sometimes and say 'Hey, we're gonna play this song.' And you can see them scrambling around. Erik's trying to figure it out and I have no idea how the song goes. Chris [Burney, lead guitarist] is just over there and looks at his guitar with his hands out and just shakes his head and says, 'I don't know! I don't know what to do.'"
That's one way of keeping things fresh, we suppose, but the fact it remains fun means that Bowling For Soup have outlasted many of their peers and remained a touring and recording band.
"It was very important from the start of this that we said 'if it's not fun any more we'll just stop'," Reddick says. "This goes back to us taking a break a few years ago. You don't want to accept it, but by taking that break it made it fun again, so I can successfully always say that we've done whatever it takes to make us happy.
"As far as the music goes, we found our niche by album three or four and this is what we do. I think bands that expand on who they are is great. If you listen to At The Library by Green Day [from the debut album 39/Smooth] and put it next to Bang Bang off the new album [Revolution Radio], they've still got a lot of similarities, but the subject matter has changed a lot and they've got insanely produced.
"And Sum 41 being angry, and Blink-182 getting serious for a while, that's their evolution, but at some point, their fans have to think about what version of the band they like. We're those guys, where you put our album on after work, and have a drink on your porch or whatever - we'll make you laugh. Unless it's our last album, and then it'll make you pissed off."
But Chandler believes that Bowling For Soup have still grown, even if the lyrical content is still on the fun and immature side:
"Our biggest evolution has been becoming better musicians and songwriters, but still continuing to do the same thing that we always have - we've just got good at it along the way.
"The biggest glaring example of that is on a song called Shut Up And Smile from A Hangover You Don't Deserve. The first time that album came out we wanted to play that song live and we did it in rehearsal, but we didn't touch that song for another couple of years. Then I think we were on tour and somebody brought it up - we tried it in soundcheck and thought 'why didn't it work before?' We just couldn't pull it off."
Growing pains
This growth is on full display at the acoustic gig. "I don't mind admitting things like this, but we had songs on album years ago that we could not play," Reddick says. "Now we can do any of those and everyone's just so much better.
"Part of that lies on me, as I actually learned how to play the guitar a few years ago. I'm an educated drummer and Erik's played guitar forever. I'm self-taught for the most part, so when we first started doing this acoustic stuff I basically hid behind him most of the time. Now it's not like that."
With just two Taylor guitars, a couple of microphone stands and a sound guy, there is a completely different atmosphere when the duo head out on an acoustic tour compared to a full BFS line-up.
Chandler says: "I forgot how awkward those first few shows were at the beginning. People came in with the mindset of it being a full-on rock show, but, wait: with two acoustics, and they're sitting? What the fuck is this? But that kind of show lends itself to be able to talk about the songs in a little more intimacy. At a bigger show we just scream down the mic, 'This song is about a chick who's a real bitch!'"
It also gave the duo a chance to play some beautiful instruments. Chandler plays a now-discontinued Taylor Grand Symphony 6, while Reddick couldn't limit himself to just one option.
He says: "I have a Grand Symphony Series 8, and a 210ce. I met the Taylor guy at a show and he sent them out to try, but we fell in love with them. We were each sent three to try and I couldn't figure out which one I liked best so I kept two of them. The company has been great. I've had some injuries to my guitars and they've always taken care of it."
Reddick continues: "The DI records great and I prefer not being tied to a microphone so much anyway. And the sound guy can do so much out front these days that you can get back some of that warmth that you might lose. When I record, I always use both and sneak a little bit of that direct signal just to give it a bit of high end.
"We actually use Elixir strings as they don't get oily and never break. We use Ernie Balls on our electrics and we actually go to the store and buy them. They're so good, but when it comes to acoustic, the Elixir 13-gauge never sound dead."
All four band members returned to the UK with Steel Panther for a short stint in 2016, and while that audience didn't get to witness the more dulcet tones of Bowling For Soup's acoustic versions, fans can appreciate them on the new DVD and live album.
The Acoustic In A Freakin' English Church CD/DVD is out now.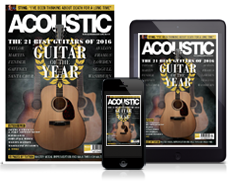 We're the UK's only print publication devoted to acoustic guitar.
Subscribe for star interviews, essential gear reviews and killer tuition!