Rickenbacker 4003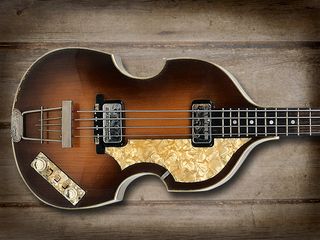 Hofner 500/1 Violin Bass
BASS EXPO Could there be any better way to celebrate the glory of the bass guitar than with a series of profiles of some of the most iconic instruments ever to grace stages and recording studios across the globe? We don't think so. Kicking off our series of bass profiles is the four-string that a certain mop-topped Liverpudlian used to take the world by storm in the early 1960s...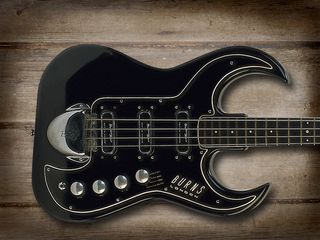 Burns Black Bison Bass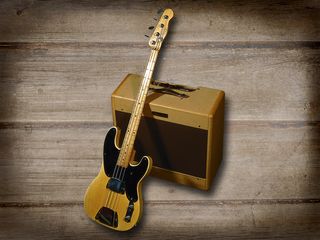 Fender Precision Bass
PRODUCED: 1951-1954
ORIGIN: USA
TYPE: Solidbody, passive 4-string
BODY: Twin cutaway slab, ash
NECK: Solid maple, U-profile, skunk stripe covers truss rod, 20 fine frets
SCALE LENGTH: 864mm (34-inch)
FINGERBOARD: No separate board, part of the maple neck, black dot inlays
HARDWARE: Chrome, 2-saddle bridge, open reverse gear tuners
PICKUP: Exposed single-coil 4-pole
CONTROLS: Volume & tone on separate chromed control plate
FEATURES: Telecaster-style headstock, large single-ply black pickguard, separate chromed metal control plate, through-body stringing, chrome cover plates over bridge and pickup, finger rest with single screw in centre, edge mounted jack socket
FINISHES: Blonde
COMMENTS: This is the original design for the Precision so had the job to convince upright bass players to change allegiance! The connection to the Telecaster is obvious but the additional upper cutaway was introduced in order to give the instrument much better balance.
It had its faults however so was comparatively short-lived in this early format but it was the beginning of the most successful bass guitar ever produced. It's been continually tweaked over the years as we shall see but remains as an iconic and magnificent instrument.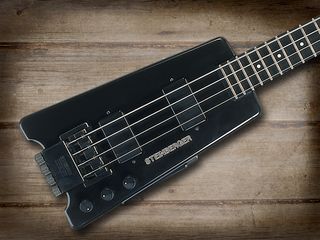 Steinberger XL-2
PRODUCED: 1980-present
ORIGIN: USA
TYPE: Headless solidbody, 4-string, active electronics
BODY: Synthetic, one-piece neck/body although separate body top was bolted on
NECK: 24 jumbo frets & fretless available
SCALE LENGTH: 864mm (34-inch)
FINGERBOARD: Phenolic, white dot inlays
HARDWARE: Black, fully adjustable 4-saddle bridge/tuner tailpiece
PICKUPS: Two humbucking EMG units
CONTROLS: 2 volumes & 1 tone
FEATURES: Swivel strap holder at back plus a hinged leg rest on lower body edge, uses double ball-end strings, no lighter in weight than a conventional bass
FINISHES: Predominantly black although other colours are available. The early white ones were termed albinos.
COMMENTS: For synthetic read epoxy resin reinforced with carbon graphite and glass fibre. This was the Ned Steinberger model that caused excitement throughout the industry. A tiny full-scale bass by anyone's standards at only 38-inches overall length but with a monster sound in spite of its minimalist looks.
Initially four models were available the H1 & H2 (high impedance with one or two DiMarzio pickups) and the L1 & L2. These were low impedance, active basses with a dominating sound that literally blew the H models away! The L-2/5 five-string version was introduced in 1982 and both models were replaced by the XL-2 in 1984. And in spite of a company buyout in the late '80s it's the XL-2 that's still with us today.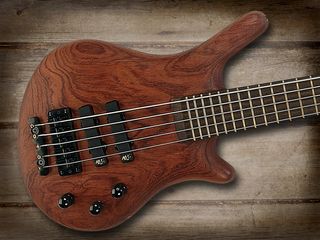 Warwick Thumb five string
PRODUCED: 1985 - Current
ORIGIN: Germany
TYPE: Carved double-cutaway body, laminated neck-through, active 5-string
BODY: 2-piece bubinga
NECK: 7-piece afzelia & wenge, 26 medium frets
SCALE LENGTH: 864mm (34-inch)
FINGERBOARD: Wenge, no poison markers on fretboard, ebony and fretless also available
HARDWARE: Black fully adjustable bridge, Brass 'Just-A Nut,
PICKUPS: Two MEC J-style units
CONTROLS: Stacked Volume & active mid range cut/boost, push/pull active/passive switching, stacked tone with bass & treble cut/boost, panning control
FEATURES: Bridge has separate tailpiece, Straplocks fitted, batteries housed in control cavity, distinctive angle on the tuners
FINISHES: Natural and colours
COMMENTS: Warwick are well known for their quality of build and general attention to detail and like much of their bass range the Thumb is available in several different configurations as far as woods used, pickup types and their positioning is concerned.
However the twin pickup, electronics and general neck through construction remains and although the original 4-string Thumb was something of a beast a general slimming down on proportions and the introduction of the 5-string has undoubtedly made it the flagship instrument for the company. Available in 4, 5 & 6-string versions and with bolt-on construction.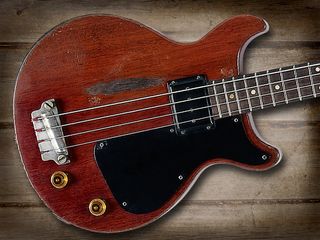 Gibson EB-0 Bass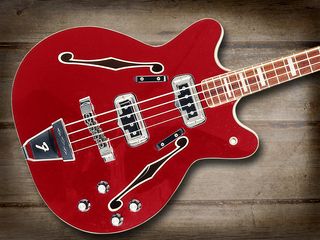 Fender Coronado II Bass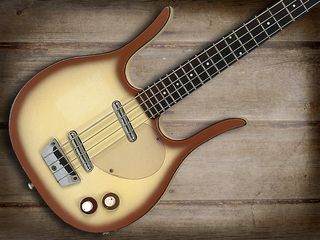 Danelectro Longhorn Bass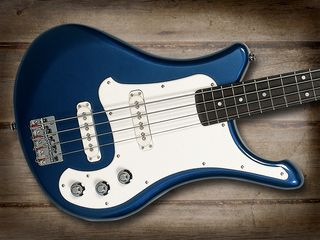 Yamaha SB-Series bass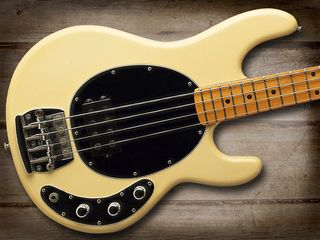 Music Man StingRay - pre Ernie Ball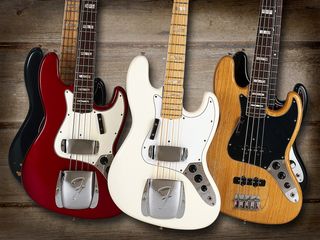 Fender Jazz Bass
ORIGINALLY PRODUCED: 1960-62
ORIGIN: USA
TYPE: Solidbody, passive 4-string
BODY: Ash, offset-waist twin cutaway
NECK: Maple, bolt-on, medium frets
SCALE LENGTH: 864mm (34-inch)
FINGERBOARD: Rosewood, dot inlays
HARDWARE: Chrome, 4-saddle raised-tail bridge
PICKUPS: Two single-coil, 8-poles apiece
CONTROLS: Volume & tone for each pickup from dual concentric controls
FEATURES: Controls and jack socket on chrome-plated 'bell' plate, two cover plates, muting rubber block stuck underneath bridge cover plate
FINISHES: Sunburst and custom colours with matching headstock
COMMENTS: This was the first version of the amazing Jazz Bass that was advertised initially as 'the long awaited two pickup Precision' however it was hardly that, in fact it was something quite unique.
Fender were already experimenting with offset bodies for the Jazzmaster but as horns gave basses much better instrument balance the Jazz Bass had them, thus giving it a look all of its own.
Although the dual concentric controls gave tremendous volume and tonal blending opportunities the components of the time were not up to the task and were notoriously unreliable, so were dropped in 1962 for the three-control version.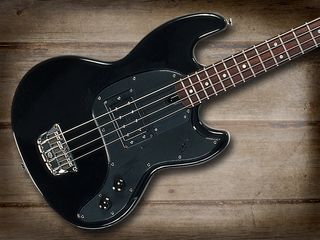 Wal Pro 1 & Pro 1E Bass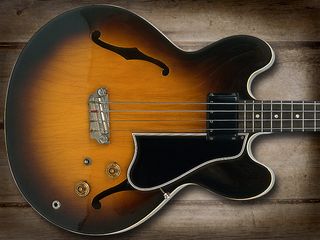 Gibson EB-2 Bass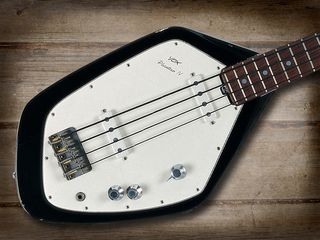 Vox Phantom IV Bass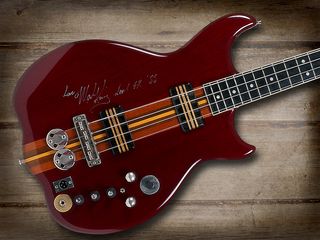 Jaydee Supernatural Classic Series 1 Bass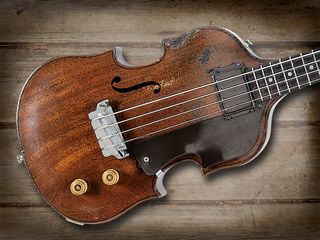 Gibson EB-1 Electric Bass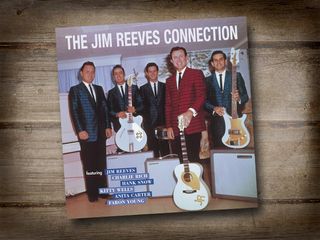 Rickenbacker 4000 Bass
PRODUCED: 1957–1984
ORIGIN: USA
TYPE: Flamboyant 'cresting wave' twin cutaway solidbody, 4-string
BODY: Maple wings stuck to mahogany neck-through core
NECK: Mahogany or walnut, through-neck, 20 medium frets
SCALE LENGTH: 851mm (33.5-inch)
FINGERBOARD: Rosewood, dot markers
HARDWARE: Nickel or chrome, bridge/tailpiece included a string damper assembly, Schaller BM nickel tuners
PICKUPS: Huge horseshoe magnet pickup featuring a distinctive gap in the wrist rest section where the magnets oppose each other
CONTROLS: Volume and tone, chrome plated or black 'flying saucer' knobs
FEATURES: Clear plastic bridge borders, clear plastic finger rest, gold back-painted clear plastic pickguard with alternative white available around 1958. When the 4001 appeared the scratchplate adopted that design, gold was dropped and later black was introduced
FINISHES: Mapleglo and old-style Fireglo (2-tone brown sunburst)
COMMENTS: Like Fender's Precision Bass, Rickenbacker almost got it right first time with their visually startling 4000 model. It was the first bass to feature through-neck construction where the bridge pickup, neck and headstock were all on the same piece of wood so effectively maximising on resonance and sustain.
This mahogany centre core had maple 'wings' stuck to it to form the 'cresting wave' body shape named after the famous Japanese painting, and also used for the headstock. Designer Roger Rossmeisl had introduced this manufacturing technique on the Combo 400 guitar the previous year.
Earliest versions had a fixed modified bridge with a standard guitar string anchor leaving two slots unused. This was soon replaced by a movable bridge with string mute. Of all the early bass guitars, the 4000 was the closest to Fender's 34-inch scale and also benefited by the more vibrant sound this length seems to magically produce.
Although it doesn't possess the classic Rickenbacker growling sound that we know and love today, it gives a robust delivery that is still mighty appealing. The 4000FL fretless version was also available from 1960 but only as a special order.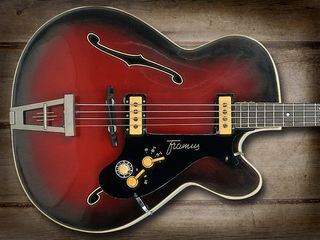 Framus Star Bass 5/150
4 out of 5
PRODUCED: 1959-68
ORIGIN: Bavaria
TYPE: Semi-acoustic body, 4-string
BODY: Mahogany top and back, maple sides, white binding, single cutaway, two f-holes
NECK: Maple, set neck, 20 medium frets
SCALE LENGTH: 775mm (30.5-inch)
FINGERBOARD: Rosewood, bound with white dot inlays
HARDWARE: Chrome tailpiece and scratchplate, guitar sized tuners with plastic keys
PICKUPS: Two four-pole pickups mounted on metal floating scratchplate
CONTROLS: Volume & tone, plus rotary pickup selection lever switch
FEATURES: Single-saddle rosewood bridge, separate heavy duty chrome plated tailpiece, painted headstock, lever style control knobs
FINISHES: Black Rose or Shaded Blonde
COMMENTS: In the 1950s when American instruments were almost impossible to get many British groups used Framus basses and the first bass superstar, Jet Harris, used his on many of the early Drifters and Shadows tracks.
The models he used, however, had the sharper edged Florentine cutaway with two volumes and two tone controls set into the scratchplate. The more rounded Venetian cutaway seen here was championed by Bill Wyman of The Rolling Stones.
He also used the smaller bodied 5/149 single pickup version too. Later versions saw the scratchplate dispensed with and the pickups fitted to the body as well as super finishes but as the bass progressed it lost much of its appeal. These days parent company Warwick do a pretty faithful reproduction of this as the Framus Vintage 5/150 Star Bass.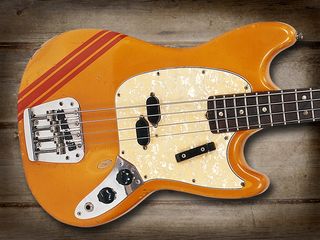 Fender Mustang Bass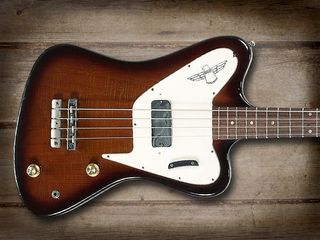 Gibson Thunderbird IV Bass - Non Reverse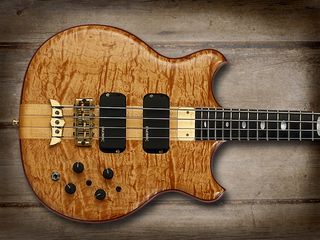 Alembic Stanley Clarke 'Small Standard' Bass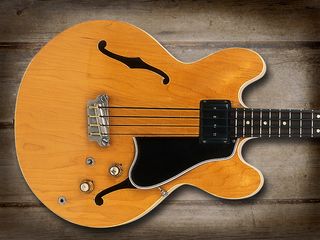 Epiphone Rivoli Bass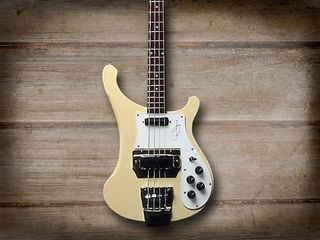 Rickenbacker 4001 CS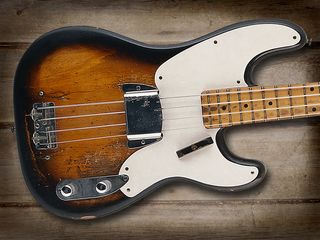 Fender Transition P-Bass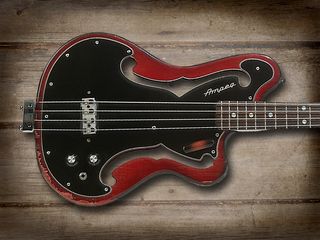 Ampeg AEB-1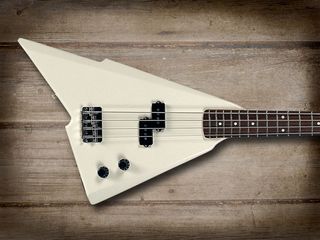 Squier Katana Bass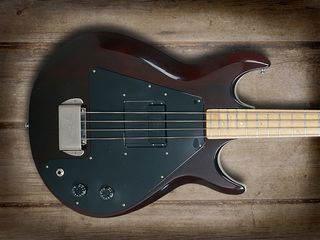 Gibson Grabber G-1 Bass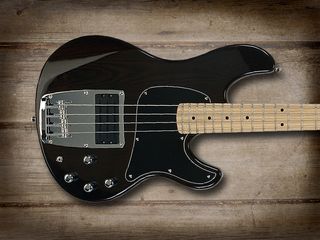 Ibanez ATK 300 Bass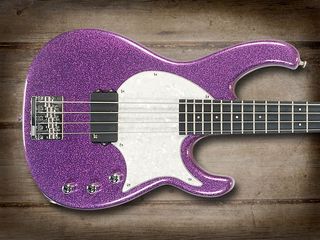 Modulus Graphite Flea Bass (FB4)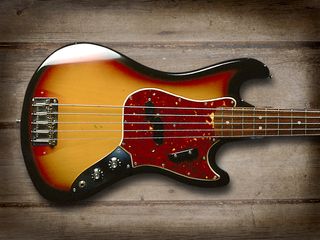 Fender Bass V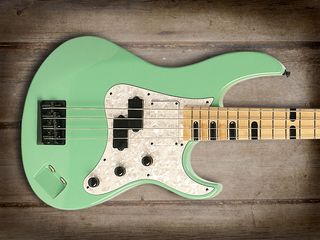 Yamaha Attitude Limited II Bass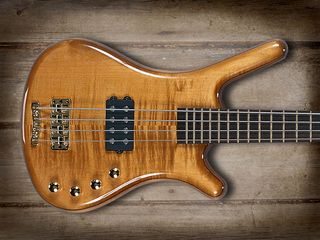 Warwick Corvette FNA Bass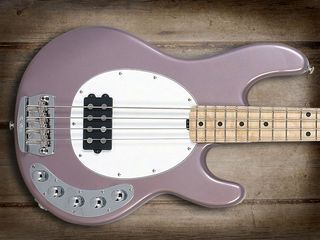 Ernie Ball Music Man Piezo StingRay Bass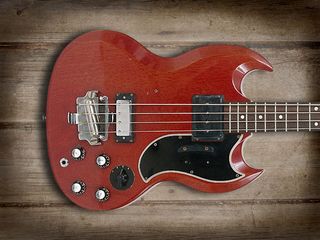 Gibson EB-3 Bass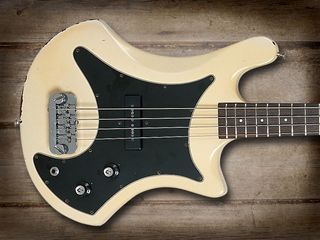 Guild B-301 Bass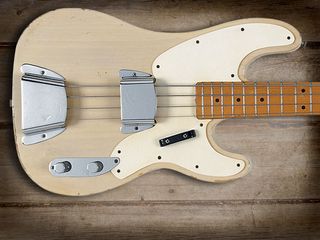 Fender Telecaster Bass Series 1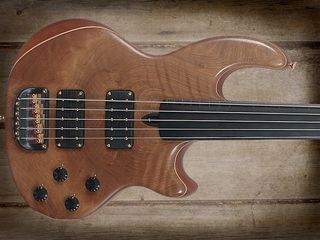 Wal Custom Mach II - Gold Plated Fretless 5-string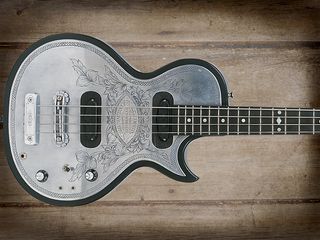 Zemaitis M/F Custom Bass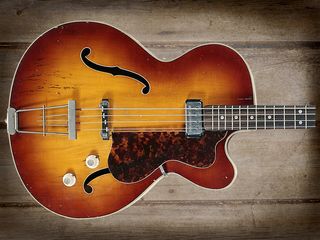 Hofner Senator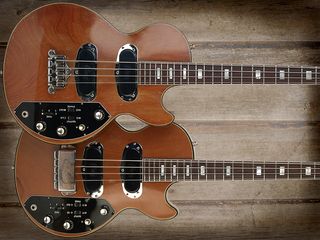 Gibson Les Paul Triumph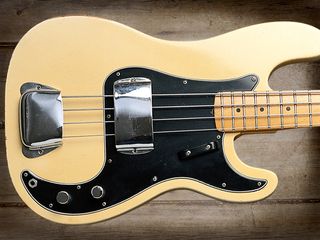 Fender Slab Body Precision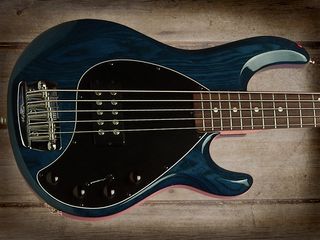 Music Man StingRay 5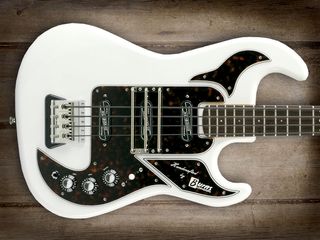 Burns Shadows Bass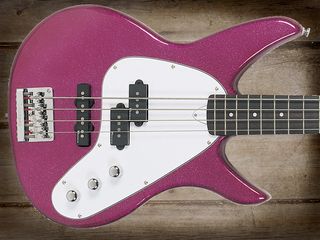 Vaccaro X-Ray Bass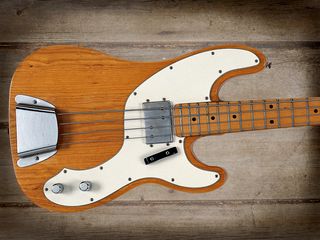 Fender Telecaster Bass Series 2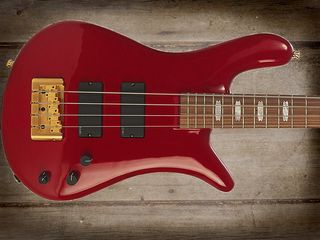 Stuart Spector Design SSD NS-4 Bass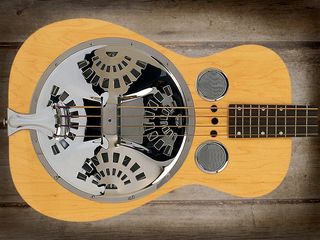 Dobro D Deluxe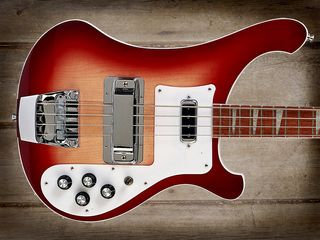 Rickenbacker 4003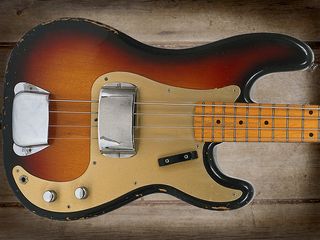 Fender Precision 1957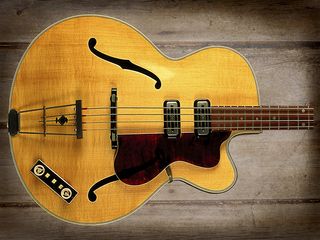 Hofner President Bass 500/5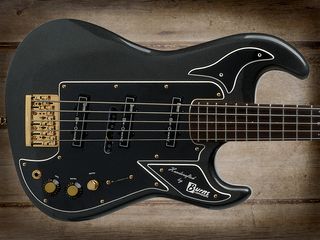 Burns 5-string Bass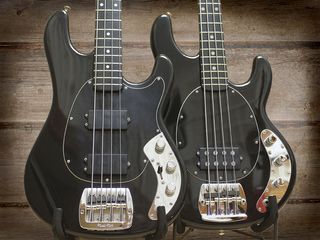 Music Man Cutlass Bass
PRODUCED: 1982 - 1987
ORIGIN: USA
TYPE: Twin cutaway solid body, active 4-string
BODY: Alder or Ash
NECK: Graphite (made by Modulus for Music Man), bolt on, 20 jumbo frets
SCALE LENGTH: 864mm (34-inch)
FINGERBOARD: Rosewood with pearl block inlays
HARDWARE: Chrome
PICKUPS: Regular Music Man Humbucker on the Cutlass I & a pair of smooth surface humbuckers on the Cutlass II
CONTROLS: Volume, Active Treble & Bass - Cutlass I; Volume, Active Treble & Bass & Pickup selector switch - Cutlass II
FEATURES: Cutlass I: through body or top-load stringing; Cutlass II top-load only; vastly different shaped scratch plate, control plate and bridge units
FINISHES: Mainly all black, Natural, White, Red
COMMENTS: The Cutlass I and II were Music Man's attempt to join in the graphite neck revolution by teaming up with Modulus Graphite to produce two short-lived models.
Earliest examples used existing body stock (some going back to 1979) and three-bolt neck plates, although these were soon changed to rectangular 4-bolt plates. The 3-bolt version also had through-body stringing whereas the 4-bolt was fitted with a top load bridge unit.
The Cutlass I was essentially a Stingray and the Cutlass II a Sabre, each using those distinctive body shapes and hardware, although the Cutlass II did not retain the exposed pole pieces as seen on the Sabre's twin pickups and also offered a simplified circuit too.
The Cutlass may have been all about the graphite neck but it was obviously not that popular at the time as very few units were actually built. They are pretty special, however, as Dave Swift (owner of these two basses) explains,
"I had a Cutlass I that I bought from a shop in Birmingham back in the 80s. I believe it was one of the first Cutlass basses to turn up in England, if not the first, and most of them were all black, but mine had a beautiful natural ash body. Unfortunately I sold it! I now have a Cutlass I and II, both black, and even though these are also very rare and collectible, I wish I still had my original natural one."
Our sincere thanks go to Dave Swift for his input and to Lars Mullen for the pictures.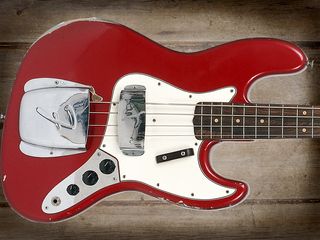 Fender Jazz Bass Pre-CBS Custom Colour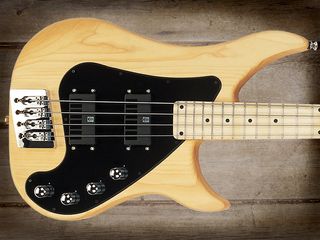 Vigier Excess Bass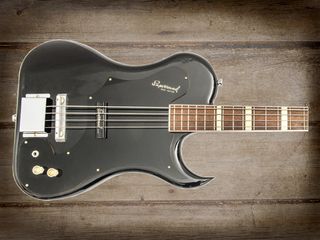 Supersound SCB Bass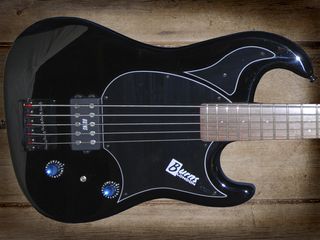 Burns Marquee 5-String Bass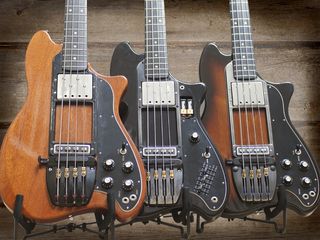 Ovation Magnum I/II
Ovation Magnum I
PRODUCED: 1974 - 1982
ORIGIN: USA
TYPE: Double off-set cutaway body, passive 4-string
BODY: Solid one-piece Honduras mahogany
NECK: Mahogany, graphite reinforced, glued and bolted, 20 jumbo frets or fretless
SCALE LENGTH: 864 mm (34-inch)
FINGERBOARD: Rosewood stained ebony with pearl dot inlays
HARDWARE: Chrome, cast aluminium tailpiece with individually adjustable solid brass saddles, Schaller semi-open gear tuners
PICKUPS: Humbucker with individual volume controls, Double coil with U-shaped pole pieces
CONTROLS: Volume & Tone for each pickup, 3-way pickup selector switch
FEATURES: Mono and Stereo output jacks, lever action string mute, aluminium bezel around pickups
FINISHES: Natural, Cherry, Sunburst & Custom Colours
COMMENTS: Ovation's first bass guitar was the Typhoon, a thinline semi construction similar to a Hofner Verithin released around 1968/9, but it created little interest. Determined to do better with their first solid bodied bass the Magnum was designed to be the ultimate bass guitar to date. It was certainly packed with unusual features, particularly regarding the pickups.
The bridge unit has U-shaped pole pieces wound in pairs like a split-coil pickup but the huge bridge humbucker has individual coils wound round each pole piece and each coil has its own volume control for perfect string balance. This is certainly a pretty cool thing to have. The bridge offers very precise adjustment for scale length yet changing strings is quick and easy.
In order to get full use of the stereo function the Magnum was provided with a splitter lead for the stereo output jack so you could either use both channels in your bass amp or two completely separate rigs for a monster sound and delivery. Sadly however, the Magnum is just not a sexy looking instrument and although it sounds great it weighs a lot too, so it never achieved the popularity that was expected. They did produce a more regular shaped twin cutaway with a less cluttered appearance in 1978 but sadly this also failed to capture the imagination and was withdrawn in 1983.
Ovation Magnum II
PRODUCED: 1974 - 1982
ORIGIN: USA
TYPE: Double off-set cutaway body, Active 4-string
BODY: Solid one-piece Honduras mahogany
NECK: Mahogany, graphite reinforced, glued and bolted, 20 jumbo frets
SCALE LENGTH: 864 mm (34-inch)
FINGERBOARD: Rosewood stained ebony with pearl dot inlays
HARDWARE: Chrome, cast aluminium tailpiece with individually adjustable solid brass saddles, Schaller semi-open gear tuners
PICKUPS: Humbucker with individual volume controls, Double coil with U-shaped pole pieces
CONTROLS: Master Volume & 3-band EQ, 3-way pickup selector switch
FEATURES: Lever action string mute, aluminium bezel around pickups
FINISHES: Natural, Sunburst, Black,
COMMENTS: Not wishing to miss a trick, along with the passive Magnum 1 Bass Ovation also produced the Magnum II, an all active unit that provided even more tonal response and opportunities.
The 3-band EQ offered Bass, 400Hz and Treble each as a double slider with +/- 12dB adjustment. To power the circuit two PP9 batteries were housed in a compartment by the lower cutaway underneath a separate section of the scratchplate. The individual volume controls for the pole pieces on the humbucker were accessed through the four holes provide using a regular screwdriver. When adjusted well this was produced a very well balanced instrument from string to string.
This highly sophisticated circuitry gave the Magnum II a cleaner yet meatier sound than the passive version and was way ahead of its time but still failed to find favour with enough players to keep it in production any longer. Our sincere thanks to Dave Swift for use of his basses and Lars Mullen for the pictures.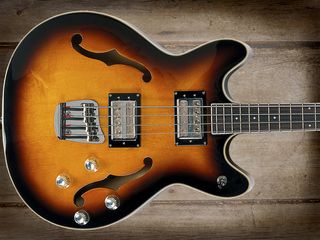 DeArmond Starfire Bass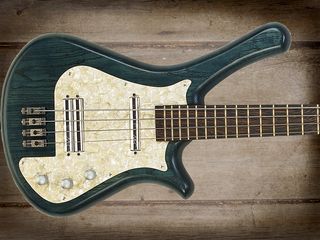 Warwick Fortress Flashback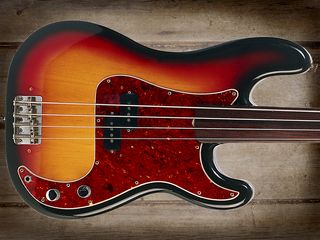 Fender Standard Precision Fretless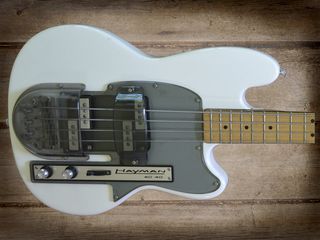 Hayman 40 40 Bass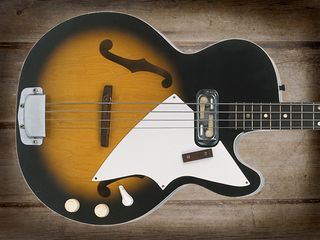 Harmony H22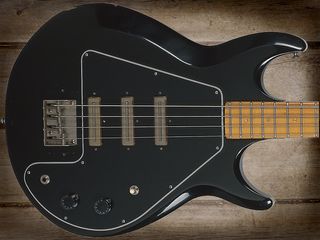 Gibson Victory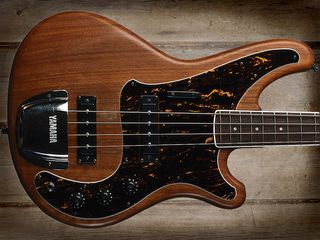 Yamaha SB55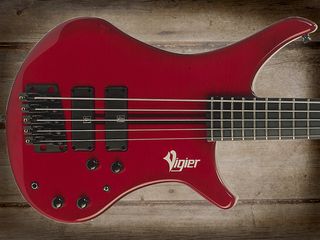 Vigier Passion Custom III 5-string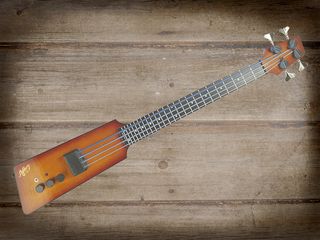 Hartke XK-4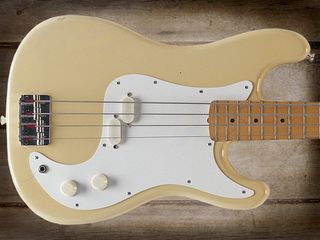 Fender Bullet B30