Andy Timmons talks shedding shred, a lifetime learning and his unreleased surf record
Introduction
He's one of the most powerful guitarists working today, with a soaring, soulfully expressive style that many believe places him among the greatest players ever. We talk to Andy Timmons about technique and tone…
Andy Timmons is one of those guitarists who leaves other great players just shaking their heads. A hero of the late-80s shred revolution, Timmons' playing has matured like a fine wine into a poised but formidable blend of virtuosity and pure, headlong self-expression.
He can 'do' flights of technical virtuosity but generally prefers to keep his powder dry until the perfect moment to let fly, tapping into gutsy emotion and free-flowing ideas in a deeply instinctive way that at times recalls Jeff Beck's approach but remains wholly his own voice. So what's the secret? On the phone to his home in Texas, we caught Andy in the middle of his practice routine, which was an ideal time to talk about how he continues to hone his remarkable technique and the tonally nuanced gear he uses live and in the studio.
"I'm still recovering from a couple of weeks in south-east Asia," Andy admits. "We released a new record [Theme From A Perfect World] a couple of months ago and so we did about a three-week run in the States, had a week off and then went to south-east Asia and so we did Taiwan, Korea, China, Hong Kong and four nights in Tokyo - just long enough to get totally screwed up time-wise! So I'm just getting a practice routine going, y'know?"
Back to the woodshed
At this stage in your career, what do you look to get from practice, compared with when you were starting out in guitar?
"Post-college and post being a student, where you're getting all this information and you're gigging six nights a week, there was all that application for the things I was working on.
"I would play a lot, but if I did have a guitar in my hands, the intention to practise would quickly go in the direction of songwriting or playing. Which is not a bad thing; I'm not saying, 'Gosh, I've wasted all these years…' But a few years ago I sort of recognised some things that I wasn't able to do that I was able to do in my younger years. So I got back into practising and getting together with some friends to play standards on a somewhat regular basis.
"That's what it was like being in school. In class, if you weren't gigging it was like, 'Hey, man, what are you doing? Let's go play.' So I'm kinda reconnecting with that - the practice idea, striving and working on stuff out of the comfort zone, which has got me excited about the instrument in a really strong way, probably more so than ever."
What sort of things are you practising?
"First thing in the day I get up and spend at least an hour or two, if I'm lucky, depending on what's going on in the schedule for the day. If I can get a couple of hours in, sometimes before the family wakes up, then that's great.
"I'm getting back into playing more straight-ahead [jazz]; it helps the brain, it helps the technique. That being said, I stumbled across Troy Grady, who went out and analysed Yngwie and Eric Johnson and kinda realised that these guys are doing the same thing as far as pick economy ideas go. So I connected with him and I'm subscribing to his course and I'm still working on some of these ideas.
"It's fun, because I would say that most of the technique that I have on the guitar has happened naturally. If I had to work too hard, it didn't happen. I wouldn't be the kinda guy who would sit there and look at my pick angle for weeks. I was never that guy, I just wanted to play and whatever it took to get the phrase out, that's what ended up happening."
Finesse and finishes
What aspects of pure technique do you find most empowering to explore?
"I took a lesson with Frank Gambale a couple of years ago. We've known each other on and off for years and we've played together at a NAMM show. He came out to see me when we were playing in LA and I said, 'Can we get together tomorrow? I'd love to just play and ask you some questions.'
"He was very kind, we had a great time hanging at his place. I videoed him giving me some really nice exercises on the way he picks. I'll never be able to do it - it's just so different to the way I pick, but I love it and would like to get little bits of that. I've been trying to get into the theatre of instructional videos over the last couple of years, after getting back into teaching and finding that I really enjoy it.
"I love sitting with players and seeing where they're at and supporting what they're doing, but then I'll also giving them some stuff that they could work on for the rest of their lives. It's stuff that we all need to do: it's time and just the basic connection with the string on the fingerboard.
"I find that the players that I gravitated to naturally - I'm thinking about Metheny, Lukather or Stevie Ray, Hendrix, Robben Ford, Carlton - there's such command of time. Or Eric Gales - I call him 'my favourite player under 50' - he has such command of time. He can play with it and really float with the time without there being any doubt where the feel and the groove is and it's a beautiful thing."
What about guitars? What are you using at present?
"I have my old prototype [Ibanez] AT100, which is still my main guitar, and then there's a white guitar with a rosewood 'board, which is essentially a rosewood version of my signature guitar. I just wanted a guitar that looked like Jeff Beck's Wired Strat. But that has got a cool tone to it, the rosewood obviously changes some things up. There's a T-style guitar they make called the Talman that really sounds great. They made the Talmans during the 90s and they didn't take off.
"Now they've reintroduced the line, redesigned some things and the one with the Tele pickups really sounds great. I've got an old '68 Tele that I use in the studio quite a bit, but I don't want to take that on the road. So that Talman really does a brilliant job of covering that tone.
"I've got a '65 Strat that was refinished, which made it somewhat affordable. There were some tunes on the new record that were done with vintage Strats, and because it's a refin I can take it on the road. Sometimes you need that nice, vintage tone, y'know?"
You seem to like to get a fairly penetrating, projecting sound from the Mesa/Boogie Lone Star, but with a little flattering compression and sustain from the pedals. Would you say that's true?
"Yes, I started off using that amp as a dual channel and I loved the lead sound - and still do - but I gravitated more to using the clean front end and pedals. Once I got that [The AT] JHS pedal, that was the lead tone I've been looking for as far as a live, very consistent tone. And I felt, even though I love the lead channel of the Lone Star, I had a little more articulation and control running that pedal into the clean channel. I need a very quick amp; I like a quick response and so that amp is kind of nice and in the middle, but that helped me get a little less sag."
Pedal power
How did you develop the AT pedal?
"There's a guitar shop here in McKinney, Texas called The Guitar Sanctuary and they said, 'You should check out this Angry Charlie by JHS.' It's a kinda Marshall-in-a-box and we plugged it in and I really liked it and so I bought it.
"Then I was doing a clinic in Guildford for Andertons and the Lone Star that was provided had an effects loop that wasn't working. It was probably just a faulty tube, but I didn't have one with me, so I had to run everything into the front of the amp.
"What that means is, if I run my echo into the front of the amp I can't use the lead channel because that's going to get messy, right? So I thought, 'Well, I've got this Angry Charlie and so that can be my lead sound.' So I reconfigured everything into the clean channel of the amp and I had an amazing gig. And I thought, 'I really like this pedal!'
"So the pedal became a permanent fixture on the 'board and the next NAMM show I went to meet these JHS guys and thank them. I met their main builder/designer and he said that they'd had the Angry Charlie out for years and had suddenly seen a spike in sales. So he said if ever I wanted to modify it or come up with some ideas, they'd do a customised version for me and that ended up being my AT model."
Do you run your Lone Star on full power?
"Yeah, I'm definitely a 100-watt guy. It's all headroom for me; I want that openness, I want the dynamic - and that's something I had to fight for on the new record. Everybody is trying to get music as loud as they can these days in order to compete with what else is out there so that the levels don't drop when your track comes up on the radio.
"After spending all this time on tone and playing and just the overall sound of the record, at the mastering stage it starts getting louder and when you crank up those levels it's compressing - it's limiting and all that detail goes away. The result was that I was able to convince everybody involved that we need that dynamic, otherwise it's pointless. I'd much rather have that dynamic and detail because, for me, that's where the expression lies on the instrument."
Undead shred
You came up in the shred era: what aspects of shred do you think are still relevant in guitar today?
"It's hard for me to be objective about it. Shred has a bit of a negative connotation - it kinda means overplaying and bad tone! It was a focus on technique and it was a matter of technique over substance or song - not always, but let's just say largely.
"It didn't help the reputation of the guitar. Any command of the instrument is valuable, but it depends on how you use it. I'm much more interested in hearing players who maybe have that ability but use it in a way that might warrant repeated listenings."
Do you think enough emphasis is placed upon developing all-round musicianship as opposed to pure chops?
"If you look at the things that I have done, I'm interested in a lot of different types of music and I've always enjoyed just trying to do what's appropriate. It comes from being in a band since I was 13. It wasn't about sitting in a bedroom playing as fast as you can, it was about what's right for the gig.
"From Olivia Newton-John to Simon Phillips, it's a completely different set of chops or requirements, but in a way it is the same thing. It's just what's best to make it sound good. If your goal is to be a professional musician, then that's the key that made me always work, because people knew they could rely on me to come in and do what's appropriate for the gig."
What's next for you?
"Obviously, we'll be promoting the Theme From A Perfect World record for a while. But there are a lot of things on the back burner and things I want to complete. There's the bossa nova record that I did… I've been doing some clinics in Brazil for a few years for a company called GNI, who make a pedal for me - it's like an Octavia pedal - and I've been going down there and having these great tours and experiences.
"I love Brazilian culture and certainly the music, I've been playing bossa nova for years for my jazz set. So that will be coming out soon and show a very different side of my musical interests. There are a couple of surf records that I'm dying to put out; a very mid-50s Ventures influence, but it still rocks a little bit. It's a lot of fun.
"The band's called Beach Blanket Ringo - it's sort of loud, surf-influenced instrumental guitar. [In 2014], Dick Dale came through town and I'd just finished that surf record and I decided that we'd never played a gig because it's basically me playing everything on the record, except for Mitch Marine, my old drummer playing on about half the tracks.
"So I decided we should do a gig and I invited myself to open for Dick Dale and I stayed for his gig and those old Dual Showmans, reverb tanks and big old 15-inch JBLs - it's just the sound. Such a sound!"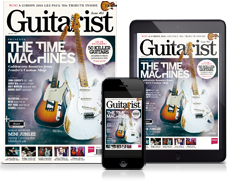 The magazine for serious players
Subscribe and save today!