6 boundary-pushing guitar bodies
Teuffel Birdfish
Unveiled by Ulrich Teuffel in 1995, the Birdfish is as much a piece of art as it is a guitar.
Steinberger L-Series
Industrial designer Ned Steinberger stripped back the electric instrument (originally the L-Series L2 bass in 1981, then the GL guitar - on which the shape of the Spirit, pictured, is modelled) to a minimalist body without a headstock or, indeed, much of a body.
Parker Fly
The Fly, the vision of Ken Parker and Larry Fishman, first appeared in the early 90s and included numerous out-there features, not least the composite shrouded body and neck.
Gus Guitars G1
Simon Farmer launched his G1 back in 1994 and has stuck to his guns since then, adding different models, basses and baritones equipped with MIDI and piezo pickups.
Pagelli Valstone Top
Based in Switzerland, Claudio Pagelli and his wife Claudia create some of the most beautiful yet challenging designs we've ever seen.
Ampeg Dan Armstrong 'Plexi'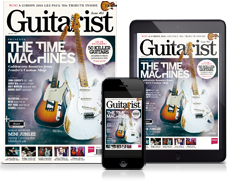 The magazine for serious players
Subscribe and save today!