6 boundary-pushing guitar bodies
Teuffel Birdfish
Unveiled by Ulrich Teuffel in 1995, the Birdfish is as much a piece of art as it is a guitar.
"My original idea was to build a guitar constructed so the fundamental elements, the tonewoods and the pickups, are put together in a modular fashion. This design not only allows unlimited tonal possibilities, but also results in a very lively, percussive tone," he said.
The complex construction involves aluminium, maple and alder 'tonebars', while the pickups are easily movable and interchangeable - with a choice of five types offered. A MIDI version includes a piezo acoustic bridge and MIDI control box.
Steinberger L-Series
Industrial designer Ned Steinberger stripped back the electric instrument (originally the L-Series L2 bass in 1981, then the GL guitar - on which the shape of the Spirit, pictured, is modelled) to a minimalist body without a headstock or, indeed, much of a body.
The composite hollow structure was radical enough, but was enhanced with active EMG pickups and latter innovations, such as the pitch-changing TransTrem vibrato. The Steinberger brand was sold to Gibson in 1987 and, in 1990, Ned (as NS Design) began making headless orchestral instruments and upright basses.
Parker Fly
The Fly, the vision of Ken Parker and Larry Fishman, first appeared in the early 90s and included numerous out-there features, not least the composite shrouded body and neck.
In addition, there is a composite thin layer fingerboard with stuck-on stainless steel frets, and a vibrato with piezo elements to produce acoustic-like sounds, as well as those from the DiMarzio design humbuckers.
The brand was sold to US Music in 2004: Ken returned to building highend archtops; Larry continued his 'day job' as the founder of Fishman Transducers. Parker plans to update and relaunch the guitar range in 2017.
Gus Guitars G1
Simon Farmer launched his G1 back in 1994 and has stuck to his guns since then, adding different models, basses and baritones equipped with MIDI and piezo pickups.
Simon's design influences lie in the world of classic motorbikes and cars, rather than guitars, and the models employ a wooden core shrouded in carbon fibre with a distinct tubular metal frame.
Numerous pros rave about the Gus - including the late Prince, who had also ordered a bass before his untimely passing (and by whom the G1 Purple Special, pictured, was inspired).
Pagelli Valstone Top
Based in Switzerland, Claudio Pagelli and his wife Claudia create some of the most beautiful yet challenging designs we've ever seen.
This stone-topped (quartzite) acoustic beats them all. It presented numerous challenges: the top itself is just 1mm thick, and although the rest of the construction is more conventional, it does work - we played it!
"It sounds somehow compressed," said Claudio, adding that he needed all his experience of flat-top and archtop building to make the stone 'sound'. A master of his craft.
Ampeg Dan Armstrong 'Plexi'
Introduced in 1969 in time for Keith Richards to use at Altamont, the 'Plexi's' see-through body was made of clear acrylic (Plexiglas).
It had a 635mm (25-inch) scale and 24 frets and the modular pickups could be swapped. The 'Plexi' has been used by many a rocker - Tom Petty, Joe Perry, Tom Verlaine - and the bass version has seen service in the hands Phil Lynott and Bill Wyman.
Ampeg reissued the guitar a few years back as the Ampeg ADA6, but it's not currently in production.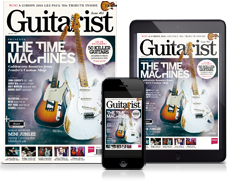 The magazine for serious players
Subscribe and save today!