Tony Choy talks Atheist, his love of Fender Jazz basses and pioneering playing
Introduction
Grammy-nominated bassist Tony Choy has been a force of nature at the low end for more than 25 years, pioneering new approaches in metal, Latin, funk and even pop music. We meet the great man...
Best known for his astounding bass playing in the experimental US metal band Atheist, Tony Choy first entered the public eye in 1991 with that band's second album Unquestionable Presence.
Aficionados of the more unorthodox end of metal from the era will be familiar with the mind-blowing jazz and funk grooves which Choy introduced into Atheist's complex sound, an approach which he continued with the Dutch band Pestilence and a huge list of solo and collaborative albums, producing gigs and sessions ever since. Notable among these was Cultivation, an album he wrote and released in 2011 under the band name of Synkronizity.
"I've never been pigeonholed: everyone I've ever worked with has told me, 'T, be who you are: do what you do'," explains Choy down the line from Florida.
"That said, with Synkronizity I was able to just be me. Elements, Atheist's third album from '93, was another album where I was able to be myself. I heard people call what I did 'salsa metal'! I created a rhythm section for metal music, which is what people often miss in metal. I also like a lot of the stuff I've done in pop music, just because of the groove that it has."
Known for his ability to solo with enormous speed and fluency, Choy has taken a more pocketed approach in recent years, he tells us. "There's a time and a place for everything. I don't like to overplay. The bass was made to be a rhythmic instrument, and that's why I chose to play it in the first place.
"I'm all about the groove, and the connection between the melodic and the rhythm section. I marry myself to the kick drum, because at the end of the day that's what the bass guitar is - a kick drum with notes! That's how I see it. If you want to impress people, it's not about how many notes you play, it's how you play them. Stick to that kick. Move around gracefully, but stick with it, and actually the bass will be heard even more."
This back-to-basics approach also extends to gear, he continues. Although Choy remains an Ibanez endorser and also played Zon basses for many years, he recently returned to tried-and-tested gear.
"I play a 1970s reissue four-string Fender Jazz now," he says. "I left all my boutique basses behind - I don't want to deal with five strings any more! I'm totally in love with that Jazz, and I'll never go back. It's funny how you sometimes avoid things through ignorance... I pride myself on being open-minded, and I picked up that bass and we connected immediately.
"There's definitely a connection between the bassist and the bass. People say to me 'I want a bass that is brand new!' and I'll say, 'No, brother, you don't understand. You need to find a connection with that bass in that rack: you might not have the connection you need with that bass straight out of the box'. Know what I'm saying?
"I'm a three-control guy: I just need volume, bass and treble. The bass needs to sound like a bass, I've always said that. Put effects on the guitar and vocals, not the bass. The sound needs to be punchy, dry and organic, because what you hear is what you get. I set all the EQ flat because the bass player should make the sound. That's why I picked the Jazz, because it's all about the sound. I've found a happy marriage with dynamics and a plush, clear sound."
Full plate
Choy's career has been first-class: he's worked on 50-plus albums, from that first Atheist record to the Latin Grammy-nominated album Hay Que Cambiar in 2004 with the band Area 305. He looks back on those early days with humility: his spot on Unquestionable Presence came about after Atheist's previous bass player, Roger Patterson, lost his life in a road accident.
"I often think back to Unquestionable," he says, "because I was playing my friend Roger's music and continuing his legacy. May he rest in peace. He was such a beast of a musician, and so humble. He would have dominated the music business if he'd survived."
Choy has a full plate of gigs ahead of him, he explains. "I lived in Miami for 30 years and I couldn't take it any more, so recently I moved up north and partnered up with Rising Starz Music Academy in Davie, Florida. I started an artist development programme there, working with kids and showing them the tricks of the trade. After 25 years of this you learn a lot about how not to do it - that's what I tell people!"
He adds: "I'm also working on a project called Neuromorph with Patrick Mameli from Pestilence, and just produced an album for a Mexican thrash metal band called Strike Master.
"Not only that, me, [renowned session drummer] Derek Roddy and [Cannibal Corpse guitarist] Rob Barrett are going to do a little side project. Rob and I have been friends for over 20 years, since we were kids and I was in [death metal band] Cynic. He knew I'd been producing music for 17 years and suggested we form a band like Rush but with an edge and a melodic bass. I thought that sounded really cool."
Does Choy have any tips for budding career bassists? He starts with a grim warning. "All today's musicians are on a race to zero, thanks to the internet. Everybody does everything themselves now. Everybody's a producer with a home studio and musicians are practically obsolete.
"You can put a track together in minutes, perhaps not professionally, but good enough to get by. In the term 'music business', the music part is small and the business part is big. We've lost the essence of what music is really about."
It's not all bad news, though: "That said, nothing is impossible, as long as you approach your instrument - and your career, and your life - with passion," he states. "That will take you a long, long way. I definitely recommend that you study theory. I learned to play bass on the street, in the school of hard knocks, and it's a blessing that I got to learn from amazing musicians. That was how I learned my theory, but you can learn your theory in school too. Knowledge is power: learn as much as you can! That's what I tell my kids and my students. With that knowledge you can get out there and make music - good music."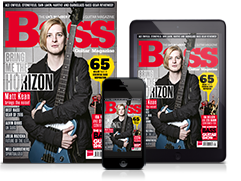 We're the UK's only print publication devoted to bass guitar.
Subscribe for star interviews, essential gear reviews and killer tuition!