The M Machine: 10 records that blew our minds
When three become two
San Francisco-based Ben Swardlick and Eric Luttrell formed The M Machine in 2011. A three-piece, before the departure of Andy Coenen two years ago, Swardlick and Luttrell were roommates at University of California, Santa Barbara.
Both came from a songwriting background, until they discovered the wonders of computer software and ventured into video game scoring and sound design.
Trading tracks and sounds between each other, the duo soon realised they had a flair for making dance music. Their first release came under the moniker Pance Party, of which they were encouraged by the success of a teaser video for their supposed debut album 'Metropolis'. Renamed The M Machine, the album was later split into several EPs and released on Skrillex's OWSLA label.
Relocating to San Fransicso, Swadlick and Luttrel began having multiple Beatport No. 1s with their dystopian electro-house sound, aided and assisted by support slots for Skrillex and Markus Schulz, in addition to headliners at various high-profile music festivals. After five years climbing the ladder, the recent release of The M Machine's debut album 'Glare' sees them hit new highs thanks to its flawless production and ingenious blend of electronic pop and genre-bending EDM.
Click through the gallery to find out the 10 records that most influenced The M Machine...

1. Smashing Pumpkins - Tonight Tonight
Eric Luttrell: "The Pumpkins have been my favourite band since I was about 10. I still remember the feeling of getting this double CD from Blockbuster Music (RIP) in 1996.
"This was right about the time I joined my elementary school band to play snare drum. I spent many nights as a kid with Tonight Tonight in my Discman, relentlessly trying to play perfectly along to the snare drum of this track with my brand new drumsticks and practice drum pad.
"Musically, this track's orchestral elements definitely shine brightest and have been a huge influence on the more orchestral stuff I've written over the years in The M Machine. The music video is amazing as well, with its homage to the 1902 French silent film, A Trip To The Moon."
2. Aphex Twin - Come To Daddy
Ben Swardlick: "There was a moment in my childhood when I started to become super-aware of how large an attention span I had for music.
"I wasn't turning on background noise or the soundtrack to some other activity and wanted my friends to stop everything they were doing and listen to every second of a song. Come to Daddy is maximal music - the way lots of Aphex Twin's music is.
"Every bar is crammed with detail and the arrangements are freeform, which is perfect if your thing is staring at the ceiling and learning every inch of a piece of music.
"The veil, or magic, of electronic music can wear off the longer you write your own or analyse others. Aphex Twin is unique in that - 20 years later, I still have no idea how he does what he does. And then there's his music videos... "
3. Coldplay - Amsterdam
EL: "The payoff of this song is so good. It's a beautiful, quiet track for the first three quarters of the song - only a piano and a vocal, then you enter a build-up of sorts that finally cascades into one of my favourite musical moments of all time at 3:57.
"It brings you into a surreal world of lush, dreamy textures and chords. The 1/8th note bassline drives the track along and is usually the thing that's still stuck in my head after the song ends.
"When I first heard it in 2002, it was one of those moments where I realised music could make you feel that good."
4. J Dilla - Donuts
BS: "Dilla is a wormhole - usually described as your favourite beat-makers' favourite beat-maker.
"You can start with Tribe, The Roots, Prefuse 73, RJD2, whatever… all roads lead to J Dilla, and he wrote some of his best works (including Donuts) on his deathbed!
"I usually tell people who miss 'old Kanye' (boo Kanye btw), that they have hours of beats to explore in J Dilla (aka Jay Dee). Anyone who's ever sampled records learned something from this dude.
"It's embarrassing to imagine now, but in high school we used to put Dilla albums on in the car and freestyle rap. Thank god we didn't have smartphones!"
5. Joy Division - Transmission
EL: "I discovered this song back in 2007 - one of the more formidable years of my life.
"I spent five months in Berlin studying abroad for university and during that time I was introduced to all sorts of new music, but this track really struck a chord - and still does to this day.
"If I hear it anywhere and close my eyes, I feel like I'm transported right back to that misty, beautifully eerie city. It was a watershed moment in my life. I'm really lucky to have had that opportunity to spend time there because that city has something magical going on with it."
6. Little Dragon - Feather
BS: "Right about a year after college, I got sort of 'washed over' by indie lady vocals like Little Dragon, Rubblebucket, Kimbra, Feist, St. Vincent, Bajka, The Submarines, and on and on - all these front women that I had never listened to.
"Little Dragon was the igniter. I can remember driving from Los Angeles to San Diego and listening to Feather the whole way. And, really, all their albums are perfect.
"I'm a huge fan of the Gorillaz, but what I love them for the most is introducing me to Little Dragon."
7. Simple Minds - Don't You Forget About Me
EL: "This song reminds me of driving around with my parents as a little kid and I always credit it as the song that forever ingrained into me a love of '80s synthpop.
"It's a song I've been listening to since I was literally two years old and I'm still not sick of it.
"I also love this song because my voice happens to be in the same register as Jim Kerr, the singer from Simple Minds, so when it comes to karaoke, Don't You Forget About Me is definitely my ace in the hole."
8. Siriusmo - Mosaik
BS: "If you've listened to much M Machine, you'll know how much we value experimentation in our style.
"I value, above all, artists who try all the moods and all the genres. That's why I get so stuck on Aphex Twin, Mat Zo, Todd Terje, and the original champion of variety, Siriusmo.
"I'm choosing Mosaik here because it came out right around the same time as a couple of other very special German artists put out great albums - namely Boys Noize and Modeselektor. But, the follow up album, Enthusiast, has the same qualities, which is just a stupid demonstration of range.
"Siriusmo is channelling house, IDM, hip hop and jazz in the same few minutes of play time, and I still feel like he's wildly unsung."
9. Justice - Genesis
EL: "When I first heard this track back in 2007, I was mesmerised. It didn't sound like anything I'd ever heard before.
"A mixture of 1930's King Kong horns, ridiculously chunky drum hits and the gnarliest and funkiest baseline I'd ever heard up to that point. I'd never heard any music production like that, it honestly sounded impossible.
"It just sort of opened my mind to a whole different and more rock music-influenced version of dance music, which up until that point I had no idea even existed."
10. Daft Punk - Aerodynamic
BS: "Discovery was an easy album to love at high school. I got really into the idea of progressive electronic music, and even back then I recognised how much I connected with music that evoked a feeling of desperation. That's still the feeling I target when I write.
"Here's the arrangement: start with church bells, then some phaser disco, cut to the guitar solo, bring back the phaser disco underneath, lose it all for the church bells again, reinterpret the guitar solo, switch on the drum machine, lay in the filter chords, boom, more church bells and we're out – amazing!
"Aerodynamic is also a serious turning point in Daft Punk's album video Interstella 5555. Just the idea of an animated feature that corresponds to your album is basically game over for me, which is to say nothing of the content… a space disco alien adventure love story? 10/10."
Check out The M Machine's latest album 'Glare'. For more information, visit The M Machine's Facebook and Twitter pages.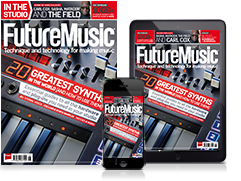 All-access artist interviews, in-depth gear reviews, essential production tutorials and much more.
Get the latest issue now!