The 20 hottest bassists in the world today
The hottest bassists out there all bring something different to the table that we can listen to, learn from and use to inspire us to be better players ourselves. We asked you to vote for your favourite bass player, and vote you did.
What this poll does show is that, despite many suggesting that the 'age of guitar' is coming to an end, we in bass-land have many fine exponents coming up and breaking through; there's no shortage of inspiration, thank you very much!
Whether you're into rock, jazz, pop, funk, country, metal, fusion or all of the above, the names in this poll have all got something to offer, and judging by the number of votes for them, you all think so too.
While some are solo artists in their own right, cutting their own path, others are key members of their respective bands or sidemen/women for well-known names. The common factor is that each of them is at the top of their game.
We have the full gamut: fingerstyle players, pick players, slappers, pluckers and tappers, with some of our players combining all of these styles to coax the best bass tones out of their instruments.
The worthy winner of the poll was Joe Dart, a man who has lit up the bass world in recent years, inspiring us to get our fingerstyle technique in order. The other players listed are in no particular order, but do check them out, as one of them might just be your new favourite bassist.
You can find out more about the hottest bassists in the world in issue 170 of Bass Guitar magazine (July 2019). To celebrate this epic gathering of players, the mag is available in four collectable covers: choose from Joe Dart of Vulfpeck, fusion star Mohini Dey, educator and songwriter Ariane Cap and Snarky Puppy's prime mover Michael League. Better still, buy all four!
There's a further treat for Joe Dart fans, too: a limited edition bundle that contains not only the mag with an even more exclusive collector's cover, but also a Joe Dart T-shirt (large - one size only). This is available to order now priced at £25, but make sure you get in quick, as only 250 are available.
WINNER: Joe Dart (Vulfpeck)
It doesn't surprise us that the Joe Dart fan club is positively overflowing. Despite Vulfpeck being far from a 'mainstream' band, they sell out shows the world over.
The man remains funky whether playing a flurry of sixteenth notes, an unaccompanied solo or single notes to support the band.
Truly, the hottest bass player on the planet right now!
Davie504 (YouTuber)
2.6 million (and counting!) YouTube subscribers can't be wrong! Davie has managed to tap into YouTube as a platform like no other bassist; with humour and inspired marketing, his face is instantly recognisable.
And he's an impressive player, too - the guy is no slouch that's for sure!
Ariane Cap (educator and solo artist)
Hailing from Austria, Ariane is an accomplished sidewoman and soloist across a wide range of musical genres.
Often seen with a Marleaux instrument in her hands, amongst others, she's a formidable exponent of tapping, as well a being a seriously cool educator, with her own tuition book and course.
Johny Chow (Stone Sour)
Formerly of Cavalera Conspiracy, amongst others, and an accomplished artist also, Johny's bass playing currently anchors rockers Stone Sour with a 'good-time' smile on his face.
With a Warwick bass hung from his shoulder, the man knows his tones and what he's looking for in a bass.
Thundercat (solo artist)
When Mark King takes notice of you, and your playing inspires him to request a six-string bass, you know you're making waves!
Funky, groovy and armed with a semi-acoustic Ibanez and Aguilar rig, Thundercat covers bass and synth lines that mix classic soul, funk and fusion from the '70s.
Julie Slick (solo artist)
As part of the Adrian Belew Power Trio and her own duo-fronted band, EchoTest, and armed with her Lakland basses, Aguilar amplification and an armoury of FX, Julie's virtuoso prog-infused performances have certainly struck a chord within bassdom. Impressive playing and impressive tones to match.
Chris Kael (Five Finger Death Punch)
With 5FDP since 2010, toting Spector basses into Mesa Boogie amplification, Chris forms the solid backbone of the band, whose popularity continues to surge upwards.
With a grinding metal tone that cuts through the sneering guitar backdrop, Chris's pick-fuelled basslines hit you right between the eyes.
Norm Stockton (solo artist)
Endorsed by MTD, GK, Dunlop and Aguilar, amongst others, Norm is a well-seasoned educator and clinician, occasionally using a 7-string MTD alongside his regular five-string.
A first-call session player with several albums and a series of Grooving for Heaven DVDs, he covers a lot of ground and has an impressive reputation.
Michael League (Snarky Puppy)
One of the funkiest bassists on the planet, creating basslines so dripping in funk that you can't help but move to them.
Whether playing with Snarky Puppy or just jamming on his own into an amp, the man comes across as down to earth but totally inspiring. What's not to like?
Federico Malaman (solo artist)
In bass playing terms, Federico is like the finest red wine to come out of Italy - the man has groove, feel and chops to die for.
He has stunning technique, and uses it to such good effect that it's difficult not be impressed by his command of the instrument. Wowsers!
Tanya O'Callaghan (Maynard James Keenan, Dee Snider)
The girl from the Emerald Isle with the multi-coloured dreadlocks has come a long way in a short time. With her Sadowsky instruments running into GK amps, she seriously rocks.
Her work with Maynard James Keenan (Tool) and Dee Snider (Twisted Sister) proves that this bottom-end bass god is here to stay.
Mike Kerr (Royal Blood)
Royal Blood cover so much sonic ground between them. Mike Kerr plays, sings, switches FX and more - a Geddy Lee for the 21st century!
He's got the riffs, tones, chops, grooves and songs to match, all of which make you want to pick up a bass and try to emulate Mr Kerr.
Alex Venturella (Slipknot)
Since joining the ever-changing line-up of Slipknot, V-Man has made the bass position very much his own, even daring to bring headless basses and LEDs (courtesy of his Status Graphite instruments) into the dark detuned world of heavy metal.
Play, be seen and be heard!
Adam 'Nolly' Getgood (Periphery)
Through his exemplary work with prog-metal combo Periphery, Mr Getgood struck up a relationship with Dingwall Guitars which led to the design and manufacture of the NG2 and, now, the NG3 models.
Having left the band in 2017, the bass world eagerly awaits his next low-end endeavours, but his legacy is already assured.
Snow Owl (solo artist, Hans Zimmer, Elton John)
Young Mr Owl has been wowing audiences the world over with his recent performances with Hans Zimmer. That doesn't surprise us, because he's a class act.
We've seen his playing stun very well-known bassists into complete disbelief. Check out his back catalogue if you don't believe us.
Mohini Dey (solo artist)
Mohini's command of the instrument is frightening. Not only is her musical knowledge very impressive, but her playing technique is also awe-inspiring, belying her tender age. But then she did pick a bass up at three years old.
Expect to hear great things from her in the future, but check her out now!
Cody Wright (solo artist)
Cody has inspired a whole new generation to grasp the funk while playing with a pick. Not only is he incredibly down to earth, but his basslines and compositions are also slinky, infectious and highly impressive.
Give him a looping pedal and prepare to be impressed by his on-the-spot compositional skills.
Andrea Goldsworthy (Paloma Faith)
Bringing the solid foundation to Paloma Faith's pop/soul excursions, Andrea is as adept at playing an upright as she is a solidbody electric bass.
Festival season is upon us, so be sure to catch Andrea's driving force in Paloma's sets over the summer months. Prepare to be impressed!
Hadrien Feraud (solo artist)
Hadrien has been scaring us with his astounding technique and command of the instrument for a number of years.
We highly recommend you catch one of his playing clinics when possible - he'll have you wanting to get back to bass practice immediately!
Ryan Madora (session bassist)
Ryan has killer grooves and a slinky feel, and is partial to using a slide. She deploys this tastefully and effectively on her country-inflected grooves. The girl has truly got it going on!
Ryan has backed the likes of Robben Ford, Carrie Underwood, Lady Antebellum and Garth Brooks.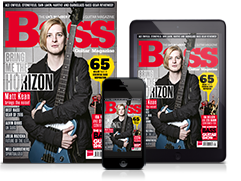 We're the UK's only print publication devoted to bass guitar.
Subscribe for star interviews, essential gear reviews and killer tuition!