The 16 best guitar albums of 2018
10. Tom Morello - The Atlas Underground
The Total Guitar/MusicRadar Best in guitars 2018 polls received an astonishing 126,000 votes, and we're now ready to roll out the winners. The nominees were what we considered to be the guitarists and guitar gear that have excelled in 2018. Here, we present the best guitar albums of 2018.
Taking up positions 16 to 11 are:
16. The Magpie Salute - High Water I
15. John Butler - Home
14. Thrice - Palms
13. The Marcus King Band - Caroline Confessions
12. Johnny Marr - Call The Comet
11. Paul Gilbert - Behold Electric Guitar
Kicking off the top 10 we have Tom Morello's The Atlas Underground...
We say: The Atlas Underground is a glitzy showcase of Morello performing with a wide array of colleagues from the worlds of hip hop, EDM and pop, including Marcus Mumford, Big Boi, Gary Clark Jr and Steve Aoki. Repeated spins reveal a stunning range of depth.
Battle Sirens, the instrumental opener, starts out with punchy Rage Against The Machine-style riffing but when the synths kick in, you understand that we are time zones away from 90s rap rock. That said, his unmistakable riffing dominates belters like Roadrunner while on tracks like Where It's At Ain't What It Is, he uses his guitar to coax a spectrum of scratches, pulses and bright dynamics.
The MusicRadar Best in guitars awards are brought to you in association with Ernie Ball. #colorsofrocknroll
9. A Perfect Circle - Eat The Elephant
We say: The fact that a lot of this record was written on piano may well have contributed to giving it a cohesiveness that belies the 14-year gap since the band's last album, but that's not to say Bill Howerdel's guitar doesn't make its mark. Howerdel's use of space in The Doomed and Talk Talk allow it to hit harder, while the guitar-driven So Long, And Thanks For All The Fish is a surprising listen with its upbeat spin on downbeat themes.
8. Alice In Chains - Rainier Fog
We say: Front and centre is Jerry Cantrell and William DuVall's ever-evolving guitar partnership, aided by some of the best high-gain tones in the biz. Although the album can lean a little heavily on midtempo riffage, tracks such as Red Giant are masterful in their simplicity, making the most of nail-on-the-head refrains with a sinuous delivery only AIC can muster.
The big, delay-heavy middle eights of the title track and Fly are particular six-string highlights, but it's Cantrell's emotive, unearthly solos that steal the show.
7. Billy F Gibbons - The Big Bad Blues
We say: Gibbons' second solo record is another masterclass in pentatonic perfection, suited for basement dive bars that have seen their fair share of bloodshed. Missin' The Kissin' kicks things off in a shuffle akin to '73 hit La Grange but with distorted harmonicas wrestling guitars for space – a quality which can be said for the album as a whole.
With little that could be considered dominant or – perish the thought – major in tonality, it would be fair to say blues doesn't come bigger or badder.
6. Architects - Holy Hell
We say: It's not possible to separate this album from the tragedy it has followed. The despair and anger echo here from the loss of guitarist and main writer Tom Searle in 2016, but Holy Hell's merits aren't defined by the band's undeniable strength in merely continuing on. They've made a record worthy of Tom's high standards and the upward trajectory they were on as a band when they lost him.
Sylosis chief, new recruit Josh Middleton and Adam Christianson craft irresistible groove and even ambience under what could have been a precarious balance of Sam Carter's emotional and furious vocal performance with a new level of anthemic hooks. The year's most affecting metal record also affirms Architects' future.
5. Slash - Living The Dream
We say: If there's any guitar player in the world that's lived the dream – and is still living the dream all these years later – it's Slash. This fourth solo effort proves exactly why – from its hard-hitting opening riffs to the You Could Be Mine-esque brilliance of My Antidote and beyond, it's a ride as wild as the life of the man himself.
Slow Grind carries one of his finest solos outside the band that turned him into a household name, while The Great Pretender churns all the magic of his Godfather solo into one searing ballad.
4. Clutch - Book Of Bad Decisions
We say: With their previous two albums being absolute stormers, even by Clutch standards, this has high standards to rise to. We needn't have worried, this 15-chapter Book is still essential reading, but change is afoot. Recording it live with Vance Powell has brought back a slightly more organic feel to their honed chemistry, bringing out looser, bluesier breaks on the title track A Good Fire, even horns in the brassy 'weaponised funk' of In Walks Barbarbarella.
Tim Sult's unexpectedly trippy outro solo on Emily Dickinson proves again that he's far more than a riff factory. What hasn't changed is the sense of energy Clutch summon from every facet.
3. Joe Satriani - What Happens Next?
We say: It seems Satriani isn't content to just be a member of supergroups; he's now inviting rock legends to join him on his solo material as well. The sunglassed shred god's 16th album sees him team up with Chickenfoot compadre and Chili Peppers drummer Chad Smith, and Black Country Communion/Deep Purple man Glenn Hughes, who handles low-end duties. As you might expect, What Happens Next is the most hard-rockin' album to the guitarist's name.
2. Tremonti - A Dying Machine
We say: As the Alter Bridge man heads rapidly towards Bonamassa levels of prolificacy, it's easy to take his hard graft as a songwriter for granted. The riffs just keep on coming, this time with an ambitious twist for his solo project's fourth album. There's an assured blend of versatility with cohesiveness here that's more pronounced than before; A Dying Machine is this band's strongest statement yet with the guitarist stepping up as vocalist and writer to meet his thematic vision.
Tremonti and guitar cohort Eric Friedman even takes a confident step into thrash-meets-pop punk in the octaves of Take You With Me. And The First To Last is their biggest anthem yet; a Creed-sized slice of eighties singalong that utilises Tremonti's trademark thumb and finger-picking style in its build and release dynamic.
Winner: Joe Bonamassa - Redemption
We say: Such is Joe Bonamassa's virtuosity, it is hard to shake the suspicion that his technique was first developed in utero as he practised his vibrato on the umbilical cord. Redemption, his 13th solo studio album in an expansive discography, tells us nothing that we didn't know about Bonamassa the guitar player but it is an exhilarating affirmation of his gifts.
And, also, his influences. Bonamassa has always cleaved to the British and Irish blue-collar interpretations of the blues-rock sound, and in Evil Mama it has an opener that recalls Led Zeppelin's Rock And Roll with its intro before easing into a casual groove.
Molly O has a Uriah Heap Gypsy vibe to it, a classic-rock stateliness that suits Bonamassa's style. Bonamassa has said that Redemption is, spiritually speaking, a reaction to the Blues Of Desperation, whereby he's purposefully putting a little more PMA into his pentatonic exertions. This comes across in the playful King Bee Showdown and the cautionary Just 'Cos You Can Don't Mean You Should, which has a lick that plays like a juiced-up BB King.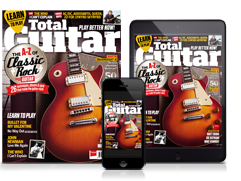 Stay up to date with the latest gear and tuition.
Subscribe and save today!