The 12 best music tech personalities in the world right now
10. Starsky Carr
The Future Music/Computer Music/MusicRadar Best in music tech 2018 polls received thousands of votes, and we're now ready to roll out the winners. The nominees were what we considered to be the personalities and gear that have excelled in 2018. Here, we present the best music tech personalities of 2018.
Taking up positions 12 to 11 are:

12. RetroSound
11. Andreas Schneider
Kicking off the top 10 we have Starsky Carr...
2018 highlight: If you're looking to buy a second-hand analogue synth, there's a chance that you've come across Starsky Carr's channel. Whilst trawling the internet for as much info as you can possibly get on old gear that you may not have access to, Starsky's channel is chock full of comparisons of synths and plenty of in-depth knowledge on buying those old 'boards.
9. Knobs
2018 highlight: Knobs' top-down videos are a visual feast. In fact, any screen-cap would be a worthy addition to any synth-nerd's Instagram channel.
While mostly focusing on pedals and modular, you'll also find the odd standalone hardware synth demoed, just as long as it's got some knobs on it of course.
8. Mylar Melodies
2018 highlight: OK, so we'll be a touch biased on these next two entries, mostly because we have had the pleasure of working with them and they have felt the pain of working with us.
You will find countless engaging demos and tutorials on Mr Melodies' channel and more recently he has launched a new podcast called Why We Bleep, chatting with the guys who make music and the guys who make the things behind making the music.
7. DivKid
2018 highlight: The current brains behind Future Music's Modular Monthly feature, DivKid is a relentless outlet of all things modular. Regular podcasts, interviews and how-tos are all there for you to feast on.
6. Justin DeLay
2018 highlight: Producer and all-round synth-nut, DeLay can be found leading the charge over on Reverb.com. While most of his work may now be taking him away from appearing in front of the camera, he's still responsible for the wide-ranging amount of content to come out of Reverb towers.
5. Look Mum No Computer
2018 highlight: LMNC, aka Sam Battle, burst onto the 'Tube in 2016 and in that short space of time has amassed a very respectable 21k subscribers and over 1.1 million views.
It's not all about the stats of course, as Sam's content slightly differs from the rest of the winners here. With the likes of Synth Bike, 100 oscillator synth and the bonkers Furby orchestra, we have been treated to a feast of DIY modular builds and synth jams.
4. BoBeats
2018 highlight: The name of the game on Bo Beats' YouTube channel is all about "music production and creativity", with liberal lashings of synthesizers.
His playlists, varying from tips on song-making, tutorials on synth editors and reviews of the latest gear are joined by some very helpful sound design tricks.
3. Nick Batt
2018 highlight: Much like ourselves, you'll find last year's winner Nick feverishly slaving away at numerous tradeshows and electronic music events throughout the calendar year, as well as getting down and dirty with all the latest gear.
The popularity of this man is such that he has his own meme. It has been noted that Nick has a penchant for pulse width modulation. However, not one to be outdone, you can order your very own PWM t-shirts via SonicState, too.
2. Andrew Huang
2018 highlight: In terms of numbers, Andrew Huang is proper big time in the YouTube stakes: over 1.5 million subscribers and nearly 200 million views and, quite frankly, it makes us want to cry.
Us mere mortals dream of such numerical returns on our videos and maybe we need to get stuck into making some Unicorn MIDI sequences to be getting anywhere near those numbers.
It's not all mythical creatures in your DAW though, as Andrew has proven time and again, with his relentless offering of creative and entertaining content.
Winner: Cuckoo
2018 highlight: While Cuckoo's tutorial and review offerings cover many different products, he does have a penchant for all things Swedish. Well, maybe not all things...
Owners of Elektron and Teenage Engineering gear will have most certainly come across Cuckoo's work at some point. His in-depth tutorials on the OP-1 pretty much make him the authority on the little synth with the powerful heart.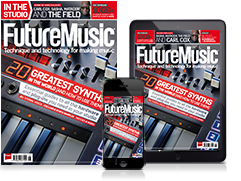 All-access artist interviews, in-depth gear reviews, essential production tutorials and much more.
Get the latest issue now!