St Vincent on creating her signature Music Man guitar, avoiding playing clichés, and performance art
Introduction
Art-rocker and designer of a stunning Music Man signature model, St Vincent - AKA Annie Clark - is notching up accolades across the entire breadth of the music world. We find out more…
You know that feeling when you've witnessed a performance so electrifying it sticks with you for months afterwards? This was our experience when we caught St Vincent's act at The Green Man Festival a while ago.
Her music is a beautiful collision of adept, otherworldly guitar parts and propulsive electronica - though falling short, comparisons with artists such as Bowie, 70s Roxy Music and Talking Heads are a starting point, should anyone be unfamiliar with her music. In fact, she has recorded and toured with Talking Heads' David Byrne - a fruitful meeting of kindred spirits on the wilder shores of art-rock.
She's also responsible for one of the boldest guitar designs of recent years: the Music Man St Vincent guitar, pictured here, looks like no other - its clash of modern and retro styles making it almost unique in terms of contemporary design.
"I was really inspired by Klaus Nomi's triangular tuxedo," she tells us - and, if you look it up on Google, you can see exactly what she means. With a "deep, bold," new album in the offing, we grabbed the opportunity to speak with Annie across the Atlantic and we began by backtracking just a little…
Into the chocolate factory
How did the process of designing your signature guitar begin?
"In the spring of 2015, the Ball family invited me to see the Ernie Ball factory and so I went up there for a day and saw how they built guitars, all the care they put into them… I spoke to a lot of the employees, lots of whom had been there for years. It's truly a handcrafted guitar and, for me, as a guitar player going into a guitar workshop, it was like going into Willy Wonka's Chocolate Factory!
"I just got the sense that they not only made a high-quality product for players, they also seem to run a very respectful and respectable business. It means a lot to me, in this day and age, when a lot of things get outsourced and quality control can go down the tubes and things get too, too, too big.
"So after going to the factory, I sat down with Sterling and he said, 'Why don't you design a guitar?' Really, the guitar that I drew up on that first day is very similar to what ended up making the final cut. There were definitely tweaks back and forth to make sure the ergonomics were correct - the balance was correct, to whittle down as much of the weight as possible without sacrificing the tone.
"I couldn't believe that it was that easy; I thought that there would be red tape or there would be a bureaucracy or it would have to go through layers of investors approving it… But they're a small, tight, well-run family-owned company that give you the freedom. And with my vision and their skills combined, I think we made a really great guitar.
"I think the test of a guitar is whether you reach for it time and time again. I've been writing for months now and I haven't reached for another guitar. I've not wanted the feel of anything else. Some guitars can be like wearing a really well-tailored outfit - some just make you look good, make you sound good and that's been my experience with this new guitar."
Tuck technique
Your music is diverse - how often are guitar parts the starting point for compositions?
"Quite a lot of times. Melody, to me, is everything and there are a lot of melodies that I dream up that end up transposed onto guitar and end up being riffs. At the moment, I can only really speak of my current writing process, but it's very guitar-heavy. My emotional spectrum on the instrument has gotten broader."
You play with quite a lot of dynamism - you're up and down the fretboard with quite a percussive approach. Did you make a conscious effort not to play guitaristic clichés or is it just your voice on guitar… How did your style crystallise?
"I did try to shy away from the pitfalls of the poorly played blues guitar. I think, too, approaching the guitar from a melodic standpoint as a jumping-off point instead of relying solely on muscle memory - this might feel fun to play, but how does it sound?
"The ear and the heart are king. It's fun to riff on the classic stuff that every guitar player knows, but I get away from that in particular because there is John Lee Hooker and there is Howlin' Wolf and I don't think that that's where I need to add to the conversation."
The revered guitarist Tuck Andress is a relative of yours. Was he an early influence and, if so, what's so interesting about him as a player that you admire?
"Tuck's my uncle and his influence on me is immense. I flatter myself to think that there is an actual genetic through-line to our playing - I mean, we're obviously related and there are all manner of micro-movements that we might share.
"Tuck's a total genius and he can make an instrument sound like 10 people playing. The level of skill and discipline it took for him to become a one-man guitar symphony is staggering. I've never seen anybody play like he can play - he's the eighth wonder of the world.
"Tuck and Patti [his wife] took me out on tour with them when I was 15 years old to Japan, and to be a 15-year-old kid from Tulsa growing up in Dallas, all of a sudden being in Japan being their tour manager-slash-roadie, I got to see what it really meant to be a touring musician. And I got to see how much their show moved the audience, myself included, and it encouraged me to fall so deeply in love with music. I did and it's never, ever let me down. It's just the best thing."
High stakes touring
Your live show has huge power. What's the key to engaging a big crowd?
"We're getting into the premise of David Byrne's book How Music Works. Music is so much about context, and certain kinds of music like to translate in big outdoor spaces better than other kinds of music. So there's that side of it.
"My personal relationship is that once you start playing to a certain level of crowd, the audience hears with their eyes, so I introduced choreography to the show that I thought would help shape the narrative [of the music].
"My personal relationship to the music just deepened: songs are meditations and the more you sing them, the deeper you go into them, in my experience. And you find new ways to get out the same thing and every night, even with a show that is structural, you want to find that moment where it's not like any other night.
"You have to be here now, and for a musician who tours a lot you have to make sure that you keep the stakes for yourself really high, because those high stakes for yourself mean high stakes for the audience and the emotional payoff is better and better."
Serve the art
What sort of gear do you use alongside the Music Man in your rig?
"The touring rig has to fulfil the sonic need, but also the space need. So for touring I've been using two Eventide H9s and a Z.Vex Mastotron Fuzz and a [Bixonic] Expandora going into a Kemper modelling amplifier.
"Ideally, I would like to have air moving through a speaker into a microphone, and I've had various small amplifiers - an old Kalamazoo and a custom TRVR that was like a 50s Tweed, and I loved playing through a '73 Princeton.
"My guitar tech had also worked with Nine Inch Nails and pitched me to the Kempers and I ended up buying a couple of them from the Nails. It's a techy show and all my guitar sounds are programmed - there are complicated changes and all of that stuff - so, for me, consistency outweighed the alternatives."
You have a very controlled, passive persona on stage - what was the root of that look?
"The Digital Witness tour [which took place from 2014 to 2015] was a bit of a commentary on the zeitgeist of the time, and part of the narrative of the show was seeing the robot break down as it goes along. That was part of it.
"Also, I feel it's interesting, the dichotomy of having really wild sounds delivered in a controlled way - playing with persona but not removing the emotional core - was interesting and that was kinda the first time I'd really dug into persona, and it's just something that's going to continue to evolve. You have to serve the art in ways that fit the themes of future records and projects…"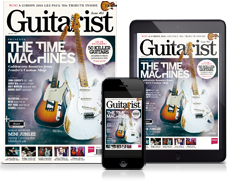 The magazine for serious players
Subscribe and save today!