Sepultura bassist Paulo Pinto Jr: "I always have problems in the studio"
Introduction
Few metal bassists have had a career like that of Paulo Pinto Jr. of Brazilian legends Sepultura. Hywel Davies grills the great man about Seps' album number 14.
For the past 32 years, Paulo Xisto Pinto Jr. has hammered skulls with his band Sepultura, currently also including Derrick Green (vocals), Eloy Casagrande (drums) and Andreas Kisser (guitars). They're one of the most celebrated entities in the history of metal, but the story of the Brazilian quartet has been far from a fairy tale. The departure of founding members Max and Iggor Cavalera in 1996 and 2006 respectively remains a thorny topic within the metal community to this day.
Happy place
What equipment does he arm himself with, we ask? "I recorded the album with my Zon bass, going through Jens' stuff and my Aguilar Tone Hammer pedal. When I go to the studio I don't worry too much about what the producer wants me to play.
"If he says, 'Oh, I don't like the sound of that, do you mind if we try something else?' of course I will, and if it's good to play through, I'll play it. But live, I demand my Zons and only my Zons!"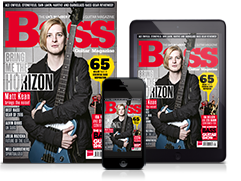 We're the UK's only print publication devoted to bass guitar.
Subscribe for star interviews, essential gear reviews and killer tuition!