Sepultura bassist Paulo Pinto Jr: "I always have problems in the studio"
Introduction
Few metal bassists have had a career like that of Paulo Pinto Jr. of Brazilian legends Sepultura. Hywel Davies grills the great man about Seps' album number 14.
For the past 32 years, Paulo Xisto Pinto Jr. has hammered skulls with his band Sepultura, currently also including Derrick Green (vocals), Eloy Casagrande (drums) and Andreas Kisser (guitars). They're one of the most celebrated entities in the history of metal, but the story of the Brazilian quartet has been far from a fairy tale. The departure of founding members Max and Iggor Cavalera in 1996 and 2006 respectively remains a thorny topic within the metal community to this day.
Through thick or thin, Pinto has been the only member of Sepultura to have been present for all 14 studio albums, including 2017's Machine Messiah. As the band's longest-serving member, he explains the importance of bringing the true spirit of Sepultura into this new venture.
Old school
"It's really old-school, man. We can't forget where we came from. We're playing all this different stuff that is new to the band, but at the end of the day, if we didn't have at least one fast song on there, then it wouldn't be Sepultura."
He adds: "I think this was the most difficult record for me to play through, because it had to be very tight, especially with the drums. Our producer, Jens Bogren, wants to hear all the notes clearly, and I'm like, 'God dammit, I'm not like that!' He knows I'm not that kind of bass player because I don't have the arms for that, but he understood me as a player and used that for the record."
Pinto is the first to tell you that he has no love for playing in the studio: however, he explains that creating this album was an entirely different experience to what he's normally accustomed to. "It was nothing like what I've done before, there was no stress at all. It was very productive, actually," he says. "Jens would come to you and say, 'Are you feeling good? Because I think you could do better. Could you do that again, please?' and I'll go, 'Of course I can do it again. If it's good for the record, it's no problem.'
Under pressure
"For me, playing in the studio is the hardest part about being a bass player," he continues. "I always have problems in the studio. I really don't like being in there; I much prefer to play live. There's a lot of pressure and it's down to you to bring that live vibe to the record - at least, that's what I think. There's a lot to think about. You have to be there alone, by yourself, playing through the tracks that have already been recorded, and you have to bring them to life.
"What makes it hard is that you don't have eye contact with an audience like you do live. You don't have a crowd, and it's a totally different situation, so sometimes when I'm recording, I think about the crowd, like I'm on stage playing live to them. They're in there with me all the way."
Happy place
What equipment does he arm himself with, we ask? "I recorded the album with my Zon bass, going through Jens' stuff and my Aguilar Tone Hammer pedal. When I go to the studio I don't worry too much about what the producer wants me to play.
"If he says, 'Oh, I don't like the sound of that, do you mind if we try something else?' of course I will, and if it's good to play through, I'll play it. But live, I demand my Zons and only my Zons!"
Pinto talks passionately about playing live. Can he express that feeling in words for us, we wonder? "It's everything to me, just everything, from the bass, the drums, the guitars and the crowd. They're crazy. Good, but crazy! When you look at each other, you can really feel the people in the crowd, so it's always different. Even if you play the same songs every day, it's never the same. I think that's the beauty of it."
How does he prepare for a typical Sepultura show? "I play through the set a little bit and stretch my hands and my calves. Because I play with a pick, I usually warm up the right hand a little bit more. I use a lot of downstrokes like the guitars, so it's important to get that hand warmed up. Sometimes you need to follow the guitars to get the sound right."
Vital Signs
As for influences, Pinto tells us: "The song that really caught my ears as a bass player when I was growing up was Vital Signs from Rush. That song really changed the way I saw the bass and enjoyed how it was played. For me, it's a really big song because it's not only about the bass - it's the whole thing. Everybody thinks Rush are just Tom Sawyer, YYZ and blah, blah, blah! But it's all about Vital Signs for me - that song is truly amazing. It really changed my life."
After so many years, did he ever think he'd get this far? "No, not really. I'm getting old so I'm trying to enjoy it as much as I can! This is a very good time for me and for Sepultura. We're very happy as musicians.
"It's a very good feeling to go on stage and to only think of the music without having any troubles behind you. There used to be those moments back in the day, but there was also a lot of trouble, but now everything is good."
He adds: "A lot of people like to bring up the past - but the past is gone. It was like a marriage that didn't work out. I think everyone should be happy about what we're doing and if it doesn't work out, that's life! We just have to move on."
Keep playing
Pinto is only moments before gracing a Swedish audience with his presence, and so he leaves us with these words of advice: "Just keep playing the bass. It's a beautiful instrument to learn and to play.
"You're going to get a lot of respect from other musicians. Life is short, so you should be friendly and respectful to every musician.
"They should see you for who you are and you should see them for who they are. Just be true to yourself and the bass."
Machine Messiah is out now via Nuclear Blast.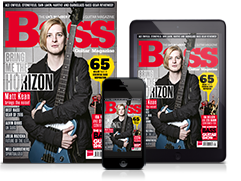 We're the UK's only print publication devoted to bass guitar.
Subscribe for star interviews, essential gear reviews and killer tuition!