Rig tour: Death Cab For Cutie
When we arrive at indie-rock titans Death Cab For Cutie's sold-out show at Bristol's O2 Academy, we're told not to photograph any of the Fender Deluxe combos that line the stage.
Why? Turns out they're dummies, and the band - which includes Mustang-toting frontman Ben Gibbard, gearhead six-stringer Dave Depper and multi-instrumentalist Zac Rae - have made the leap to Fractal Audio's Axe-Fx.
Although the trio wax lyrical about the benefits of their new setups and the integration of their existing analogue gear, they apologise for the lack of visual appeal.
"Whether it's Fractal or Kemper, the one thing they do not have going for them is they are not sexy-looking," Ben laughs.
"We could bring a bunch of cool-looking and unique collectable amps on tour with us, but that really would just be for the sake of the people who knew what they were!"
Fortunately, there's plenty of drool-worthy gear between the trio to sate your rig lust...
'70s Fender Mustangs
Ben Gibbard: "I got a Mustang in a trade, and I just really liked that the neck was so easy to move around on; it was very similar to the Fender Bullet I played when the band started, so I found my hands moving around the neck in a similar fashion as I did in some of the older material and that re-inspired me to play more guitar.
"I have a fleet of '70s, maple-necked Mustangs where I've taken out the pickup-switchers and I've removed the tone knob, and I've just wired them in the middle position.
"I have one capo'd into position, but it's all standard tuning; there's one song called You Moved Away where the low E is tuned up to an F, just because there's a hard chord voicing. I'm 42 years old; I've only just realised you can change the tuning to make it easier to play stuff!"
Fano Alt De Facto PX6 & Novo Serus J
Dave Depper: "This is the sort of non-reverse Firebird guitar that I've been playing. I also have this lovely Novo Serus J that Denis Fano himself built for me, and I put Lollar Firebird pickups in it to match the PX6s.
"On the last tour, I had six different electric guitars out, and then all the pedals would respond differently to them, and I kind of got in over my head with all that stuff, so I just wanted a very consistent thing to build off of.
"And that guitar is the perfect one for me, because in the neck position, those Firebird pickups can do a very convincing bell-like Strat kind of sound. Also, the middle position, you get that lovely out-of-phase thing. But the bridge pickup breaks up just like a Gibson with the humbucker. It's like a Swiss army knife of a guitar."
Rickenbacker 12
Dave: "There's some 12-string stuff, and I've been using this Rick; it actually belongs to Ben. I play it on Crooked Teeth and What Sarah Said."
Rickenbacker 330
Dave: "I'm just using it for the song Gold Rush, because it's in open F. That song was the first single, and there were a ton of promotional appearances and stuff, and it just seemed easier to have a guitar dedicated to playing that song. It responds really well to slide."
Custom-made Jazzmaster & Jaguar
Zac Rae: "They're both fakes. I did the first year or so on the road with my '61 Jazzmaster and '65 Jaguar and decided that they should not be subject to the rigours of touring, and I went to great pains to reproduce them for this.
"The black Jazzmaster is an MJT body and neck, and it has Curtis Novak pickups in it, which are actually copies of the Wide Range humbucker but built inside the casings of Jazzmaster pickups. And like many people, I use the Mastery bridge and tremolo systems.
"The Shell Pink Jaguar is a relatively new clone I picked up, and that body and neck was made by Guitar Mill; I can't remember what the pickups are. But that is wired like the Johnny Marr Jaguar, with the four-way sliding switch instead of the fiddly little switches.
"The Jazzmaster I often leave in a double drop-D tuning; I find when you're playing in a group with other guitar players, it gives you some different voicings, and that can be helpful to avoid piling up too much in the exact same range. The Jaguar is tuned standard."
Gibson J-45
Ben: "I've had those for 12, 13 years - I got them when we put out Plans. And I've had those same two with me ever since.
"At home, I have the acoustics I love to play and would not want to take out, but these are workhorses. There's a B-Band preamp in both."
Fender PM-2E Parlor
Dave: "Fender sent us a couple of their new parlour guitars to try out when we were recording, and I was just blown away by the direct sound of them, which is the only thing that matters in an environment like this.
"They're light, they play really well, they sound great."
Fender Villager 12-String
Zac: "It has that weird signature Fender hockey stick headstock, like their electric 12-strings.
"It plays really well, and sounds very good plugged in, which is what you need on a stage guitar. Most of the time that I'm playing that, I'm using the direct sound of it, but I'm also modelling it through an amp to create almost a doubled electric rhythm part and acoustic rhythm part."
Fractal Axe-FX II XL+
Dave: "It became apparent that it would be a really good way of translating the specific guitar tones in the studio to the live show. We've also had a lot of consistency issues with amps, and we just realised it would be amazing to have the exact consistent sound from night to night."
Ben: "I was probably the most reticent, but all I really wanted was the way my Supro at home sounds, with real pedals, and once we got that dialled, it was like, 'Oh yeah, we're never going back.' I'm glad we went in this direction, although initially I was a little bit of a luddite."
Dave: "It wasn't like plug-and- play instant success, either; it was weeks and months of dialling in the sounds, but we got there."
Zac: "Mine's mostly set to just a typical Blackface Fender kind of sound, with a few weirder things for specific songs, like weird hyper-stereo exaggerated effects and direct fuzz."
Dave: "I'm modelling a Hiwatt with a lot of headroom the whole time, and that closely emulates the Dr Z Maz 38, which I was using the last tour cycle. Like Zac, there are a few specific patches where I have hyper-extreme settings to mimic a lot of the tones on the last record, specifically octave shifts and guitarmonies."
Ben's pedalboard
EarthQuaker Dispatch Master & Eventide TimeFactor
"One of my default tones is a reverb with a slight bit of delay, just to give a little bit of roominess, and that pedal just on its own is the perfect blend of those two things.
"The Eventides do not do well with [travel] - you're in Korea, now you're in Australia - and it would just freak out at random times. Not only did I want a reverb that's not doing that, but also that I had a delay pedal in the Dispatch Master that I could use as a delay in case the TimeFactor went down!"
Strymon Bluesky
"I finally went to the Strymon reverb after the last tour, because Dave had been using it, and I had been using an Eventide reverb along with the delay, and it just was taking up a lot of room on the pedalboard."
Z.Vex Box Of Rock & Xotic BB Preamp
"The Box Of Rock is a great pedal, but I found it was a little dark. The big distortion was a little bit murky, so the BB pedal has been doing all the big distortion stuff. And these actually layer pretty well; you can use the yellow side of the Box Of Rock, the overdrive side, with the BB, and they do gain up rather nicely."
Electro-Harmonix Micro POG
"Most of the songs I'm using it on are just for any big delay swells, just to give it another dimension."
MXR Stereo Chorus
"The chorus is used a lot on I Dreamt We Spoke Again and Summer Years. On some of the new record, Thank You For Today, we lean a little more on chorus."
Z.Vex Super-Duper Hard-On
"I'm coming into the Super-Duper Hard-On just for gain. If we're recording, we're using real amps, or if we're using the Axe-Fx, it's just nice to be able to make a little tweak; if I'm not feeling it's breaking up enough, I can just open it up."
Dave's pedalboard
Xotic SP Compressor
"The Xotic SP Compressor has been my go-to compressor for years and years and years. It was the first compressor pedal that I found that allowed you to blend in the dry with the compressed signal, so I just have it on a low compression setting, blend it in about noon. It just adds a nice little bit of shimmer to the guitar. It's on 97 per cent of the time."
Arc Effects Klone V2
"My favourite pedal of all time is a very accurate - or so I'm told - facsimile of the Klon Centaur, which is a pedal I've never actually played through; I've just heard the myths and legends. It's my go-to low-gain pedal. I ride the gain knob from about 10 per cent to around 40 per cent. I think anyone who plays a Centaur will tell you it's not amazing at high-gain sounds; it gets a little thin. But up to about medium gain, I love that."
Xotic BB Preamp
"My main medium-to-high-gain sound is the pedal Ben mentioned earlier, the Xotic BB. But Zac helped me rig this up; it's in the effects loop of the Axe-Fx unit, so it's actually in the rack. We took it apart and removed the switch from it so it would fit hidden in the rack."
Axe-Fx MFC-101 Controller
"It took me a while to be convinced that I could part with the Strymon TimeLine and BigSky, which are my bread-and-butter pedals at home, but I got very close with the Fractal Axe-Fx. It's pretty amazing what you can do with an expression pedal hooked up to the Fractal, and assign it to basically whatever parameter you want. So it's opened up a whole new world for me in terms of delays and reverbs."
Sustain pedal
"One of the things I missed most about not having the Strymon pedals is you can step on the left-most switch, and it goes into the self-oscillation infinite loop. And so I have the sustain pedal doing the exact same thing in the Axe-Fx."
Zac's pedalboard
Strymon Brigadier
"It's basically for infinite sustain/feedback; it's for going, 'Wop wop wop wop wop'!"
Boss PS-3 Pitch-Shifter/Delay
"This is my all-time favourite pedal I use for a few different sounds. There's a fluttery short reverse echo that is very particular; there's something about how the pedal responds for kind of ambient effects that I use that for.
"There's also this glitchy way it does short delays I use when we play You Are A Tourist to emulate the effects Chris [Walla, previous DCFC guitarist] did in the studio with a Lexicon rack or something - these kind of glitchy delays that start the song and reoccur."
Catalinbread Manx Loaghtan
"It's an emulation of the Ram's Head Big Muff, but replaces the Big Muff's single tone control with a treble and bass control, which sounds better with the type of pickups I use. I use that for big fuzzy things on The New Year and Bixby Canyon Bridge."
Death Cab For Cutie's new album, Thank You For Today, is out now via Atlantic Records.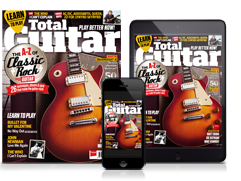 Stay up to date with the latest gear and tuition.
Subscribe and save today!