Review round-up: stunning phaser pedals
The phaser is one of many modulation effects commonly utilised by rock guitarists.
At its core, it's just a filter that's modulated by a sine wave to create that signature 'sweeping' sound. This is achieved using phase-shift networks; produced with all-pass filters. They are usually known as stages, and can be made more pronounced by feeding back in the input for a more resonant sound.
Analogue phasers tended to be limited to 2, 4, or 8 stages at most, but with the advent of digital signal processing, 32 or more stages are now possible in a phaser's feature set. The classic phaser sounds are timeless, though there's still a lot of room for innovation. From digital, to OTA and JFET phasers, we've rounded up some of the most interesting feature-rich stompboxes to spin your head...
EarthQuaker Devices Grand Orbiter
The Grand Orbiter is an intuitive beast, notwithstanding its slew of options.
There are three rate options, with a slow and fast mode, and a knob for fine-tuning the speed. One of the rate positions disables the LFO, so it can be used as a fixed-position filter.
Though the core phaser sounds are excellent, perhaps more interesting is the addition of a pitch vibrato, that works surprisingly effectively - even if it is initially hard to work out just what the controls do when it's in that mode. Another new feature is intelligent switching, which allows the footswitch to be latching or momentary.
3.5 out of 5
KMA Machines Astrospurt
With its great artwork, smart form factor, cool indicator lights and high-end components, the KMA feels the most luxurious of the lot.
But, in terms of sounds, it's not a million miles away from a standard JFET phaser with add ons. There's a signal boost control, adding a bit of warmth and body, and a useful mix control.
With the depth and speed dialled back, you can get into vintage phaser and uni-vibe territory, but the USP of this pedal is the emphasis control. This sounds like a feedback path of some kind, and depending on the other knobs' positioning adds unpredictable artifacts or all-out noise.
4 out of 5
CKK Electronic Robot Phaser
Although the least feature-rich of the units here, the Robot is still far from your basic phaser.
There's a toggle for controlling the range of the speed knob, with a slow and a fast mode, and a sweep control, which - similarly to the Grand Orbiter - controls the frequency at which the phaser peaks.
Another cool feature is the resonance or feedback control. Pushed to the max, this causes the phaser to tip into relatively extreme and out-there sounds, but by pulling it back, and with milder depth and speed positions, the Robot functions excellently as a vintage-style phaser, too.
4 out of 5
Old Blood Noise Endeavors Dweller
Badged as a phase repeater, the Dweller is really a delay and phaser.
The OBNE gang are like a bunch of mad scientists at the best of times, and the Dweller really is off the deep end. With the regen maxed out, the stretch control can morph guitar feedback into glassy, brittle chorus. Maxed out, it's a howl of cascading, phased echoes.
Depending on how you mix these two main controls and the voice and shape toggles, you can get mild, if bright, phased delays in normal positions, but move the pots toward the maximum and minimum of the settings and it'll blow your mind - and maybe a speaker, too.
5 out of 5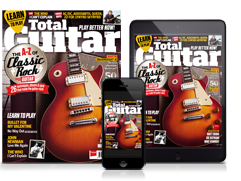 Stay up to date with the latest gear and tuition.
Subscribe and save today!