Review round-up: Floyd Rose-fuelled electric guitars
Four decades after it was first patented, the Floyd Rose vibrato remains the most contentious piece of electric guitar kit.
On one side of the debate, you have the vintage geeks and tone snobs who would love to see the Floyd frogmarched into Room 101. They cite a thin tone and a complicated setup among their reasons to give Mr Rose's iconic bridge a wide berth.
Witnesses for the defence? Let's swear in Steve Vai, Joe Satriani, Kirk Hammett... in fact, just about every metal guitarist of the past four decades who craves the ultimate in tuning stability while conducting divebombs of the highest order. Then there's Eddie Van Halen, the Floyd's first great champion, who installs them on most of his guitars to this day.
The Floyd Rose is typecast as a hard rock and metal tool, making it the perfect choice for the unashamed shred machines in this group test.
The Ibanez Iron Label RGIX6DLB, Charvel Pro Mod San Dimas Style 1 HH FR M, Schecter Reaper-6FR and Jackson X Series Soloist SL3X Zebrawood all feature a floating Floyd Rose, or licensed equivalent; plus other shred-friendly goodies like thin necks, flat 'boards, fat frets, direct-mount pickups and, of course, rock-solid tuning.
Ibanez Iron Label RGIX6DLB
This thing is a feast for the eyeballs...
Yeah, it's like porn for woodworms. The body is figured ash with a pretty laurel burl top. The super slim Nitro Wizard neck is sculpted from a sandwich of maple and purpleheart. The 'board is a slice of dark ebony. Got wood? Hell yeah...
The vibrato is a classic Floyd, then?
It's the latest version of the Ibanez Edge, a now-legendary licensed Floyd Rose variant that's proved a hit with players. Like the other guitars in this group test, the Edge Zero II sits in a recess so it can be dumped to lower the pitch and tension of the strings, or pulled back to achieve the opposite effect. There's a sponge pad in the recess to prevent the noise of the vibrato parts hitting the bottom clanking through your amp.
So where's the tone control?
There isn't one. Anyway, Ibanez has filled that valuable real estate on the body with a different source of tonal variety; a small coil-split switch to offer single-coil sounds from the powerful DiMarzio Fusion Edge humbuckers.
At a glance
Key features: Offset solid ash body, laurel burl top, 648mm [25.5"] scale, 24 jumbo frets, 2 x direct-mounted DiMarzio Fusion Edge humbucking pickups, recessed black Edge-Zero II double-locking vibrato with 43mm [1.69"] locking top nut
Finish: Supernova Burst
Charvel Pro Mod San Dimas Style 1 HH FR M
Where are all the fancy tone woods?
The Charvel harks back to a time when a metal guitar was a stripped-down take on a Fender Stratocaster. It was all about enhancing performance, not creating works of six-string art. All the stuff that Eddie Van Halen pioneered - direct-mount pickups on a Strat-style body, big frets, the Floyd bridge - is present and correct on this Charvel.
Direct-mount?
Basically, rather than being suspended from a scratchplate or pickup ring, the pups are screwed straight to the body wood. Advocates insist it boosts tone. This Pro Mod San Dimas ups the ante with the iconic Seymour Duncan JB and '59 humbucker partnership. The JB (aka Jazz Blues) was developed for Yardbirds icon Jeff Beck. The '59 is based upon the Gibson PAF 'buckers...
How come Charvel gets to use the Fender headstock design here?
They're all part of the same gang. Plus, as the little sticker on the back of the headstock claims, Fender gave its permission. We reckon it looks the absolute business.
At a glance
Key features: Offset solid alder body, 648mm [25.5"] scale, 22 jumbo frets, Seymour Duncan SH-4 'JB' [bridge] and SH-1 '59 [neck] humbucking pickups, recessed chrome Floyd Rose 1000 Series double-locking vibrato
Finish: Matte Blue Frost [as reviewed], Satin Black, Snow White
Schecter Reaper-6 FR
What's going on with the body?
The carcass is a chunk of resonant swamp ash, still an unusual choice for rock/metal gear. The top is a thin piece of burl veneer cutaway at the arm contour to give a beautiful contrast with the main body wood. The finish is called Satin Inferno Burst. It kind of looks like a biopsy of a diseased brain - which is very metal, if you think about it.
Why is swamp ash an unusual choice?
You generally see this timber on classic Fender Telecasters. It offers killer tonal depth and bags of sustain. As it turns out, it works great with a floating Floyd and direct-mount Schecter Diamond Decimator humbuckers. More on that in a bit…
Is this a bolt-on?
Nope. The neck is machined from a combo of maple and walnut and sculpted into the body. Upper fret access is just effortless. Add in the slim profile, 24 extra jumbo frets and the flattish 355mm (14") radius ebony fingerboard, and you've got a perfect shred machine.
At a glance
Key features: Offset solid Swamp ash body, 648mm [25.5"] scale, 24 extra jumbo frets, Schecter Diamond Decimator humbucking pickups, Floyd Rose 1500 Series double-locking vibrato
Finish: Satin Inferno Burst [as reviewed], Satin Sky Burst, Satin Charcoal Burst
Jackson X Series Soloist SL3X Zebrawood
Do my eyes deceive me, or does this guitar have single-coil pickups?
Actually, the neck and middle pups are single coil-sized humbuckers, or Hot Rails to give them the proper designation. All three pickups are high output Duncan Designed, direct-mount and wired to a volume, tone and a five way selector switch.
What are the neck stats?
Like the Charvel, this guitar has a compound 305-406mm (12-16") radius fingerboard. That's like having the playability of a Gibson Les Paul over the first few frets before it flattens out to a shred guitar radius, for a seriously low action that doesn't choke when you bend strings. Like the Schecter, access to all 24 jumbo frets is aided by a beautifully sculpted neck heel.
What's the deal with the Zebrawood top?
To be fair, it's poplar that's doing most of the tonal graft here. The Zebrawood adds a bit of eye candy. Each slice of this stuff is a one-off, so your guitar won't look quite like anyone else's.
At a glance
Key features: Offset Soloist shape solid poplar body, 648mm [25.5"] scale, 24 jumbo frets, 1x Duncan Designed HB-103B humbucking pickup and 2 x Duncan Designed HR-101 Hot Rails single coil humbucking pickups, Floyd Rose Special double-locking vibrato
Finish: Natural [as reviewed]
Head to head
The playability of the Ibanez, Schecter and Jackson guitars is remarkably similar. Each has a super-slim neck profile that gently fattens as you head towards the 12th fret.
The Charvel is slightly chubbier at the first fret, and the profile is pretty much the same as you travel up to the body end. We love the rolled fingerboard edges and the way the neck gently flattens out on the back. It's supremely comfortable, and a good choice for those that don't do the super-slim stuff. The Charvel's tonal range is old-school, too.
The classic Seymour JB offers plenty of grunt and punch in its bridge position, but you get some excellent clarity, even when the extreme dirt is dished. The neck pickup offers warm bluesy tones to complete a versatile package. Anybody who reckons Floyd guitars don't do tone needs to try this.
The three remaining contenders pump out a more modern tone. The Ibanez brings forth razor-sharp top-end from its DiMarzio pickups. It'll do clean, but it's way happier welding eyeballs to the back of skulls. We didn't miss the tone control, and can't see many shredders mourning its loss, either. Likewise, the single-coil mode will probably see little action, but it's there, just in case.
Schecter has a great reputation for building pickups, and we like the ballsy output of the aptly named Decimator humbuckers. They clean up well and actually sound glassy and sweet in single coil mode.
The Jackson is versatile too. Hot Rails are underrated as clean machines and that clarity translates to great definition when you switch the distortion pedal on. None of these guitars went out of tune once while we lived with them - that's the Floyd Rose effect in a nutshell for you. When you figure in the build quality and tonal range on offer here, it makes this group test the closest one to call yet.
Final verdict
What did we learn? For a start, a well set-up double-locking Floyd Rose is still the best way to keep a guitar in tune, at least for serious vibrato (ab)users.
Second, a vibrato is only as good as the guitar it's bolted to. In the case of these four contenders, the build quality is consistently outstanding. It doesn't half put a smile on our faces to encounter four new instruments that are this well-presented.
Despite all the aesthetic attributes of the Ibanez, Schecter and Jackson, it's the Charvel that took most of our attention. The first Floyd-loaded metal machines were like hot rods: you take a lovely 50s motor, strip it of all unnecessary clutter and weight, bolt on high performance parts, then paint the thing a cool colour. That's the Charvel. The Seymour JB/'59 humbucker pairing, rolled fingerboard edges, effortless playability, perfectly set-up Floyd; it's a dream machine.
The only fly in the Charvel's ointment is the lack of a two-octave, 24 fret fingerboard. For those of you who need that kind of range, the Ibanez, Schecter and Jackson all have your back. You'll also find excellent upper-fret access at the sculpted heels of the bolt-on Ibanez, and set-neck Schecter and Jackson.
No matter which you go for, you'll be amazed just how much Floyd-fuelled shred goodness you can get for your money. That's the best double whammy of them all.
Best for extreme metal: Ibanez Iron Label RGIX6DLB
4.5 out of 5
Best on test: Charvel Pro Mod San Dimas Style 1 HH FR M
5 out of 5
Best for versatility: Schecter Reaper-6 FR
4.5 out of 5
Best value for money: Jackson X Series Soloist SL3X Zebrawood
4 out of 5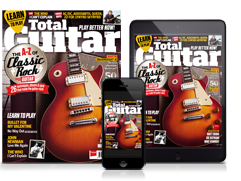 Stay up to date with the latest gear and tuition.
Subscribe and save today!