NAMM 2018: EarthQuaker Devices introduces Westwood Translucent Drive Manipulator and 5 V2 pedals
NAMM 2018: EarthQuaker Devices has announced the Westwood Translucent Drive Manipulator and upgraded five of its most popular pedals to V2 specs.
The Westwood promises clarity-rich low-to-medium overdrive, while V2 pedals comprise the Avalanche Run, Spatial Delivery, Hoof Reaper, The Depths and Rainbow Machine.
The Hoof Reaper V2, The Depths V2 and Rainbow Machine V2 add soft-touch relay switching, while the Spatial Delivery V2, Hoof Reaper V2, The Depths V2 and Rainbow Machine V2 all now feature EQD's Flexi-Switch, for latching or momentary modes.
There are a couple of circuit updates, too: the Rainbow Machine offers an improved signal-to-noise ratio, more output and versatility, while the Avalanche Run delivers a "more stunning" stereo image.
Head on through the gallery for a closer look at each pedal, and visit EarthQuaker Devices for more info.
EarthQuaker Devices Westwood Translucent Drive Manipulator
PRESS RELEASE: Westwood is a touch sensitive translucent overdrive manipulator, as clean and pure as the breeze which blows through a grove of Douglas Fir trees and as hot as a damn fine cup of coffee.
The Westwood's Drive control sets the level of gain for a near-clean boost at lower settings, to rich, bell-like jangle and chime, all the way to soaring lead tones that are cutting and distinct, but never harsh. While the powerful active EQ section has controls for Treble and Bass with up to 20 dB of cut and/or boost.
This mild-mannered light- to medium-gain overdrive will still knock the socks right off your trusty low-wattage combo amp, pushing it into anything from cutting, edge-of-breakup rhythm tones, all the way to articulate, singing lead tones stacked high with pleasing even-order harmonics and sweet, sweet sustain.
And if you pair it up with your favorite head and cab, you should probably call the neighbors first, because the Westwood's Level control has enough output on tap to alert the proper authorities. Even the FBI.
EarthQuaker Devices Avalanche Run V2
PRESS RELEASE: The Avalanche Run was developed with one goal in mind: to take the floating ambient tones of our Dispatch Master to the next level while still keeping it user friendly and refined.
Taking you into the aural exploratorium without having to break open the user manual every time you want to open up your inner eye and get free is no easy task. We are using a high powered proprietary DSP platform to recreate all the characteristics of all our old favorite delay and reverb machines while still retaining a simple, yet flexible workspace.
A dreamy sonic discovery device with up to 2 seconds of delay time and a lush reverb,the Avalanche Run features complete control over delay time, repeats, mix and voice (with the tone control), as well as control over the reverb length and mix. It can run in one of 3 different modes: Normal, Reverse and Swell.
In Normal mode, the Avalanche Run functions as a straightforward delay and reverb. In Reverse mode, the delay line is in reverse and the reverb remains in normal mode. In Swell mode, the Avalanche Run reacts to your picking dynamics and adds a volume swell to the entire signal path much like manually raising and lowering the volume of your guitar.
EarthQuaker Devices Rainbow Machine V2
PRESS RELEASE: Welcome to the Rainbow Machine, in all its synthetic glory! This one is for experimenters, adventurists, and noisemakers. Totally not for purists and/or tone hounds. There are no natural sounds that come from this box. It takes modern DSP and uses it as a tool of future past to create real-time pitch shifting using digital oscillators.
The Rainbow Machine V2 has been completely re-imagineered from the pixie dust-covered ground up to be more versatile, twice as loud as the original, with an extended delay time, deeper chorus tones, silent flexiswitch footswitches on both the Activate and Magic functions, and best of all, has more Magic!
The Rainbow Machine is built around a DSP pitch warping engine that's designed to be slightly imperfect; colored with digital remnants of the cosmic dust we've picked up across the multiverse. That is to say it's a cold digital beast made to pretend it has feelings.
EarthQuaker Devices Hoof Reaper V2
PRESS RELEASE: The Hoof Reaper V2 features EarthQuaker Devices' popular Hoof and Tone Reaper fuzz pedals in one handy enclosure with the added bonus of the old school analog octave up tones from their Tentacle Octave.
Capable of creating everything from subtle octave-up overtones through crushing octave squalls that simulate exploding stacks of amps, each effect can be used individually as well as in series, but the order of effects is preset for optimum performance.
The octave in the Hoof Reaper V2 has now been upgraded with EarthQuaker's new flexi-switch. This lets you use it in classic latching mode or in the new momentary mode, seeing you jump in and out of octaved riffs and solos like nobody's business!
EarthQuaker Devices The Depths V2
PRESS RELEASE: The Depths V2 is EarthQuaker Devices take on the classic optical vibe circuit. Now you can swab the decks with the same lush, pulsating, three-dimensional swirling sound you know and love, with some modern accouterments for all you land-lubbers out there.
Optimised for use with all kinds of instruments and pickups,The Depths plays well with dirt, so nobody's left waiting on shore. If it's got a 1⁄4" output, plug it in and get deep!
In addition to the classic vibe controls, the Depths features unique controls for "Voice" and "Throb." The "Voice" control adjusts the midrange focus of the Depths, which is perfect for tailoring the effect to your particular instrument. Clockwise, you'll hear a fuller sound with a low-end focus. Counter- clockwise, you'll hear a thinner, spikier sound with a forward upper-midrange bite.
EarthQuaker Devices Spatial Delivery V2
PRESS RELEASE: The Spatial Delivery V2 is a voltage-controlled envelope filter that'll help you explore the final frontier of funk while reinforcing your secret love affair with auto-wah. And it does Sample & Hold!
With three modes (Upward Filter Sweep, Downward Filter Sweep, and Sample & Hold), The Spatial Delivery V2 gives you super precise touch-sensitive tone sweeps with a variety of filter types.
In both Filter modes, the controls for "Range," "Resonance," and "Filter" interact to deliver anything from subtle phaser-like modulation, to whistly resonant peaks.
The "Range" control adjusts the sensitivity of the envelope, dialing in the overall touch-responsiveness to pick attack. "Resonance" adjusts the feedback of the filter.
Counter-clockwise settings yield a rounded, subdued tone, while clockwise settings increase the body and ring of the filter voice, resulting in a sharp, peaky tone. The "Filter" control crossfades between Low-Pass, Band-Pass, and High-Pass filters, so only the good bits of your signal get freaky funkified.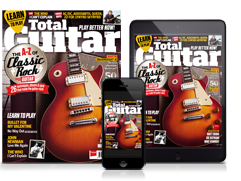 Stay up to date with the latest gear and tuition.
Subscribe and save today!