Musikmesse 2017: Friedman launches mini combos, tube-driven pedals, pedalboards and accessories
Introduction
MUSIKMESSE 2017: Dave Friedman's amps are legendary, fuelling the colossal tones of players such as Jerry Cantrell and Bill Kelliher, and now the amp guru has further diversified his catalogue with a host of new additions.
Among these are 20W versions of the Dirty Shirley and Pink Taco, the tube-driven Fuzz Fiend and Motor City Drive, plus a range of pedalboards, the Power Grid power supply and the handy Buffer Bay.
Phewph. All the new releases are shipping from 14 April, except the pedalboards, which head out on 1 May. Read on for all the knowledge, and visit Friedman Amplification for more.
Friedman Dirty Shirley Mini combo
PRESS RELEASE: Dave Friedman's Dirty Shirley Mini is a 20 Watt, ultra compact, 1 x 10" version of the popular full sized Dirty Shirley which was designed for guitarists that want a vintage "Classic Rock" tone inspired by British tube amps from the 60's and 70's but in a compact size and weight.
The Dirty Shirley Mini is fueled by a pair of EL84 power tubes and includes a three position gain structure switch. This little beast delivers vintage crunch and cleans up nicely by simply backing off the guitar's volume knob. Extremely versatile, this amp is capable of producing many styles of music from blues to rock and country by adjusting the gain knob, structure switch and master controls.
The Dirty Shirley Mini was designed to take pedals well and loves boosts, OD's, phasers, flangers, tremolos and wahs. The brand new ultra transparent series effects loop takes time-based effects pedals and rack units equally well. The handcrafted in USA Dirty Shirley Mini features beautiful black tolex, tongue and groove Baltic Birch construction and built to withstand the rigors of the road.
Friedman Pink Taco Mini combo
PRESS RELEASE: The Friedman Pink Taco is the baby sister to the critically acclaimed BE-100, created for the many musicians who have been begging for the Friedman sound in a small, compact, lightweight, manageable format.
The Pink Taco is a super versatile hand-wired, 20-watt, EL84 powered, single channel fire breather that is capable of producing many styles of music from blues to classic rock to heavy metal by merely adjusting the gain and master controls. Loaded with a Celestion Greenback 10" speaker, recaptures the legendary sound of Celestion's 1970s 10s with a surprisingly meaty tone. The G10 Greenback features a complex, full-bodied tone with creamy mid-range, smooth, vintage top-end and rich in low-end thump.
Many people don't believe a 20-watt amp can deliver the tight bottom end and midrange that a 100-watt amp can produce. The Pink Taco proves otherwise! Friedman designed this amp to sound like a 100-watt monster, utilizing custom transformers and the cleanest possible signal path. The Pink Taco Mini Combo now features a Three position gain structure switch which lowers the overall gain of the amplifier.
Friedman Fuzz Fiend
PRESS RELEASE: If you're addicted to Fuzz pedals, the Fuzz Fiend may be the ultimate fix.
Unlike many pedals that strive to emulate the tone and signal path of a tube using solid-state or digital circuitry, the Friedman Fuzz Fiend has an actual high voltage (220 volt) driven 12AX7A preamp tube. The tube delivers a natural feel, which compresses, clips and has more harmonics than any solid-state signal path pedal in production.
The Fuzz Fiend takes you on journey from light fuzz to all-out mayhem via Dave's unique RAGE switch.
Friedman Motor City Drive
PRESS RELEASE: Many pedals strive to emulate the tone and signal path of a tube using solid-state or digital circuitry. The Friedman Motor City Drive has an actual high voltage (220 volt) driven 12AX7A preamp tube. The result is a true natural feeling pedal, unlike any solid state-signal path pedal in production.
The 12AX7 naturally compresses, clips and adds more harmonically rich tone than most transistor or digital devices.
Named after Dave Friedman's home town, the Motor City Drive delivers rich tube tone that takes you from light overdrive to rich higher gain tones, that sustains for days.
Friedman Power Grid 10
PRESS RELEASE: The POWER GRID 10 was designed to address all of the deficiencies Dave encountered with power supplies from other brands over his 27 year history of designing and building pedal boards for the biggest touring guitarists and studio producers.
The Power Grid 10 was designed to meet the demands of any player who wants a dead quite pedal board, that can be taken anywhere and is tour ready. Some of the key features include:
1) Universal power from 100-240Vac meaning you can plug it in anywhere in the world. You will never have to flip switches or worry about a step up or step down transformer.
2) ZERO field hum, which plagues many other power supplies with traditional toroidal transformers.
3) The Power Grid 10 will power virtually any pedal (350mA each per 9V output)
4) 10 isolated outputs and all the cables needed to power your pedals.
Friedman Buffer Bay 6
PRESS RELEASE: The Friedman Buffer Bay is a simple solution that incorporates Dave's wealth of experience and knowledge providing players an innovative tool which can be easily implemented to ANY pedal board or easily mount into any Friedman branded pedal board.
The Buffer Bay accomplishes two basic things.
First - it is an ultra transparent, natural and musical sounding buffer, which can be turned on or off using the provided switch. The buffer solves the fundamental problem of loading loss caused by interconnected cables and some pedals. This "loss" siphons your guitar of fidelity, tone and volume level. This problem occurs even if all the pedals used are true bypass and the more pedals and longer the cable runs, the greater the losses.
The Buffer Bay 6 circuitry, when engaged, sounds identical to your guitar straight into the amp! You can access the buffer using the buffers IN connector on one side of the Buffer Bay and Buffer Out on the other side.
Second- the Buffer Bay is a patch bay with the following benefits:
• Cleans up all of the connections on your pedal board.
• Allows for tighter pedal placement on the board (you no longer need to access the jacks on certain pedals).
• Lets you have all cables from your board in the same location allowing neater chord runs on stage.
• Your pedal chain in permanently connected making setup and takedown quick and painless.
• Saves the life of the jacks on your pedals by not plugging in cables ever y time you play.
• Easily configure your input or output in hard to reach places.
Friedman Tour Pro Series Pedalboards
PRESS RELEASE: Dave Friedman has been building pedal boards for over 27 years. From the fancy, ultra complex, to the simplistic pedal boards, Dave has seen and designed them all for the who's who of the industry.
When it came time for Dave to design his own line of pedal boards, everything a touring or home guitar player actually needs was meticulously thought out and addressed.
First and foremost, like his amps, guitars, cabs, pedals and monitors, Friedman pedal boards are MADE IN USA. Why? Because it matters to us and the quality and manufacturing consistency of the TOUR PRO boards is what makes a Friedman a "FRIEDMAN!"
While most pedal boards have either a flat or a slanted surface, the TOUR PRO boards are designed with two tiers, a bottom section that is flat and a top section that is angled (with all the holes needed for easy cable routing).
This two tier design allows a guitar player to have access to all pedals on the board, without ballerina style, toe-extending dance moves. And, to address the need for Wah and/or Volume pedals, the TOUR PRO 1530 includes two detachable risers, which can be mounted in various locations on the bottom tier (yes - we thought of left footed guitar players too).
There are 3 sizes available and 3 options for each size
TOUR PRO 1520 is 15" deep x 20" wide
TOUR PRO 1525 is 15" deep x 25" wide
TOUR PRO 1530 is 15" deep x 30" wide
Standard Package includes Board, Bag & Mounting Accessories.
Gold Package includes Board, Bag, Buffer Bay 6 & Mounting Accessories.
Platinum Package includes Board, Bag, Buffer Bay 6, Power Grid 10 & Mounting Accessories.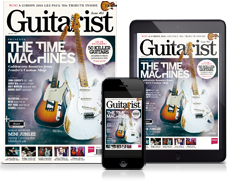 The magazine for serious players
Subscribe and save today!