Martha Wainwright on her evolving songwriting and recent album Goodnight City
Introduction
With the release of Goodnight City, her first album in four years, Martha Wainwright seems to have turned a corner and produced her most balanced record yet. We met with the singer to discuss collaborations, motherhood.
Martha greets us at the door to her dressing room in a rather jazzy looking tour t-shirt and, as we go through, we see several more hung around the place, giving the impression of a slightly bohemian clothes stall.
"Well we started this tour last week and I ordered so many of these shirts that I was worried they wouldn't sell and I'd be stuck with a load of unwanted merch," she laughs as she settles on a stool positioned in front of an old upright piano.
"So I decided to customise them for every show; I'll paint on them and sew buttons on, or write some poetry and do different designs and then sign them for each different date of the tour. They've been going like hot cakes, so what can I say!"
It's hard to believe for a moment that Martha Wainwright of the prolific musical family that includes her father Loudon, brother Rufus, sister Lucy Wainwright Roche and, unfortunately now passed, mother Kate McGarrigle, could possibly have any trouble shifting any number of tour shirts, as the response from this current set of dates affirms.
"It's been going really well so far," she says. "And the new songs have been getting a really positive response, which is great."
Goodnight City
The 12 new numbers that provide the bulk of the live set list make up Wainwright's acclaimed new album Goodnight City, which consists of six tracks penned by Martha and six by various artists she chose to help her create the album, including brother Rufus and Irish song-writer Glen Hansard.
"The fact that I only wrote half the songs does make this record feel a little different," she says. "Originally one of the producers wanted me to do a whole set of other people's songs that they had written for me; the idea was to use their writing talents and my voice to create a concept album of sorts."
It would not have been the first time that Martha has tackled the concept covers option, having put out Sans Fusils, Ni Souliers, à Paris, a well-received live tribute album to Edith Piaf in 2009, but her pen hand intervened and the album idea turned a corner.
"I started writing my own songs and I wanted to put them on a record," she says. "So we compromised and brought both ideas together. At first I wasn't sure it was going to work," she admits, "but then I picked songs from other people that sounded like I could have written them, or I would co-write them.
"It's ended up being a really nice combination of Martha Wainwright-esque songs that you can tell I wrote, and ones I didn't, which I think also shows the fact that I've always been an interpreter of songs. With the American song book and Piaf and even my parents' music, I've always ventured into other peoples' music as a singer."
Strong and stable
There's an impression of confidence from the musician with regards to the new material, and perhaps an underlying sense of relief present, having written strong new songs herself for the new set.
"It had been a while since I had written," she admits, with a slight shrug. "And having not long had my second child, I was a little worried about not being able to come up with a full 15 songs that were good enough for an album, so this was a way of writing six or seven of them and filling it out with songs other people had written for me and sort of about me."
Wainwright's previous albums are well known for being forthright, but Goodnight City feels more stable and relaxed. "I think this approach did take away a lot of the pressure of making an album," she nods. "My records are generally autobiographical and intense, so there is a lightness on this album that I find very refreshing."
Aside from the sometimes gentle and mature nature of the record, what is noticeable about Goodnight City is the range of musical styles that are explored throughout the running time, from the glorious country twang of current single Around the Bend, to saxophones, punk and synth-pop elsewhere on the album.
"I've always had an eclectic musical taste," she explains. "But I was always discouraged from showing that too much on record, because label people or producers' advice is generally to make something that is stylistically cohesive as an album to make a certain statement, so I never really allowed myself to go into these styles that I have inside me".
Family fortunes
That is, until now... "I guess at this point, having made enough records and being a little older and not really listening to people anymore, I just did what I wanted to do," she laughs.
"And also, because a bunch of other artists put songs on the album, I wanted to hear the other writers; I want to hear Merrill Garbus of Tune-Yards [on 'Take the Reins'] – I wouldn't have her write a song for me and then not be able to tell which song is hers, you know? So it was important for me to treat each song as I thought they needed."
Paradoxically, however, what is also notable about the sound is that it covers a lot of ground, without sounding less than sonically consistent throughout.
"The reason it melds together is because really there's only four musicians on the record," she says. "We recorded it pretty much live off the floor, so you always hear Phil Melanson on the drums, my husband Brad Albetta on bass, who has a distinctive style, Thomas Bartlett on piano and my acoustic guitar and vocal, which I think brings a real cohesiveness to the album, even though my personality is still coming out through the music."
There will be more about Wainwright's acoustic playing shortly, but another point of interest about the new material, and perhaps Martha's life in general, is her approach to her family, which has come under fire in her music in the past, but seems to have matured somewhat, as the three songs on the album (one written by brother Rufus) addressed to her two children suggest.
"Talking about family is probably the thing that is most important to me," she says. "I think in the past there have been a lot of angry or sad or pissed off young woman songs about relationships in my family and my insecurities, whereas now I have more positive things to sing about, and I think you can really hear that on the record. It feels more protective and softer.
There has been plenty of room for familial ruminations in the singer's life of late, with the release of this album focusing on new life, specifically her children, and her soon to be finished memoir ("pfft – it's getting there, I guess, but the deadline is looming") looking at many past stories.
Memories
On stage that evening in Bristol, Wainwright tearfully tells the audience that the city is very special to her for being the stage that brought her and her mother Kate back together after a fierce quarrel the evening before in London.
It is clear that this artist is a very different one to the writer of break-through song Bloody Mother-fucking Asshole, geared towards her spiky relationship with father Loudon. "I feel like this record is partly about saying goodbye to the past, and looking forward, and that feels quite optimistic right now."
Growing up with parents like Kate McGarrigle and Loudon Wainwright, both prolific acoustic musicians, would almost certainly ensure that Martha had the chance to sample numerous beautiful instruments throughout her childhood and early career, but the singer isn't too precious about many of her own guitars.
"The only one I'm careful with I now leave at home," she says. "It's a jumbo Guild, shaped like a Gibson J-200, which was the first big purchase I made, and it's all over my first album. But my main guitar now and my real workhorse is the one I take with me everywhere and play at every show. It's a 90s reissue Martin D-28v that my brother gifted to me in around 2000, I think."
The guitar in question is leaning against the wall outside of the dressing room, and a quick look showcases the wonderfully understated dark Indian rosewood, straight spruce top and minimal adornments characteristic of Martin's flagship model. But it's clear this one gets played regularly.
"Yeah, you can see it's pretty bashed up, but then all of my guitars are bashed up!" she laughs. "It's not at all that they don't matter; they're my weapon and almost like a baby to me, but we work hard together and travel all over the place and I'm not too ginger with them. These things are meant to be played and used and fondled or whatever! So the Martin comes with me everywhere now and it's my most reliable and usable instrument."
Goodnight City is out now on Cadence Music.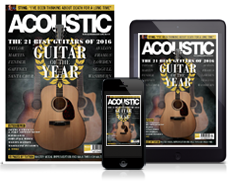 We're the UK's only print publication devoted to acoustic guitar.
Subscribe for star interviews, essential gear reviews and killer tuition!