Brian May, Hank Marvin and Ed O'Brien on the magic of the Vox AC30
Hank Marvin
We speak to three guitar legends about their relationship with the equally iconic Vox AC30.
First up, Hank Marvin, as the legendary Shadow reveals how screaming crowds gave rise to the AC30...
Did you choose Vox or vice versa?
"We did a gig with the John Barry Seven and I'm pretty sure that Vic Flick had a Vox amp. So somehow we managed to obtain Vox amps; whether Cliff's management got onto them I don't know, but we got some AC15s which we started using. They were way better than the little Cornflake packet of a Selmer I had been using, but with the amount of screaming for Cliff we couldn't hear ourselves on stage.
"I spoke to Dick Denney and asked him if it was possible to make the amps twice as loud; I said, 'Can't you put two of these together?' and he said, 'It doesn't quite work like that!' He went off and a little while later we had a call saying that he'd designed this new amplifier, an AC30, which was quite a lot louder than the AC15. So they knocked us up a couple and we started using those."
Did you have to have them flat out?
"From memory the amp was never flat out because it would start to distort which, at that time, was not a sound that was considered pleasing to the ear. I would just set up my amp for the sound I was trying to achieve, which was a clear sound with a bit of guts in it. If you listen to Man Of Mystery and a couple of the others you can hear a little bit of distortion in the amp. I didn't always have the guitar full on, sometimes I'd back it off just a touch."
What was Vox like to deal with?
"They were always on the case and Tom [Jennings] was very hands-on with us, as was Dick Denney. Once we started having all that success with Cliff and Apache and the subsequent records took off, everyone seemed to be interested in having the equipment that we were using, such as Fender guitars and Vox amps - and I can understand that.
"But they were definitely ready to oblige. We found that on stage, if the amps were on the floor, depending on the venue, you could get a bit more bottom end out of the amp, but also it was harder to hear them. So we ended up putting them on chairs so we could hear them and that led to us speaking to Tom - 'Any chance of making a stand?' and that's when those chrome stands came out, which I think The Beatles had as well."
Were the amps voiced specially for you?
"As far as I know they were just absolutely standard amps and it was a question of fiddling with the tone controls until I got the sound I was trying to achieve and that was it, really. I think, in those days, they didn't think of those things."
What did you think of the later Top Boost variants of the AC30?
"They said, 'Hey, look we've got a little improvement on the amp, it's a Top Boost - you can get more top with it.' They brought them along and we tried them out and it just gave a little extra sparkle, but it was a dangerous knob because you could make it absolutely ear-splitting. I think you had to be quite discerning about it and not overcook the Top Boost."
Did you set your amps up differently when you were in the studio?
"Again, I just used to set the volume to sound good to my ears. That's all I did, but Norrie [Paramor - The Shadows' and Cliff's producer] went to the USA at some point and he was doing some research while he was over there and he went to quite a few recording sessions. He came back and said he was surprised by how quietly the session musicians were playing in the studio. I remember after that we talked about it and we decided to back off a little bit in volume in the studio, to see if it would improve things.
"Bearing in mind that we all recorded together and the only thing separating the amplifiers was a baffle board about four feet high in between. Separation was not easy, and I guess the louder you play, the less separation you're going to achieve. So that was one of the advantages of laying back a little bit. As I say, with some of the stuff, I can hear it on the records, where there's just a hint of distortion beginning to happen."
You told us recently that you've now come full circle and used Vox amps on your latest record.
"I have used them before on the previous album, Hank, and when we did the reunion album [Cliff Richard And The Shadows Reunited, 2009] and we did all those Cliff and the Shads things, I used Vox on that. I had someone look at the Vox just a couple of weeks ago and he couldn't find anything wrong with it; it was working perfectly."
Brian May
Queen's legendary guitarist on why he uses nine AC30s in his live rig…
What was your first Vox amp?
"I bought two from a shop in Wardour Street in about 1969. It was the end of a quest to find the sound that was already in my head. I had tried various amps but I had come to the conclusion that the sound of Mullard valves being overdriven could not be reproduced using transistors, no matter how clever the circuits.
"I had also had a chat with the wonderful Rory Gallagher, a great hero of mine, at the Marquee Club. He was typically gracious and patient, and I asked him what was the secret of his fabulous sound. He told me the key to powerful but clear chords and sweetly sustaining single notes was a Vox AC30 driven hard on the input, using a treble booster.
"My dad was an electronics genius so he was able to explain to me that the AC30 was unusual in that its power output stage used the valves in the Class A configuration and without the negative feedback that was used to make hi-fi amplifiers of the day reproduce signals accurately.
"The result was a smooth 'characteristic curve' (the graph of output volume versus signal input). For small input signals - with the volume control set low on the guitar - the curve is a nice straight line without any of the kinks inherent in a push-pull configuration. But, as the signal increases, the output begins to reach a limit, a plateau.
"So as you go on turning up the volume on the input, the output saturates. This is what sounds like distortion, but while in normal push-pull amps this saturation comes about suddenly, in the case of the Class A Vox, it happens very smoothly and gradually. So instead of a harsh, fuzzy overload you get a very smooth saturation which sounds more like a human voice than a fuzz-tone. That 'voice' was the voice I wanted, and once I found it, it became part of me. It was all thanks to Rory. And Vox!"
Why the multiple AC30 set-up?
"I wanted to achieve clarity and breadth when using effects - most of the time I use chorus and delays. In both cases, the pedal or processing device gives you a nice clean companion signal which wants to be heard alongside your original signal. But if you mix it back into the same amp that the original goes through, it doesn't work very well. The stereo opportunities are lost, and worse, at high volumes the two signals intermodulate and make an ugly distorted sound. The beauty and clarity of the single note saturation is lost.
"So my solution was to feed the processed signals into entirely separate amps, hence my three amps at ground level, the centre one handling the 'straight through' signal unmodified, and the outer two transmitting the two different delays in use, or the stereo chorus signals, slightly altered in pitch. No matter how far up I turn the guitar, those amps are still handling one note each, and it sounds clear and warm.
"In the early days it was often a struggle to hear the guitar, so I took to having another set of three on top of the first ones. The second three also serve as spares and the same applies to the top row. For that feeling of comfort I still like to see the whole array of nine AC30s behind me, I can't remember the last time I needed to have them all turned up."
What mods are done to your amps?
"These days we have them all rewired without printed circuits, to make them rugged enough to survive long tours. We also take out all the elements that I don't use - the tremolo and 'bright' channels. This optimises the power to process my signal with minimum losses. We also use one traditional 'Blue' speaker in each cabinet and one Celestion G12H vintage reissue."
Which era AC30 is your favourite?
"My absolute favourites are the old cream ones. They sound damn good. Like guitars, even if they are all identical in design, every amp has its own character, born of slight variations in materials and, apparently, what day of the week they were made."
What would you say are a Vox AC30's distinctive characteristics?
"The great quality - pretty much inimitable - is that unique ability to put you halfway between chordal clarity and full-blown sustaining single notes. It's a big part of my style. And the delicate spot where the notes are just beginning to break into saturation but are still sharp and warm is pure magic."
Why have you remained faithful to Vox over the years?
"There is no substitute!"
Ed O'Brien
The British indie hero on the Vox amps he uses with Radiohead…
"I love Vox amps. The Vox amps that I really like are the AC30s and I used one for years. Thom [Yorke] has got the old ones - he's got the '60s ones, which are great.
"We had brand-new AC30s quite a few years ago and they got rebuilt by David Petersen, who is the same guy that rebuilt Brian May's [Vox AC30] for We Will Rock You. He took everything out and converted it to a single, normal channel for me. Fucking hell, they're loud!
"Brian [May] can obviously turn up - he's the only guitarist and that's part of the sound, but it wasn't working for me, so Daniel Steinhardt [of The GigRig and That Pedal Show] modded it. I said 'Listen, Daniel, I love AC30s but they only sound good when you crank them,' and he said 'Well, I can get a mod done for you and it will sound great.'
"So my Vox AC30 has been modded twice now. Last year I was using a [Fender] Vibro King, which I also love, and an AC30 and the two together were just beautiful, but our sound engineer [Jim Warren] was complaining that it was all too loud and we had this whole scale-down of the gear for the production.
"That forced me to look elsewhere and so I'm not using the AC30 as much right now. Lately I've been using Audio Kitchen amps - I've got two Big Chopper heads and a 1x12 cab: they're just amazing!"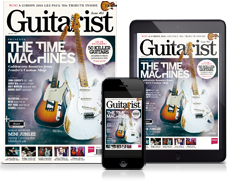 The magazine for serious players
Subscribe and save today!