Under the microscope: Fender 1954 Stratocaster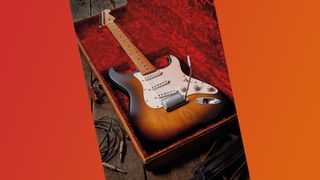 Origin of the species
Some guitars, such as Fender's Strat, become so familiar over time that they attract accolades such as 'timeless' and 'iconic' like a magnet attracts paperclips.
Yet look closely at an original 1954 Stratocaster and you realise how different it is to the Strats of today. So, we put a pristine original example under the microscope to uncover the intriguing spec details that set the earliest Strats apart from their latter-day descendants…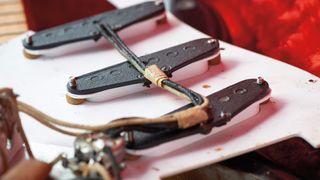 Fibre-backed pickups
Fibre-backed pickups with black (very early) and later, as here, brown rubber grommets made from surgical tubing.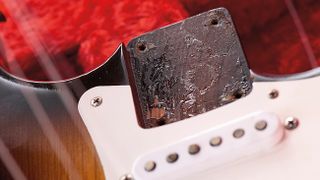 Clues to authenticity
The way in which drying lacquer has adhered to neck pockets and other parts can give clues as to the authenticity of original parts.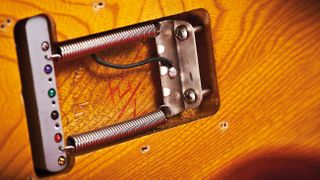 Vibrato block
With three of the five vibrato springs removed further details can be seen. Note the ball-ends of the strings sit higher in their recesses in the vibrato's block than on later Strats.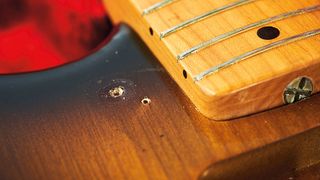 Scratchplate mod?
Though in surprisingly complete original condition some typical minor mods have been made to this guitar over the years, including the addition of four extra screws, presumably to hold the scratchplate down more evenly.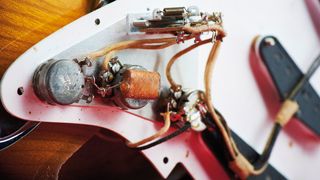 Volume and tone pots
Very early volume and tone pots for '54 Strats were 100k ohms, changed to 250k ohms around June '54, with brass-shaft pots manufactured by Stackpole. A three-way CRL switch was fitted.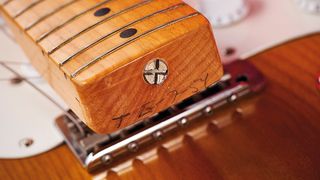 Tadeo Gomez was here
In the early stages of Stratocaster production, the shaper's initials, in this case belonging to Tadeo Gomez, and completion dates were marked in pencil at the base of the neck. As production ramped up in later years, stamped dates were employed.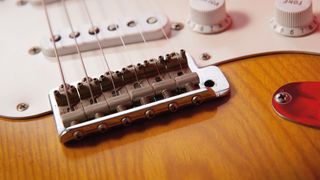 Vibrato system
The famous Fender vibrato system, first fitted on the '54 Strat, was a steel two-piece unit with six saddles that could be adjusted for intonation and height. Note that the 'Fender Pat Pend' stamp on each saddle was quite faint until the 60s.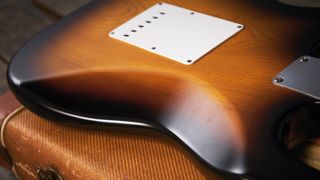 Belly contour
The belly contour on the early Strats is longer, more gently sculpted and elegant than on later versions of the Strat. Note that the very earliest Strats also had a 'one-tone' sunburst that was left natural in the centre.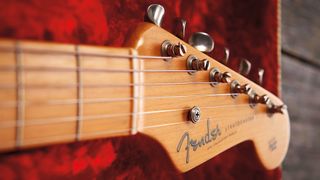 Headstock
The notably rolled-off edges of the headstock, which became sharper from 1955, are among numerous small details that set this '54 Strat apart from later production models.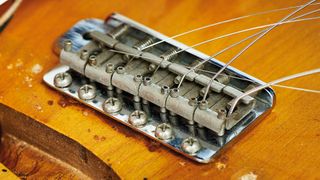 Under the bonnet
A partial disassembly is the only way to examine all of the spec details that denote guitars of this vintage.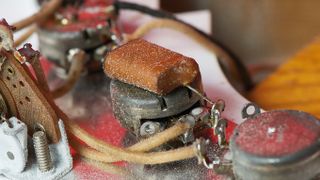 Solid shaft pots
The solid shafts of the very earliest pots fitted to Strats were changed to split brass shaft units a little later.