Matt Bellamy's custom Manson guitars - in pictures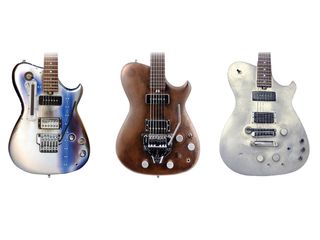 Introduction
Since frequenting Manson Guitar Shop in Exeter as a teenager, Muse's Matt Bellamy has become famous for his tech-loaded, forward-thinking approach to the electric guitar.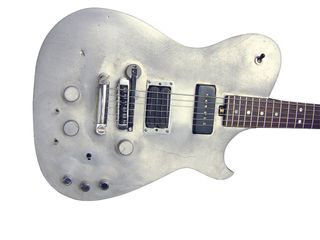 Delorean
The metal-clad, effects-loaded guitar that started it all...
"That is number one, numero uno! I think it was 2001. It was the first [custom] guitar. He and his family had been customers for years before that. Matt's dad is well known, and his uncles play, and most of the family is local [to Devon]. Matt used to buy amps from us, he bought a Soldano, a Matchless, a Marshall - he had quite a complicated rig, even in those days!
"I think the shape was pretty much left to me. He wanted a visual statement that nobody else would have. It was drawn by me, on the kitchen table as usual! I showed the drawing to Matt, and we changed a few things, nothing dramatic, and then made it.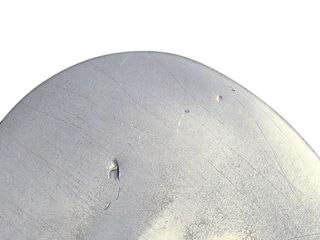 Aluminium
"The body is poplar, and then aluminium on the front, back and sides. I think Matt wanted this one to look very different!"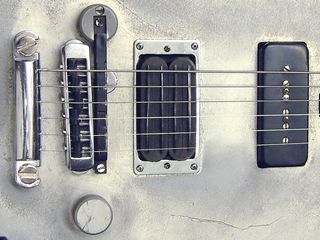 Custom electronics
"There are loads of electronics here. Pickup-wise, it's got a P-90 in the neck, and the Kent Armstrong Motherbucker at the bridge.
"It had the piezo bridge system running through our own preamp, and then the Roland GK [MIDI pickup system]. Then, effects-wise, there was the Fuzz Factory and a Phase 90 in it"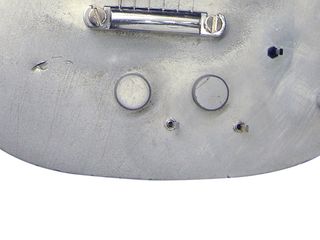 Z.Vex Fuzz Factory
"With the Fuzz Factory, we only put the stab and compression controls through the front.
"The other three - volume, gain and gate - are still accessible, but from inside the guitar. He has it set up very aggressively. It's a very full-on effect"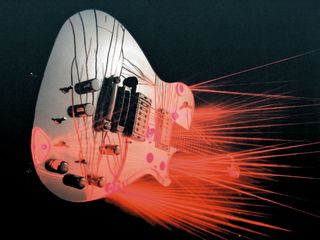 Laser
What's better than a Delorean? One that has lasers in it!
"The laser one was an idea I had when I was driving from London back to Devon, and you go past Heathrow airport. I saw the planes coming in to land with the lights on and I thought to myself, 'Ah, that's what you need, you need lights in the guitar.'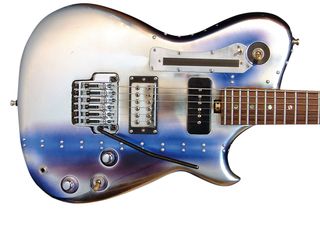 Bomber
How an aircraft inspired a guitar body...
"The Bomber [is my favourite]. The history of that one is quite amusing. Matt wanted a six-string guitar with a Floyd Rose on it. It was ludicrous timing, about four weeks, and he wanted it to be chrome.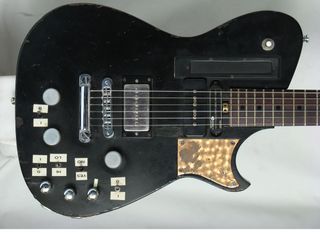 Blackie
The technology-loaded effects monster...
"That was the first one to feature the ribbon controller. He came along and said, 'Can you build a Whammy pedal into a guitar?' Obviously, you can't, because of the current draw, plus they run on AC, so that's out of the question. So we thought, 'Let's make a MIDI controller and it can be controlled from the guitar'.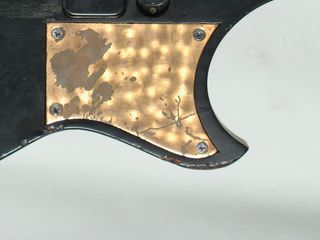 Z.Vex Wah Probe
"The copper pad on the bottom horn is a Z.Vex Wah Probe. It's a proximity controller, so the closer your hand gets to it - it works a bit like a theremin - and that runs the wah."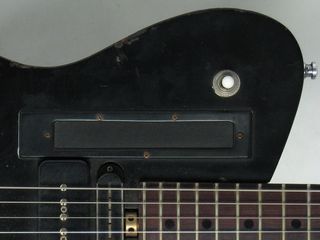 Ribbon controller
Hugh and Ron Joyce implanted a ribbon controller from a keyboard into Blackie, allowing Matt to control effects such as the DigiTech whammy via MIDI from the guitar.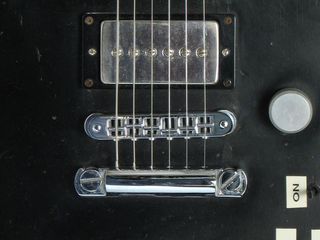 Magnetic, piezo and sustainer pickups
"[The Motherbucker - pictured] has sort of gone by the side now. They do powerful very well; it's like having two Hot Rails bolted together, but it's very difficult to get anything but a dirty sound.
"I've got a feeling that the pickup in that guitar has changed now to a Manson MBK-1. The acoustic preamp has also been removed, so there's no piezo."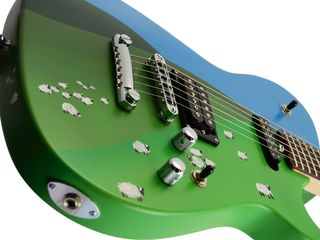 Sheep thrills
In 2014, Matt Bellamy's hand-painted Manson MB-1 'Sheep' guitar was created and auctioned for War Child, raising £10,272. Here, Hugh tells us how the project came about.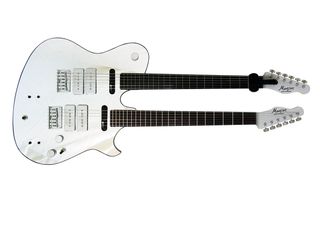 Doubleneck
Fretted, fretless and a whole lot of power...
"Matt ordered this instrument, and he was in a hurry for it, as usual! I was on tour with Them Crooked Vultures at the time, so I did a drawing, took a photo of it, sent it back to [Manson luthier] Tim Stark and he made it. That was a mirror-fronted doubleneck with fretted and fretless necks!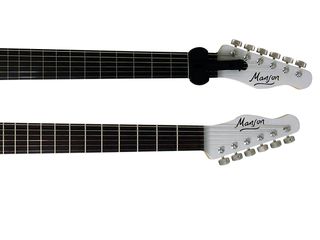 Twin-necks
Both necks are six-string, but the top neck features a fretless fingerboard. This guitar was built by Tim Stark.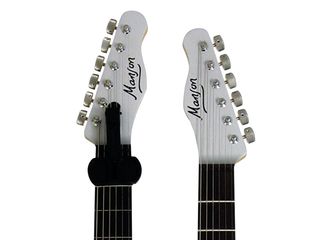 String dampener
The fretless neck features a hinged string dampener, to keep extraneous noise to a minimum.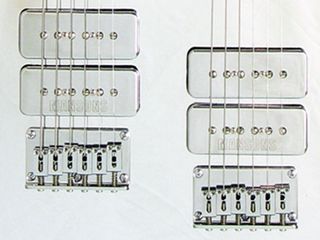 Pickups
There are Fernandes Sustainer pickups fitted to both guitars, and the Manson MBK-90S set is wired in series for extra power.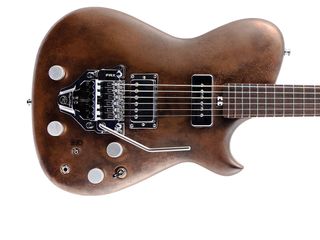 Copper Bomber
The metal guitar with the latest Floyd design...
"This is new. It's what we call the lozenge shape; it's reminiscent of the Bomber, but more rounded-off with no sharp edges, and it has a copper-paint finish. It's very strange material! Sometimes you mix it up and it goes off before you get it on the guitar, other times you put it on and it's two days before it dries.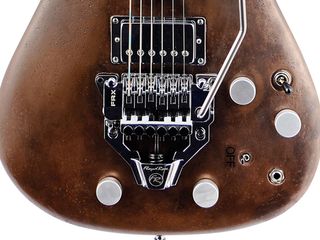 Vibrato
Hugh has currently made two Copper Bombers for Muse's upcoming tours.
One features the relatively new Floyd Rose FRX vibrato, which can retro-fit to standard tune-o-matic bridge posts, while the other features a more traditional titanium Floyd.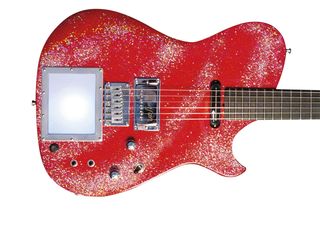 Red Santa
A Triumphant paint job meets futuristic MIDI control...
"The Red Santa was a favourite until it got smashed, but then we did build a replacement. That red came about when I was building the first one and I'd done all the woodwork and I had no idea what colour he wanted. So I rang him up and he said, 'Red'.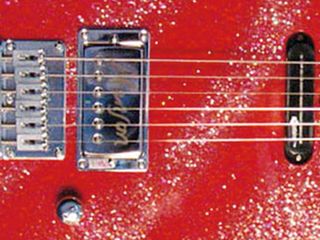 Pickups
As well as an X-Y pad, Santa had Bellamy's staple Fernandes Sustainer and Manson MBK-2 humbucker.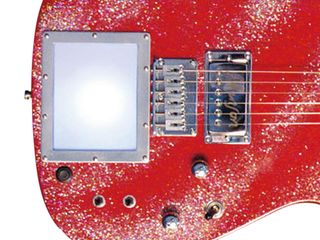 X-Y pad
As with Matt's other X-Y guitars, the Red Santa features a hardtail bridge, strung through the body from behind. This is due to the screen size and lack of space.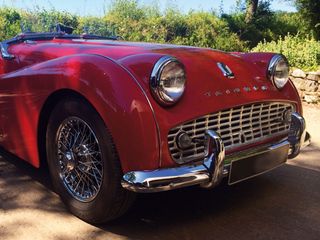 Finish
The red paint used here is spare tin used for Hugh Manson's 1961 Triumph TR3A.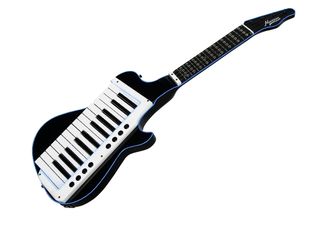 Keytar
Inventing and constructing an entirely unique instrument? No problem!
"The keytar: that was an amazing piece of kit. So Matt says, 'I want to play a keyboard hanging around my neck, but I also want strings on it.' The keyboard bit was easy, we bought a MIDI keyboard and took it apart.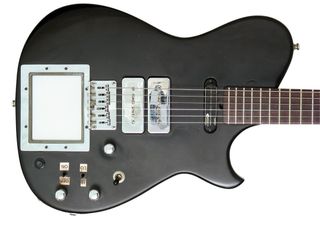 Kaoss
The first guitar to cause MIDI-controlled Kaoss...
"That one has the Sustainer, and two P-90s next to each other, wired in series - which basically gives you one massive pickup with a big output. It's a very particular sound, you need to like that sound. It's also the first one to have the X-Y pad in it.
Fernandes Sustainer
The Fernandes Sustainer pickup is a staple in many of Matt's guitars, offering infinite sustain, plus a switchable 'Harmonic Mode'.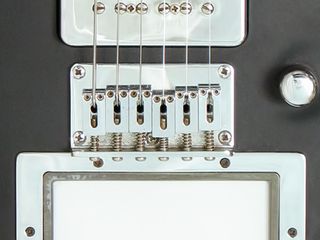 Hardtail bridge
"You'll notice that this guitar has a Strat-type non-trem bridge instead of a tune-o-matic, because there's not enough room to get the screen in with a tailpiece bridge without making the guitar stupidly long. Hence the thru-body stringing."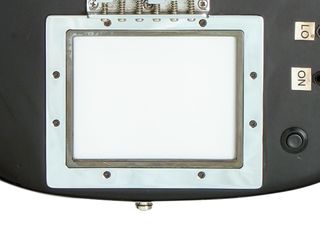 X-Y MIDI Pad
Contrary to common misconception, Matt's X-Y-equipped 'Kaoss' guitars only include the touchscreen from a Korg Kaoss Pad.
The rest works from a custom micro-processor, and outputs its signal as MIDI.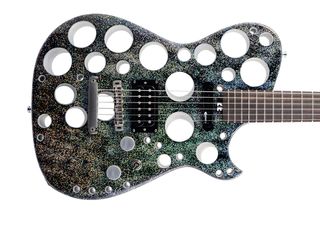 Silver Glitter Holes
Great architecture inspires a monumental guitar design...
"There are two of these. The world has only seen one so far, but by the time you read this, there will be two of them. I went to Barcelona for a long weekend and went to the Basilica, which is just the most amazing piece of architecture.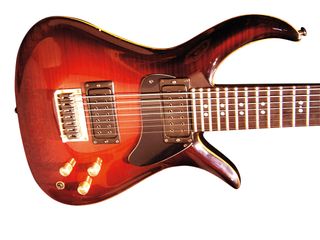 E7
How a second-hand guitar became one of Matt's rig mainstays...
"That was a guitar that I made for a jazz guitarist, to his design. It was a guitar version of the E-Bass that John Paul Jones plays.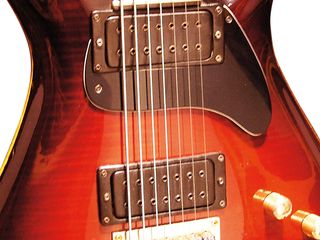 Seven heaven
Based on the John Paul Jones signature shape, this E7 seven-string is quite possibly the only Manson's guitar in his arsenal that wasn't custom-made for Matt. Originally, it featured a single pickup.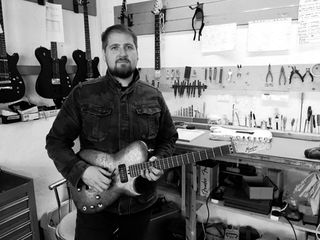 Hugh's right-hand man
If Hugh didn't build it, Tim Stark did!
How did your role at Manson's happen?
"I've been with Manson's for 15 years now. I started back in 2000. I was studying Musical Instrument Technology at the Leeds College Of Music, learning how to make and repair guitars. Hugh phoned the college asking for any possible techs who could replace one of his team. I applied, got the job, quit my course and have been here ever since."