Allen Hinds talks teaching, technique and Jeff Buckley jazz jams
Introduction
Imagine a player with the taste of Robben Ford, the fearless melodicism of Jeff Beck and the joyous musicality of Derek Trucks. In case you aren't already hip to his work, that player is Allen Hinds.
We caught up with the stellar Los Angeles guitarist to talk about everything from the genius of his friend, the late Jeff Buckley, to the ultimate overdrive tone…
There are only a few electric guitarists with the imagination, taste and judicious chops to sustain a listener's attention across a whole album of instrumental guitar music. Think of players such as Jeff Beck, Mike Landau and Scott Henderson and you enter a world in which pure tone and melody are handled with taste and deft virtuosity.
Allen Hinds is one of that select group of players - and if you haven't heard his playing before, then now is a good time to acquaint yourself with it, as he has a new album out, Fly South, which brims with shimmering melodies that flourish into the kind of effortlessly expressive licks most of us can only wish for.
He's also a formidable slide player and, indeed, it's Hinds' Southern roots that come most strongly to the fore on the new platter. We joined Allen to discover why a Silvertone amp turned up loud in a high school auditorium many years ago inspired his new album's Louisiana-bound guitar work…
You have a very fluid legato technique, without sounding like a typical rock shredder. How did you develop that?
"I am sure a lot of that came from a combination of things: the strange way I hold a pick, improvements in gear, being attracted to great sax players - at one time I transcribed a lot of Brecker, Cannonball Adderley and others as well as trying to figure out what Holdsworth was doing."
The roots rock/blues aspect seems to ground you. What Southern rock guitarists and bands inspired you most?
"When I was a kid, I had older brothers and sisters and so I heard Freddie King, Jimi Hendrix and The Beatles early - way before I had even picked up a guitar. But living in the South, I loved the early Allman Brothers, although I never quite got into the bands that followed them: something about Lynyrd Skynrd and Marshall Tucker didn't stick. But Duane was a huge influence.
"I also loved Little Feat - one of the greatest bands ever. Although they were not from the South, they were heavily influenced by that sound and did a lot of New Orleans grooves, which I love. And all that was mixed with British rock, too: Jeff Beck, Steve Winwood, Eric Clapton, The Beatles. I always found that I gravitated towards songwriters."
The student becomes the master
When did you start playing slide?
"Duane Allman was 'the man' back in the early 70s, especially down South. I think all of us played some slide. It was kind of a prerequisite to get out of high school [laughs]. I didn't really play guitar until high school, so around 1972. Wow, I'm old!"
When did players like Allan Holdsworth and Scott Henderson become influences?
"I heard Holdsworth for the first time on a Soft Machine album. I was down South, but living in a pretty progressive liberal arts college town at the time, and being the musical times that they were, we were all exposed to Zappa, Mahavishnu, Steely Dan, Chick Corea, Miles… as well as all the Southern stuff. Scott's influence came much later when I attended the Musicians Institute in Los Angeles in 1985."
You're still a tutor at MI now. What classes do you lead?
"Well, none, actually .I just sit in a big room and show off [laughs]. Seriously, because I have a history of doing some tours, I am kind of an artist-in-residence. I mentor students, play with them, and try to get inside their heads to what can help them excel. Often times it's not about this scale or that scale. More often, it's a mental approach. The doctor will see you now…"
How does the school differ today than when you were there as a student?
"Well, now it's much bigger and geared towards the music 'business'. When I was there it was a school of guitarists for guitarists. I would walk down the hallways and see Joe Diorio, Robben Ford, Frank Gambale, Jeff Berlin, Joe Pass… it was awesome. Times have changed!"
What makes a good guitar student in your opinion?
"Someone with the curiosity to go after stuff and figure out what this chord is or that lick is. You have to have that burning desire to learn - and then have the creativity to do something with it. I like to set a student on a path, hopefully introduce them to an extra sense of how to get the most out of themselves. Anyone can hand out a sheet of music with some tablature licks on it - learning is more than that."
How do you encourage students to be more musical when they're deep into technique and fast playing?
"I have them learn The Beatles songs - say, to really learn Julia. I love to watch their eyes get big when they realise how good that song is. And also to sing along with their playing: that always helps. Listening back to a recording of themselves helps, too. It's like hearing your voice on a recording: a bit uncomfortable at first, but the fastest way to learn."
Practice and progression
You have a very well developed sense of harmony. How much care do you put into your music's chord content?
"Well, thanks. The special thing about music is the vibe it can produce immediately, with one chord voicing, one nuance. At some point, I realised it didn't take a lot of mathematical licks or convoluted harmony to be emotive or expressive - thanks to the Allmans, Jeff Beck and Zeppelin and so on. My favourite progression? The I, I, I progression? Sorry, that's a joke!"
Do you still practise and if so, what aspects of your playing do you focus on?
"Not like when I was student, but one perk to teaching or doing 'open counselling' at MI - that's like an open forum where students come to jam - is that I sit for five hours a few days a week and play, play, play. That, and gigs are really my practise. But, often, when say I'm watching politics on television or whatever, I will have a guitar in hand and then I'll probably be stretching and trying new motifs."
What is your ideal lead guitar tone? At times you sound like a mix of Allan Holdsworth-smooth, but with the saturated bite of Robben Ford…
"I often tell folks to listen to Dicky Betts' solo on One Way Out on the Eat A Peach album by the Allman Bros. Man, is that the best tone or what? But I like a good Tele with just a bit of grit, too. You have to be able to hear what your fingers, what your touch is doing.
"To me, a small amount of compression for feel and sustain is good, but not too saturated. The right guitar and amp can do that, but it's a constant search. Recently, I've come to love the Red Plate amplifiers, as well as the new Xotic stuff on the pedal side."
You seem to have a preference for older guitars. What do you look for when buying?
"I like the inconsistency of vintage guitars, they all feel hand-carved. That, with the aged wood and slightly microphonic pickups, makes for a special experience. It's a feel thing and a subtle thing. Some people don't get the concept of spending so much money for such small nuances, but to me it's special. That's what you pay for old vibe and small but very significant nuances."
What is the oldest guitar you have?
"I have a 1953 Esquire neck on an old Tele body, a 1954 Goldtop Les Paul retrofitted with humbuckers, a 1956 Stratocaster and an early 60s Martin 000-28."
What is your favourite guitar?
"I don't think I have a favourite, I go through periods where I favour one over the other - but I always come back to old Teles. They are so versatile and expressive."
Gear for the years
Do you set your guitars up differently for slide playing?
"I just tweak the bridge up a little higher, I fret some, when I play slide - a bit like Sonny Landreth does - so I can't get the action too high. I do have an old Melody Maker with a humbucker and a palm pedal. That's a Bigsby device designed to simulate pedal steel, like a B-Bender, but with levers on top that alter the pitch of the strings. Those strings begin with a 0.014 and the action is set really high."
As mentioned, you've got into Red Plate amps recently. What is it about them that you like and what model is your favourite?
"They are built like tanks, they sound great and the overdrive's the best. You see what folks are going for in these boutique pedals when you hear overdrive this great. I have one called the Backline and Henry, and the guys are the best at Red Plate."
You've been associated with Xotic pedals for a while. What is about them that you like? Any favourite pedals?
"Those guys are great, and supportive… I still like their AC pedal line. I was just in Japan and they have a new one called the Soul Driven - it's not heavy overdrive, but kinda like the old Tube Screamers, except this one has a lot of tweakability in the midrange. It was totally awesome and inspiring when I was in Japan."
You often like big reverb/delay effects. What do you use for those?
"I like the new DigiTech reverb pedals. They sound great. I like ambience - but not to be noticed so much, if that makes sense. Delay? I have been using the Boss DD-500 because it's easy to use and sounds great. But I really mostly use it for a slight stereo slapback from left to right, across the field. It kinda gives me a nice open feeling.
"When I first learned guitar, I didn't have an amp - I used to go into the high school auditorium with no-one else there and crank this Silvertone amp. So, like my new album title Fly South, I'm getting back to the things I first loved about guitar: that feeling of pushing an amp in a big room, all that natural reverb and vibe [laughs]. So, yeah, flying south."
Let's talk about Fly South. It features a wealth of great guitar tones, compositions and a great line-up…
"Well, the writing was done over the course of a couple years, just here and there, but the recording was all done in about a month's time - maybe two months. When I put my mind to something, I commit pretty hard."
Were you keen to explore new terrain with the album, from either a harmonic or production perspective?
"I really followed my heart on this CD, actually. There are a couple of songs with no guitar solos, just songs. And, of course, having [drummer] Vinnie Colaiuta on the CD really glued everything together. He is truly a genius - not just from a 'chops' perspective, but musical. And he listens and complements. He's truly an artist."
Joni and Jeff
Joni is about Joni Mitchell. Given that your album is instrumental, what aspects of her music fuelled this piece?
"I have always been a huge Joni fan. On this song, the acoustic guitar tuning is a C#minor 9 tuning that she is famous for and sometimes I like tuning guitars around the house in strange ways. It means that you pick it up and you just can't do the typical things you would do in standard tuning. So, this song just appeared in a few minutes - and being a fan of Daniel Lanois and all things vibe-y, I started layering the slide stuff.
"The solo was first pass. I was going to replace it with something fancier but in the end it seems to belong. I live in the Hollywood Hills close to where Joni did at one point; the birds at the beginning were recorded at five in the morning up here. All things considered, including her health situation, it felt right to dedicate it to her. I know every Joni song - lyrics, too."
You've also dedicated a song to Jeff Buckley on the album…
"Yeah, Jeff was a bud - and much younger than most of us at MI - but he was wiser than his years, the kind of guy who would speak at a low volume and everyone would lean closer to hear what he was saying.
"Anyway, at MI, we used to work every day on playing over the hardest standard jazz songs. Not many people knew this, but he could play like Holdsworth. He was great, shy but great. At graduation, he performed Weather Report's D Flat Waltz, recreating Zawinul's chords using false harmonics, slapping chords up an octave [laughs].
"But what I really admired about Jeff is how he 'found himself' shortly after MI. I mean, his voice and music was, and is, so much more powerful than anything he would have done had he pursued a 'fusion guitarist' path. And, in my own way, I feel I have finally found my path - albeit at age 60 - and, to me, that is what life should be about, finding what keeps you creative and happy.
"For me, that's pursuing what I enjoy most about music and guitar. The song Buckley goes through a metamorphosis of sorts and has Jeff's style of jingly, jangly open chords at the end. All things considered, 'Buckley' it is."
You often gig at LA's Baked Potato, famed for intimate gigs with players such as Larry Carlton, Lee Ritenour, Steve Lukather and Mike Landau. What do you like about it?
"Yeah, the 'Spud' is like an old vintage guitar that's just been played forever, has a great vibe and always sounds great. Maybe it's the resonating of such high-quality music or so many creative folks coming through its doors. It just has something special. The owner Justin Randi is the coolest - so everything about it is very special. I've been going there since 1985, so it's like home!"
Fly South by Allen Hinds is available now on BMI Hindsybabe Music.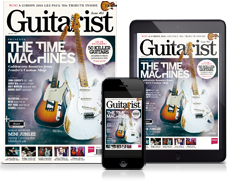 The magazine for serious players
Subscribe and save today!