Alison Wonderland: 10 records that blew my mind
Alex Sholler
Trained cellist and classical musician, Alex Sholler - better known as Alison Wonderland, hit the ground running when her debut EP Calm Down broke the top 40 of Australia's ARIA charts in 2014 and became a Hype Machine chart topper.
Her subsequent rise has been even more impressive, with the following year's single U Don't Know, featuring Wayne Coyne of The Flaming Lips, clocking up three million Spotify streams to date, and her debut album 'Run' becoming a Top 10 hit in her homeland.
Snapped up by music mammoth Virgin, the DIY DJ and producer now returns with the new single 'Messiah', featuring M-Phazes. A second album is expected to follow later this year.
Click through the gallery to find out Alison's top ten choices...
The Knife - Silent Shout
"I remember the very first time that I heard The Knife. I was playing in a band and had never really thought about making electronic music before. As soon as I heard Silent Shout, everything changed. I remember freaking out and thinking 'How can I make something that sounds like this? What is this? How can something electronic make me feel so emotional?'
"This album is one of the reasons I saved for a computer and got Ableton Live. I tried to teach myself how to make something that sounded even slightly similar to this record. I wanted to make electronic music that made people feel the same way that The Knife made me feel with this album. I still, to this day, have it on repeat."
Hudson Mohawke - Butter EP
"Back in 2009, I balanced DJing most nights a week at Sydney's underground venues with long days of making beats in a tiny shoebox of a room. I always loved hip hop, and I played a lot of it in my sets, but at that time I was making electronic four-to-the-floor music.
"The moment where things changed for me is when I heard 'Fuse' - a track from Hud Mo's Butter EP. My mind was blown. I had finally heard electronic music with beats that were very reminiscent of the southern hip hop I was listening to at the time. Future beats/trap wasn't really that prominent a genre back then… but this EP literally changed the way I made beats when I produced.
"I love Hud Mo and I'm so glad no one was around when I actually had the guts to go up and introduce myself to him one time. I embarrassed myself - a lot. Biggest fan girl moment, ever!"
SBTRKT - SBTRKT
"In my opinion, 'Wildfire' is one of the best pop songs ever written. You can hear it in a car, at a club, at a house party or at a festival and it will still affect you in the same way every time.
"After hearing this track, I had to listen to the rest of the album. I love how simple the production is on this record, yet it bangs so hard. Not to mention having Yukimi Nagano of Little Dragon and Sampha for the vocals - beautiful.
"Also, about the album cover, once you see the yellow rain jacket, you can't un-see it."
Paul Simon - Graceland
"This is my happy album. I listen to it when my depression is really bad and it always lifts me up. It's so beautiful.
"I'm pretty open about suffering from anxiety and depression. I want to be able to show others that it's not embarrassing to feel down, because I bet every single person has been there at one point in their lives.
"I always find that getting outside of my own head is really important when I'm feeling down. I remind myself that the only person who can make you feel good is you, because it's much more satisfying when it comes from within - it radiates.
"Graceland is one of the only albums that makes my mind feel light and happy. I associate it with no other memories apart from myself and it lifts me up… reminding me to look outside."
Beastie Boys - Paul's Boutique
"This was my first introduction to hip hop. I still remember exactly where I was when I first heard it: I was seven, it was Christmas Day and my cousin was playing the album Paul's Boutique.
"The sample at the beginning of this song is what got me. I went home with the CD and listened to the first 30 seconds of that song over and over and over... and I think that's when I fell in love with hip hop."
Fugazi - Fugazi
"After I finished school, I travelled to Europe to study classical cello. I got pretty involved in the punk scene in Germany; that's where I really, really started to get into punk.
"Fugazi was a really special band for me as they're what made me fall in love with and understand the genre and sense of community that the punk world had to offer. It was like there was this untouchable agreement or connection that people in the scene had with each other, which I felt was rare and a really special thing. I try to bring it to my own shows.
"There's this crazy sense of primal intimacy about it that I can't really describe, but it really makes playing or watching a live show very satisfying."
Jamie xx - In Colour
"Jamie xx is one of my favourite producers and this album is amazing. 'All Under One Roof Raving' is genius. It just makes me want to immerse myself in the crowd at a sweaty warehouse party.
"I have been a fan of his solo production since his Basic Space bass mix. It was the first time that I realised that you didn't have to completely layer sounds in music to create something big. I finally understood the phrase 'less is more'.
"He has this crazy flavour to his drum production (yes I used 'flavour' to describe a sound; who even am I right now?) which just transports me to the UK and I can visualise everything I want to be surrounded by.
"I remember once I was backstage at a festival and realised his trailer was next to mine, so I wrote him an awkward fan letter on a paper plate and gave it to someone in his crew... I'm pretty sure he got it. God, I sound like such an awkward fangirl in all of these little paragraphs but hey - at least you know that I really fucking love music!"
Kendrick Lamar - Good Kid, M.A.A.D City
"I love this album so much, so I had to put it in. For me it rekindled my love for listening to albums as a whole complete unit.
"The beats are insane and I love Kendrick's flow and everything he stands for lyrically. I listened to it a lot when I was giving my ears a rest during the writing process for my album 'Run'."
The Smashing Pumpkins - Siamese Dream
"So, I wasn't very popular at school. In fact, I am pretty sure that four fifths of my weekly lunches were spent at the library playing with my Tamagotchi and reading national geographic (it's more fun than it sounds, I swear!).
"The only thing I really cared about was my cello. I was always insecure because, at the time, I didn't really think anybody else found playing the cello cool. Then I heard the track Disarm and I honestly couldn't believe it… I saw the video clip and there was some really cool person playing the cello. I felt ok. It was ok to love the cello.
"I fell in love instantly, and so began my hardcore obsession with The Smashing Pumpkins. Every opportunity I had, I would play this album."
LCD Soundsystem - This Is Happening
"James Murphy is the reason I tried to write songs the way I do, and he is the reason I decided to sing on the songs I have written.
"I never want to meet him because I think I would probably pee my pants and say something stupid. I remember the first time I saw this band live. I was completely sober but I felt so high from the vibes radiating off the stage. There was something so intimate about the performance, even though the crowd was huge. That's how live music should be performed.
"An artist playing something from the heart will speak 1096890 times louder than anything else out there. LCD Soundsystem is perfection. This album is perfection. Dance yourself clean. The end."
Check out the latest single by Alison Wonderland & M-Phazes 'Messiah', out now on Virgin. For more information, visit Alison's Facebook and Twitter pages.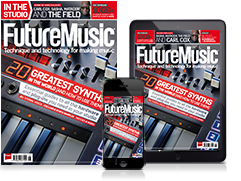 All-access artist interviews, in-depth gear reviews, essential production tutorials and much more.
Get the latest issue now!