6 iconic '80s shred guitars you can still buy today
1. EVH Striped Series 5150
The 80s metal scene would have looked very different if Eddie Van Halen hadn't had his wicked way with a bunch of cheap parts and some spray paint.
The Striped Series 5150 recreates Eddie's later 1984 red, white and black guitar and features the original's basswood body, quartersawn maple neck, that iconic hockey stick headstock, one pickup and a Floyd Rose. Simple as it is, this guitar changed the world.
2. Charvel Warren Demartini Signature Pro Mod Blood And Skull
RATT's Warren DeMartini is one of the forgotten shred icons of the 80s. To redress the balance, Charvel introduced a range based on DeMartini's specs.
The proper Stratocaster headstock profile gives Charvels a touch of class, with an alder body, quartersawn maple neck, a single custom-wound Seymour humbucker and a Floyd. If you want a conspicuous rock monster with a meatier neck than the Dinky DK2, Charvel is a good place to look.
3. Jackson Pro Series Rhoads RR3
The Pro Series RR3 is the descendent of the guitar that Grover Jackson designed for brilliant Ozzy guitarist Randy Rhoads.
Originally called The Concorde, the guitar's unique asymmetrical shape came from Randy not wanting people to mistake his bespoke shred machine for a Gibson Flying V.
The mahogany-bodied RR3 has the classic Ivory White and Black Pinstripe finish plus the usual Pro Series goodies like Seymour JB and '59 pickups, a Floyd Rose and an ebony fingerboard.
4. Ibanez JEMJR
Moving on from the 70s 'lawsuit era' where it was, er, happily paying tribute to Fender and Gibson gear, Ibanez hit its stride in the 80s with the excellent Roadster II models.
In 1987, the brand began a collaboration with Steve Vai on his JEM model, and you'll pay a king's ransom for a rare, original Loch Ness Green JEM.
The new JR is considerably more attainable but you still get classic features like the Edge vibrato, Tree-of-Life fingerboard inlay and the Monkey Grip body cutout.
5. ESP LTD GL-200SBT Sunburst Tiger
This is, of course, the signature model of former Dokken and Lynch Mob gunslinger George Lynch.
The Japanese-made ESP model is still available, and comes with the original spec hefty maple body. The more affordable LTD version has the looks but the basswood body swap cuts down on the weight. Like the Jackson Dinky DK2, the Sunburst Tiger has a snappy 648mm (25.5inch) scale length, a bolton maple neck and a double-locking Floyd Rose.
6. BC Rich MKII Mockingbird
The Mockingbird is one of the few BC Rich guitars that doesn't look like something Conan The Barbarian would use to dispatch his enemies, and became an icon thanks to its use by Slash while in Guns N' Roses and Joe Perry.
Its unconventionally pretty looks have made it a popular choice for metalheads looking for something a bit different. This version has a mahogany body with a quilted maple top, a maple neck with rosewood 'board and a 648mm (25.5inch) scale length.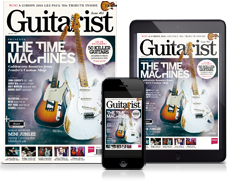 The magazine for serious players
Subscribe and save today!