The workshop: Stone Deaf FX
Introduction
In an old industrial spinning mill in the north of England, Luke Hilton and the Stone Deaf team continue the legacy of British manufacturing.
Luke Hilton was grounded in electronics and mechanical engineering while working on aircraft looms, circuit boards and sheet metal during an apprenticeship at BAE Systems in Chadderton, home of the Lancaster bomber. Despite launching Stone Deaf in 2009 as a solo venture, he, surprisingly, remained in full-time employment up until very recently.
"I only went at Stone Deaf exclusively last year," he explains. "I was working for an automation company so I could pay my staff wages! I built up the business that way. My dad was doing some work for me as well, and half my wages were being reinvested in Stone Deaf. It was a bit of struggle! I was working until midnight five days a week and until about lunchtime at weekends."
Given the current political and economic climate, it might be deemed as a relatively uncertain period for British manufacturing, so how has this affected Stone Deaf in recent times?
"Our US export side of the business has grown by about 30 per cent since Brexit because of the pound drop - it's mostly because of the exchange rate. We have been hammered for component costs, but that's been more than offset because our orders have gone up, and as a result we've also got more buying power.
"We probably should charge more for our products, but we're not greedy. They're not expensive: the PDF-2 is £139 - for something that's made in the UK! Our supply chain is about 90 per cent British, which is hard to do. So with regards to that growth, it's because the prices have become more reasonable in the US; the quality's there and it's a British brand - people like that."
Design-led
The company has grown steadily over the past few years and is now a small, close-knit specialist team.
"There's four of us: me and my dad, Tom Wilson and Andrew Lazdins. Tom's officially trained at university level and Andrew used to work for Matamp. They work mainly with R&D and production."
Having some much-needed help onboard has allowed Luke to take on a more antonymous role and focus on the bigger picture.
"As well as myself, Tom and Andrew also design for us here. I'm kind of like the person who keeps an eye on everything. I'll work on the basic concepts, how it's going to work, what's it's going to do, design features - basically, the point we need to get to in order to do the prototype. Then I'll ask the guys to come back to me so that I can make sure it's right. That's kind of the way it's going. A bit like Steve Jobs would do with his design teams - it's a good way to work. I'm not into the cutthroat corporate thing, but I like the design philosophy that Apple had."
So are Steve Jobs and Apple something of an inspiration for Luke in terms of approach? "I'm looking at what projects we're going to do in the future - concept design. I'm really into the Apple philosophy where they're thinking from the customers' point of view. They're not thinking from the cost point of view so much as what the customer really wants, what they really appreciate. I design from that angle. It starts from the aesthetics, but it's also to do with the functionality. That's really important to me."
Know your niche
With so many effects pedals and amp builders in the market, it can be difficult to stand out among the crowd and find a niche to really get things going. Luke explains where Stone Deaf started from and why it took off.
"I really got into designing circuits from reading [music electronics writer] Craig Anderton's book Electronic Projects For Musicians. One of the circuits is really cool: the Tube Sound Fuzz - that's what Stone Deaf's Kliptonite is based on," he explains.
"We found our own niche from our own angle with our first pedal, the PDF-1. Nobody was really making parametric EQ overdrives and there was a gap in the market. With a parametric overdrive, you get full-frequency bandwidth with an active EQ.
"Most overdrives generally have either a low- or high-pass filter, but the parametric EQ allows you to boost as well as cut, so you're not losing your bass or treble. With the PDF-2, because it's got a bandwidth selector, you can have fat mids or thin mids, but you can shift that point anywhere, so from a recording point of view you can boost different areas and layer up a massive sound!"
Having wide appeal has been as crucial to the success of Stone Deaf as filling a niche. Whether it be on stage or in the studio, the company has covered a lot ground in terms of tone.
"We essentially cater for all musicians," Luke affirms. "I think we're slightly misconstrued as a brand. People think we're all about stoner rock when we're not. We do products that are specific, but as a brand I don't want to be aiming in a specific direction.
"You have to pigeonhole some products, obviously, so the Warp Drive is heavy metal, but then the PDF-2 is for everybody. It's great for boosting clean, as well as distorted. We have quite a lot of jazz players using it because it makes their sound bigger and fuller. It solves a common problem with clean tones. The Tremotron is for anyone who likes tremolo."
To the future
Looking towards the future, it seems like there may be very few stones left unturned in relation to guitar effects and amplifiers. Does Luke find inspiration in any new areas?
"Digital control of analogue signals in pedals and amps is the next thing for us," he tells us. "MIDI has been under the radar for far too long. I think that's where it's gonna go. Digital is stronger now than what it was. It's a very powerful protocol that's really important and that's where our R&D is at; we're the leaders in Europe and we've got really intuitive designs attuned to studios. We sold an amp recently to Air Studios [a recording studio in London] and the reason they bought it was because it's like a reamping monster! No other amp does what our amp does."
So what does this mean for musicians and producers when it comes to finding new sounds and recordings? Will MIDI open new doors for us to experiment with tone or speed things up in the studio?
"The Tremotron already works with a DAW [Digital Audio Workstation] via MIDI. You can control the bpm, you can increase or dip the rate - all these different things you can do with digital control. If you've got a parametric EQ function with digital control in an overdrive pedal, you've got five or six overdrives in one box, easily! With our amps, you can sit in the control room and control all the settings with MIDI using your DAW while listening on your monitors, so you don't have to keep walking in and out adjusting everything - you just plug a MIDI cable in the back and you're away. You can control all the amp settings from your DAW! You can hear it through your monitors and get your perfect guitar mix. We've been taking orders recently from some world-class producers and musicians who are interested."
DIY A&R
We've noticed Stone Deaf effects appearing on the 'boards of many a guitarist in recent years. Does Luke feel his pedals are beginning to be further embraced across the industry?
"The pedal market has grown by 45 per cent, I think, in the last five years globally. It's the main part of guitar MI that's on the up," he says. "We keep finding out from people that many different players have got Stone Deaf effects on their 'board. It's funny because we haven't got a marketing department or a dedicated A&R guy - I am that guy!
"We're lucky enough to have Josh Homme using a PDF-1; Nick Valensi [The Strokes] has a Fig Fumb, a PDF-2 and a PDF-1; Skin Tyson [of Robert Plant's band Strange Sensation] uses two PDF-1s and now two SD50 amplifiers that he commissioned - 'custom shops', if you like; Duff McKagan [Guns N' Roses] just got a PDF-1 from us; Josh Klinghoffer from Red Hot Chili Peppers just got two PDF-1s; and Phil Campbell [Motörhead] got a PDF-1 a couple of years ago."
Luke's designs have certainly made a significant impact so far, but how does he envisage Stone Deaf moving forwards?
"I wanna get to the point where people are copying us," he laughs. "Fundamentally, the product is the most important thing. You've got to stay in touch with people. It's about creating music, good vibes and memories. We're creating products people love and that they can create something special with."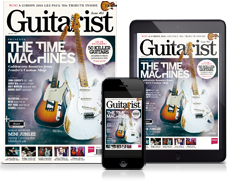 The magazine for serious players
Subscribe and save today!