The 6 best guitar videos of 2018
6. Alexandr Misko - Take On Me
The Total Guitar/MusicRadar Best in guitars 2018 polls received an astonishing 126,000 votes, and we're now ready to roll out the winners. The nominees were what we considered to be the guitarists and guitar gear that have excelled in 2018. Here, we present the best guitar videos of 2018. First up we have Alexandr Misko's unique performance of Take On Me...
We say: Not only did Alexandr reign supreme in our 2018 Acoustic Guitarist of the Year live final, but he also released this absolute pearl. It's a stunning arrangement, perfectly executed and with bags of feel. Expect to see much more of Alexandr in the future.
The MusicRadar Best in guitars awards are brought to you in association with Ernie Ball. #colorsofrocknroll
5. Herman Li - Underwater Guitar Solo
We say: Flouting all concerns for personal safety, Dragonforce shredder Li took to the pool on the Full Metal Cruise ship to perform Through the Fire and Flames in the water. He doesn't miss a note and it looks cool, but don't try this at home, kids!
4. Davie504 - Impossible Deadmau5 Bassline
We say: You'd be forgiven for thinking that a 24 string bass guitar would sound like absolute guff, but internet sensation Davie504 set out to prove the naysayers wrong with this brilliant rip around the fretboard. Can we have a go?
3. Music Is Win - Legendary Licks You Think Are Easy (but aren't)
We say: Following up his awesome video for Legendary Guitar Licks You Think Are Hard (but aren't), Music Is Win's Tyler Larson set out to do the opposite, demonstrating tricky licks from Every Breath You Take, For Whom The Bell Tolls and more. These riffs seem simple on the surface, but really aren't once you unpick them. We concur.
2. Jared Dines - Djent 2018
We say: Taking the ridiculousness of his channel to new heights, Jared puts his unbelievable 18 string multiscale Ormsby guitar through its paces on a hefty 6 minute djent workout. Not only is the playing second to none, but the track is epic and the video looks brilliant (even if the majority was filmed in front of his garage door).
Winner: Foo Fighters Cover Enter Sandman with 10-year-old fan
We say: If you needed further proof of why Dave Grohl is known as the nicest man in rock, in this video he invites 8 year old fan and guitarist Collier on stage before the whole band breaks into Enter Sandman, with Grohl on vocals. At the end of the video, Grohl gives his guitar to the flabbergasted young shredder. It's a special moment and shows how much Dave Grohl is driven to inspire rock stars of the future.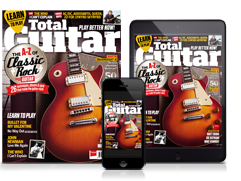 Stay up to date with the latest gear and tuition.
Subscribe and save today!