The 12 best online guitar personalities in the world right now
10. Davie504
The Total Guitar/MusicRadar Best in guitars 2018 polls received an astonishing 126,000 votes, and we're now ready to roll out the winners. The nominees were what we considered to be the guitarists and guitar gear that have excelled in 2018. Here, we present the best online guitar personalities of 2018.
Taking up positions 12 to 11 are:

12. Andy Martin (Reverb)
11. EytschPi42
Kicking off the top 10 we have Davie504...
2018 highlight: There are loads of guitar channels on YouTube, but few of them focus on the bass. That all changed when Davie504 unleashed his mad content on the world. From attempting to play a bass guitars made of cardboard or pasta, to soloing on a bass guitar with 10 necks, this is one channel that's well worth a subscription.
The MusicRadar Best in guitars awards are brought to you in association with Ernie Ball. #colorsofrocknroll
9. Mary Spender
2018 highlight: Spender's channel is absolutely chock full of fantastic insight, advice and inspiration for songwriters. She checks out cool new gear and throws up the odd cover too. If you're looking for new guitar channels to subscribe to in 2019, Mary Spender's should be top of your list.
8. Samuraiguitarist
7. That Pedal Show
2018 highlight: If you need to overhaul your guitar sound, That Pedal Show is the place to start. What Mick Taylor and Dan Steinhardt don't know about pedals and tone isn't worth knowing. This year they cranked up the star power with a number of high profile guests dropping into the show, including Devin Towsend, Graham Coxon and Simon McBride.
6. Steve Terreberry
2018 highlight: The guitar world can be a little too serious sometimes, so when Steve Terreberry came along he was a breath of fresh air. Take one part ridiculous comedy sketches, one part genuine insight into guitar gear and one part fantastic guitar playing skills, and the result is one hilarious channel. Video highlight of the year is hands down covering up farts with guitar playing. Parp.
5. Rob Scallon
4. Rob Chapman
2018 highlight: Chappers is one of the most prolific YouTubers around, and his channel is absolutely stacked with awesome gear demos, lessons and a behind-the-scenes look into the world of the man himself. The guy seems so busy we swear he's cloned himself to get everything done. We're not complaining though, as the Rob Chapman channel is one of the hottest subscriptions around.
3. Ryan Bruce
2018 highlight: Ryan 'Fluff' Bruce knows an awful lot about guitar gear, especially when it comes to heavier styles. If you're in the market for a new pedal or amp, we'd highly recommend seeking out Fluff's channel for some of the most honest and great sounding demos on the web. His content doesn't stop there though; you also get Q&As, insight into his life as a pro and even the odd giveaway!
2. Music Is Win
Winner: Ola Englund
2018 highlight: Given the sheer number of YouTube demos the man puts out, Ola Englund certainly knows his tone, and at the start of 2018 he launched a brand new signature amp, the Randall Satan 50. Designed by renowned metal amp engineer Mike Fortin, the Satan 50 delivers 50W of power via three 12AX7 preamp tubes and two 6L6 power amp tubes. In addition to his vast and entertaining video output, Englund continues to perform with The Haunted and Feared.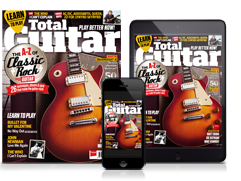 Stay up to date with the latest gear and tuition.
Subscribe and save today!