Mike Mills talks life post-R.E.M., bass beginnings and essential gear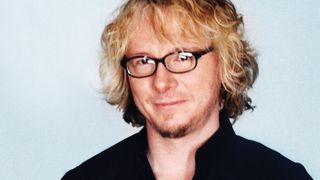 Introduction
For many years one of the biggest rock bands on the planet, the much-loved R.E.M. called it a day in 2011. What's bassist Mike Mills been up to since then? Bill Kopp finds out...
I grew up just outside of Atlanta, Georgia, so when R.E.M. got together in the nearby college town of Athens and started making noises in 1980, my friends and I thought of them as a local group.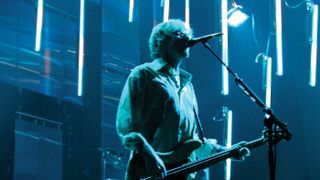 In a nuthsell
A founding member of the group, Mills remained with the band until its amicable dissolution 30-plus years later. In addition to playing bass, Mills provided harmony, vocals and the occasional lead vocal, played keyboards, and - with guitarist Peter Buck - was a primary songwriter for the band.
Though he describes himself as 'semi-retired' since R.E.M.'s breakup, Mills has continued to busy himself with musical activity: he's a member of indie-rock supergroup the Baseball Project, he's been deeply involved in the 'Big Star's 3rd' concerts series, and in late 2016 he released Concerto For Violin, Rock Band, And String Orchestra, a collaboration with lifelong friend and virtuoso violinist Robert McDuffie.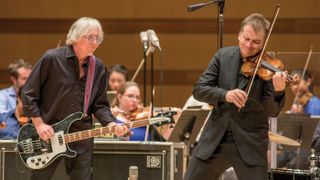 Picky player
More often than not, Mills plays bass with a pick. "It depends on the song," he says. "Not that I'm a funky bass player, but sometimes there's a rhythmic thing you can get with your fingers that you can't get with a pick. I've never really been an effects guy either. The only time I ever really used a pedal was on the 1995 Monster tour. I had a Big Muff distortion pedal that I would use on two or three songs."
When recording, he says: "I just run it through the amp and record one direct, and then blend the two." He adds that the sound coming out of his amp - often a Mesa/Boogie or an Ampeg SVT - was "usually so good that I didn't mind if the producer wanted to blend in a little bit of the direct signal."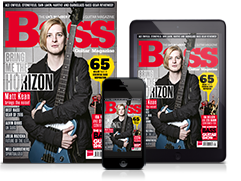 We're the UK's only print publication devoted to bass guitar.
Subscribe for star interviews, essential gear reviews and killer tuition!