Darrel Higham on his rockabilly roots and the simple secrets of his tone
Introduction
As Britain's rockabilly guitar hero Darrel Higham takes the spotlight, we find out more about the roots of rock 'n' roll playing...
Darrel Higham was four when he first met The King… "I was walking through the village where I grew up with my mum," he remembers.
"It was a very bright, beautiful sunny day and the neighbours had their windows open and they were blaring out Elvis. This would have been 1974, but they weren't playing his contemporary stuff, they were playing his 50s music, so Heartbreak Hotel, Hound Dog and Jailhouse Rock. I remember vividly stopping in my tracks, transfixed."
A swift return home was made and Darrel's mum dug out two Elvis Gold compilations and his lifelong love affair with the pioneering sounds of rock 'n' roll began.
"I've done it most of my life," he tells us. "Without getting too carried away, rockabilly is a vocation… it's a calling really. I love the music so much it's everything to me. So much so I've never felt the need to go off and do anything else."
And we're glad for that, because Darrel's new era as an artist since separating from vocal powerhouse Imelda May, not only in marriage but band too, puts Darrel's rock 'n' roll playing, songwriting and singing firmly in the spotlight.
New album Hell's Hotel is a feast of glorious Gretsch twang and upbeat rhythms to soundtrack summer. But there's another reason we want to talk to Darrel: as a lifer with an infectious enthusiasm there's no better British musician to introduce you to the rockabilly ways of guitar.
Feel music
After you discovered Elvis with Scotty Moore, Eddie Cochran became a big influence. Do you think there's more to him as a player than his famous songs?
"I think he's terribly underrated. Whenever they do a list of 100 greatest guitarists, he'll normally be in there, but for his rhythmic playing - his acoustic playing on things like Summertime Blues and C'mon Everybody.
"I think Eddie realised early on, and he was obviously very shrewd, that his audience of young rock 'n' roll fans of the 50s didn't need blinding guitar solos. They weren't quite ready for that. It's something that came in the 60s and he helped pave the way for that. But they wanted instantly catchy lyrics and melodies and they needed a beat, so he gave it to them.
"Songs like C'mon Everybody, Somethin' Else, Summertime Blues… they don't even have guitar solos in them. And he was very economic in solos on his own recordings but when he did session work he really let himself go. He was an incredible player. I've always said that I don't think there's anything that has been released that actually shows how good he was. But some of the blues playing that he was doing towards the end of his life - things like Eddie's Blues, Milk Cow Blues and Chicken Shot Blues - it's fantastic and groundbreaking. You can see why Jimi Hendrix loved him."
For someone getting into the rockabilly style, what do they need to get a handle on?
"Rockabilly is very rhythmic. So the rhythm side of it is very important. I still don't know any scales or most of the chords I play and you don't have to know to make great rockabilly records. For me it was about whatever sounded good and whatever worked.
"I think rockabilly is a feel music in the same way blues is a feel music. And it doesn't matter how technical or raw you want to be, it will work. So you don't want to get bogged down in technique. To play the music well, you've got to really feel it, believe it and be interested in it.
"Having said that, rockabilly is a lovely style to learn a bit of to throw it into other styles of music. Because it does work in other types of music with the picking side and also the free-flowing solos you can come up with in rockabilly. Because rockabilly guitar is as influenced by the Merle Travis and Chet Atkins style of thumb-picking as it is by western swing. And some of the players on western swing records were just unbelievable.
"Rockabilly works best to a swing beat so it's about mastering that. I struggle with different rhythms… that's what throws me. I'm hopeless on blues or shuffles because it's different from what I'm used to playing to. When I'm playing to a swing beat, that's when I feel like I'm really playing well."
Got to be a Gretsch
You don't have to be technical…
"You can be as free-flowing and technical as you want to be, but you can also be as basic as you want to be. That's the great thing about the music, and it's the same with blues in that respect. There's some brilliant blues players out there who can go all over the place and then there's guys who play two string solos and it's just as effective."
Your solos on Hell's Hotel sound very well thought out. Is there a balance in the studio between planning and improvisation?
"It's funny because for a music that you want to be quite spontaneous, there's two ways of looking at it really. When I'm doing session work I'm quite happy to make it up as I go along - whatever comes out of my head. But for my own recordings, because they're a lot more structured, I tend to want a solo that I think will bring something to the song. That's something I learned from listening to Ricky Nelson records, because he had James Burton on the later 50s recordings. And his solos are as memorable as the songs - you can hum those.
"And that's true on a lot of rock 'n' roll records. The solos are just as catchy. I do put a lot of thought into solos, but I have to play them in such a way that I can then play them again when I play live. They have to be particularly memorable in order for that to happen. But generally, when I'm playing live I find it very difficult to stick closely to solos I've recorded. So I can sometimes just do something else if I choose."
Do you tend to keep things simple in the studio with gear?
"I like to keep it as simple as possible. I used the Peavey Delta Blues and my Gretsch Custom Shop 6120, which is a standard studio guitar for me. I always record dry and then we add the effects on afterwards. And it's normally a bit of slapback; sometimes not even that, just a bit of reverb."
What is it about the Delta Blues combo that has kept you so loyal to it over the years as your stage and studio choice?
"Sometimes you just find something that works and it never lets you down. It's such a robust little amp it seems to be able to handle anything and everything. I've played huge festivals in front of thousands of people thinking, 'This amp is going to struggle here,' but it doesn't.
"I've played little tiny pubs and it does everything I've needed it to do. And I really think it's the combination of having that 15-inch speaker and the single-coil pickups. I just have to plug it in and I'm away. It goes back to the days when you were always running a little bit late to a gig and you had 15 minutes to set everything up. You didn't want to spend 10 of that 15 minutes trying to get a sound. You just want to plug it in and off you go. So I've been loyal to the amp because it's been loyal to me."
Earn your stripes
You've got a P-90 in the neck of your Custom Shop model and in the Eddie Cochran model you have with you today. That was something he favoured; do you use it much?
"It's more an aesthetic thing these days as I don't use it much. But it is nice to have if you want to play something a little more bluesy or jazzy as it's a big sound.
"But most of what I do is on the bridge pickup so it's the Dynasonic that's doing most of the work. Then when you put the two together it gives a thick sound and I like that it can offer you that."
Gretsches now are more reliable than what Eddie had in his day…
"They're so reliable. They're works of art. I've always been into vintage cars and I've generally had an old 50s car over the years. And I liken an old guitar to a vintage car - it's lovely driving a vintage car, pottering around the country lanes on a sunny day. But you don't want to be on a motorway with one.
"Having a new version of a 50s guitar is like driving a new car and that's what you want, something that's going to stay in a tune and if you drop it, you're not worried about getting digs and scratches in it. Gretsch have perfected the art of making guitars that look and sound as if they're from the 50s but play beautifully.
"That Eddie Cochran model that I've been playing the last few days is like a revelation to me. To have a guitar that you can't walk past it without picking it up and playing it, that's when you know you've got a great guitar. And that's a guitar you can buy off the shelf. I think that's wonderful.
"A Gretsch is a guitar that you should aspire to. I bought my first Gretsch when I was 19 and I really wasn't a very good player at all. I was willing and had all the ambition but I wasn't a very good player, and I initially felt quite embarrassed to own such a beautiful guitar. But it made me want to be better. I thought that to justify owning a guitar like that, I have to be as good as I possibly can. And I still feel that way about the guitars; I have to keep getting better. But I just get better at being me. I feel very comfortable when I'm playing a Gretsch; it gives me that extra confidence to do my job to the best of my ability."
Back slapping
What do you need to keep in mind when you're using echo with guitar?
"It's got to be simple and be tasteful. Too much and too many repeats and it will just become a mush that gets in the way of your playing. You want it to be something that enhances your playing as opposed to getting in the way of it.
"So with slapback it's only one repeat and that's all you need. It's as simple as that. And it can be very effective… if it's not too loud. Same with reverb. Generally speaking, most of the places we tend to play at are reverb-friendly halls anyway so it's kind of pointless using any sort of effects units."
For a guitarist, is going back to the original players of rockabilly rather like going back to the pure source of rock?
"Yes, rockabilly was really the first off shoot of rock 'n' roll so in that sense it's very important in the development of rock 'n' roll. Especially when you look at the amount of huge artists that have been influenced by it and paid homage in their career, whether it be Jeff Beck, Paul McCartney or Robert Plant. You don't get any better than that. But it's a quirky type of music and isn't going to appeal to everybody, and nor should it. But it will be around forever in one form or another."
Darrel's new album, Hell's Hotel, is out now on Ambassador Records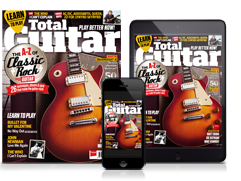 Stay up to date with the latest gear and tuition.
Subscribe and save today!