Dan Auerbach in-depth: "I've always felt like the underdog"
Introduction
Described as a love letter to Nashville, Dan Auerbach's second solo album Waiting On A Song is also, he tells us, a tribute to the magic of writing and recording...
Songwriting and recording is a mercurial practice. Spend too long trying to bottle your muse and it leaves you completely. The great Jimmy Cliff once told this writer that, aside from lying on your back, the secret to good songwriting was being "an open receptor". Black Keys man Dan Auerbach's second solo album Waiting On A Song is a technicoloured ode to the craft, capturing the joy of picking up an instrument, pressing record and seeing what happens.
Described as "a love letter" to Auerbach's adopted hometown of Nashville, the album is also a homage to a dying approach to music making, with Dan incorporating a list of the city's session greats, plus some serious six-string credentials in the likes of former Wrecking Crew man Duane Eddy and Dire Straits' Mark Knopfler.
Despite having lived in the city since 2010, "Nashville only started to feel like home recently," reveals Auerbach. "I was always on the road, but when I started to not tour, it really changed everything. It turns out you can really enjoy a place more when you're there!"
It was the process of 'not touring' - that is, living life in as close to a resting state as Auerbach will ever manage - that sparked Waiting On A Song and a process that's tipped in the title. Auerbach usually makes albums in the time it takes most guitarists to pick their pedals, typically a fortnight or less, so to find him waiting on anything is something of a surprise.
This writer once asked what might happen if he spent longer working on a record. "I'd make two records," came the appropriately succinct answer. Auerbach's interpretation of downtime therefore differs vastly from most people's - and arguably more so since he opened his Easy Eye Sound Studio in Downtown Nashville.
"What I do for fun is go to the studio," says the songwriter of his home life. "I didn't plan any of this. The only thing I did was not tour, you know? I had to make that decision, because there's always money to be made - and it's hard to say no to money.
"Once I did, though, all these things started changing: I started focussing on songwriting and recording and I settled into a schedule where I didn't have to go to the fucking airport or be on a bus for 12 hours. It changes the way the blood flows."
Rise of the underdog
Auerbach describes his life at home as "pretty normal: two kids, wife, dog, picket fence, that kind of thing" he tells us. "I mean, I also have two guys on machine gun turrets on either corner of the front yard, but other than that, it's normal."
As a child of Akron, Ohio, Auerbach has always seemed relatively grounded. Outside of music, his greatest excess is "a couple of old Harleys... and coffee. You've got to have good coffee".
Compared to most artists in his position, the guitarist has always been keen to maintain his privacy, often coming off as a curmudgeon in his interviews, unwilling to reveal too much, while onstage he eschews the catsuits in favour of a double-denimed blue collar work ethic.
"I've always felt like the underdog," he tells us. "But that's just how you feel when you come out of Akron. You're a forgotten city in the rustbelt - the city that industry forgot. I don't think you can come from a place where there are so many abandoned buildings and not feel like an underdog."
Auerbach's success has therefore been something of a surprise, not least to the man himself. He seems to believe that following your passion isn't actually meant to correlate with acclaim and financial reward and bears the kind of brow-beaten look and weary drawl that suggests he half expects it all to be taken away at any moment.
It's not surprising, really: Auerbach is one of the only 30-somethings in the world still legitimately able to claim the mantle of 'rock star'. There aren't many like him left in the wild. Perhaps that is why, when he finally found the time to get to know Nashville, it was the city's greying session greats that he bonded with first.
"Lots of different stars aligned for this album to happen," professes Auerbach. "I met most of them through my friend David Ferguson [best known as Rick Rubin's engineer on Johnny Cash's American Recordings - Ed].
"At first he kind of hooked me up on some writing sessions with people like Pat McLaughlin, Roger Cook and John Prine and after that he started hooking me up with musicians I didn't know. He knew what I was into, I don't know why he didn't introduce me to these guys earlier…"
Greatest hits
The artists who feature on Waiting On A Song is a roll call of some of America's finest session men: Bobby Wood (Elvis Presley, Dusty Springfield, Wilson Pickett), Gene Chrisman (Jerry Lee Lewis, Elvis), Dave Roe (Johnny Cash, Ray Lamontagne), Russ Pahl (Elton John) and Kenny Malone, AKA 'the most recorded drummer in Nashville history'.
"It's really hard to put it into perspective," explains Auerbach. "But when you start running down the list of credentials, you realise that they're not playing in the style of music, they are the style of music. When I hear something that is familiar, it's not because they've mastered that style, it's because that style is them. It's why there are all of these documentaries about Motown, or the Wrecking Crew, it's because - in reality - there's only a handful of human beings responsible for, like, 90 percent of the music we love."
In this group of under-appreciated masters, Auerbach found kindred spirits for whom music is and always has been the foundation of everything they do.
"Everybody tells me that I work hard, but it doesn't feel like work to me," says Auerbach. "Bobby Wood, the keyboard player, told me that when he worked for the Memphis Boys at Chips Moman's studio, American Sound, at one time they had 12 of the Top 20 hits on the Billboard charts. But they would work seven days a week and he'd never be around to listen to the radio!"
As part of The Memphis Boys, Wood and Chrisman played on the lion's share of 120 hits throughout the 60s/70s, including megastar-defining tracks like Dusty Springfield's Son Of A Preacherman, Elvis' Suspicious Minds and In The Ghetto and Neil Diamond's Sweet Caroline. At this point in our conversation, the songwriter allows himself an incredulous chuckle.
"There's always a connection. I started to understand that when I met Dr John, because he's one of them," says Auerbach, recalling his production work on the former Wrecking Crew man's 2012 record Locked Down. "I felt the difference - it was palpable. When I'm in the studio with these guys it's the same, except it's a whole roomful of them."
Outside the box
Waiting On A Song heaves with the confidence of its creator's back catalogue - from the irresistibly interwoven percussion and whipping funk riffs on Cherrybomb, to the glockenspiel-littered, Brian Wilson-esque pop patchwork of the title track.
The experience of these musicians in the studio and their deep understanding of the recording process, gives the record a rich quality and acts as a reminder that their old-school approach to the creative process is anachronistic.
"It's a dying art, for sure. They're an endangered species," says Auerbach. "With all the music that's made in the box and with all the budgets disappearing... Hardly anyone really makes records full-out anymore because it's expensive. Supply and demand, man. It could phase out [completely]… it breaks my heart to even think about it."
For guitarists, most arguments surrounding in-the-box PC recording centre around the quality of tone. But maybe we're missing the bigger issue: the soul of those timeless records is not the warmth of the tape, the smell of valves, nor the period-correct germanium transistors, it's the back and forth musical conversation between uniquely creative players, sustained by coffee, cigarettes and a lab rat-esque need to deliver when the red light shows. Perhaps we should be thinking about pursuing analogue practice, then, not tone. Auerbach's own philosophy is perhaps best paraphrased as 'whatever sounds best, the hands do the rest'.
"Duane Eddy is all over this album," continues Auerbach. "And the thing about Duane is that he sounds like Duane. I mean, think about that: think about how many fucking guitar players there are in the world. Everybody pretty much sounds the same. To be able to have your own sound is so crazy.
"He always brings his guitars, his amp and his tremolo pedal, but there's no trick to it. You can go to pretty much any Guitar Center and buy something to do it. It's Duane."
What was it like for a man who describes himself as "basically a former record store employee at heart" to witness Duane Eddy laying down tracks for his solo album?
"It was… special," responds the songwriter. "The thing I didn't realise is how great a musician he is. He was hanging with those session guys and he knows how to work a song, he knows how to come up with parts for songs, he thinks up melodies. He's not some sort of wanking guitar player. I noticed that right away." And did he feel he could make suggestions, or ask the Rebel Rouser for tweaks?
"I always felt like I could make suggestions," he replies. "But I didn't have to - because Duane Eddy always does the right thing."
The stars align
Elsewhere on the record, Mark Knopfler drops in on Shine On Me, with a joyous melody line imbibed with his distinctive shuffle.
"The stars aligned in a weird way," says Auerbach. "I cut Shine On Me and when I listened to the playback, I swear I could hear his guitar. So I got my manager to find his email and I gave him the song and just asked nicely if he could contribute. Two days later he sent it back and it was perfect. He didn't play a guitar solo, it was just what the song needed.
"I knew that he was going to do it just right, because he's one of these guys. They're all the same: Mark Knopfler, Duane Eddy, Bobby Wood [piano], Gene Chrisman [drums], Kenny Malone [percussion], they're all just there to serve the song. They're not there to serve themselves."
As our conversation with Dan Auerbach draws to an end, we confess that while we will always hold a candle for bandana-wielding 80s icons, we're still somewhat surprised by the collaboration.
"My dad was a big fan of Dire Straits, so it's really from that," acknowledges Auerbach. "It came out of my subconscious, the whole idea, and that's what made it so pure. That was helped by being around these guys, because one of the things I've learned from them is to just get out of my own way - don't think about stuff too much, go for what you feel. I honestly don't think any of this would have been possible without meeting some of these musicians and having them open my mind a little bit."
Perhaps Jimmy Cliff's idea of how being an open receptor when songwriting is not too far off the mark. It's hard to think of Dan Auerbach ever being caught on his back, but maybe this time, it was worth waiting.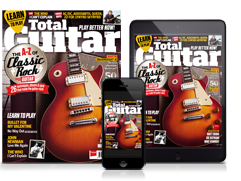 Stay up to date with the latest gear and tuition.
Subscribe and save today!