AFI's Jade Puget talks playing, history and essential gear
Introduction
AFI's Jade Puget explains how having the unlikeliest of guitar influences guided him through a different kind of punk and beyond…
Sitting in his tour bus, outside London's Alexandra Palace - where he'll be performing later, supporting Deftones - AFI guitarist Jade Puget is savouring cinematic views of the capital on a gloriously sunny day.
Tonight will be their first show on UK soil in seven years - as evident from the sea of AFI shirts among those of the headliners in the queue snaking from the venue doors.
His band rose to fame in 2000 with The Art Of Drowning, bringing some much-needed darkness to the then squeaky clean bubblegum pop punk scene. As they evolved towards more electronic and shoegazey sounds, the Californians broadened the horizons of their songs. Puget explains how it all came to be, revealing a surprising love of Slayer and shred in the process…
Punk 'n' blues
When did you realise that the guitar would be your true calling?
"When I was in high school, I had mono [glandular fever ] - it's like a sickness you get for a couple of months. So I had to stay out of school and I got really bored, I couldn't do much because I needed rest.
"I picked up a guitar with no idea I wanted to be a guitar player, and something clicked. I just fell in love with it immediately and it all went from there."
Looking back on everything you've put your name to, there's clearly more than punk influences at play?
"I love The Clash, obviously. They're one of my favourite bands. All those classic punk bands were very important to me but, weirdly, I never looked to them for guitar inspiration. The blues guys had it all. Yet Delta blues had nothing to do with all the punk bands I went to see or played in."
So which blues players had the most impact on your style?
"It was when I started listening to blues guys like Robert Johnson, who was my favourite of them all, and BB King. Which makes no sense when you consider I came from the punk/hardcore world… I was listening to that stuff pretty much exclusively as a kid. But when it came to guitar, those guys weren't really heroes.
"I loved Hendrix, Jimmy Page and Paul Simon - for his insane finger-picking technique and interesting chord structures. Even as a teenager, I recognised that. I'd say he's one of the unsung guitar gods. You think of the greats and you don't think of Paul Simon, but he's amazing."
Electronic element
Was blues played a lot as you were growing up?
"My mum listened to soul and Motown mainly. I heard records like Michael Jackson's Off The Wall and Thriller a lot as a kid, so I can't really explain my connection to the blues.
"Maybe it's just down to the pentatonic blues scale, spending hours jamming along to BB King records, which is kinda funny when you think I had a mohawk and looked like a punk!"
And maybe there were some British indie rock and shoegaze influences too?
"I guess I've loved indie rock and electronic music since the 80s. These are all disparate elements. My Bloody Valentine is an example, but they never really affected my guitar playing. Same with Fugazi, because I didn't really ever go there myself.
"It became boring being just a guitar player, so electronic stuff is what I gravitated to - I wanted to take my guitar and do things to it that were more interesting. I wanted to bring in layers like electronic music. I appreciate anyone that does unconventional things with their instrument.
"Even though I don't listen to a ton of Muse, Matt Bellamy makes his guitar sound really cool. The greats always sound unique - compare Robert Johnson's super-mono, lo-fi, yet perfect slide recordings to Eruption by Eddie Van Halen, that super iconic sound. Or Hendrix? Could you picture them with a different tone? I also looked up to Jonny Greenwood, who created his own sound."
Unlike Jonny you're the only guitarist in your band. Is there a way to counteract not having another guitarist thickening up the sound when playing live?
"Since joining, I've been the only guitar player, so when I play leads I tend to play two or three strings, rather than just one. I might use open strings, because I always felt single notes could sound thin with no one behind me. I always tailored my guitar work towards our live shows, and one string just sounds weird live.
"A lot of the time, I'm doing barre chords where I play all six strings all the time. I always thought that's how everybody played but then I realised it's not really that normal to be doing that all the time. But it makes for a fuller, beefier rhythm sound."
Songcraft
As for your songcraft, what lessons have to learned as you've developed your style and sound?
"The best advice I have is, don't be formulaic. A lot of people start off trying to emulate other people, imitating them to find out how it works. But to develop your own style and voice should be the goal - that's how you write songs that are unique, instead of one song like Muse and one song like Bad Religion.
"Start your own style from the beginning. That will pay dividends. Take all the things you love and synthesise them until it all feels right to your ears. As long as you're not a purist and look down your nose at experimenting - you can do really different things.
"The classic guitar sound will always be there. I want to do something different that no one else has ever done. It might not be the greatest sound, but it'll be absolutely unique to me."
You're fairly minimalist when it comes to pedals…
"I don't even have a board, they're in my rack connected to a controller switch! I have Tube Screamers and Blues Drivers in there. I really like the sound of two overdrives together. I basically have delay, gain/boost and a reverb that I never use. So it's just delay and overdrive... and that's it.
"My favourite delay being a rack-mounted TC Electronics [D Two, similar to what] The Edge used to use with the classic triplet delay sound. Jerry Finn, a producer we've worked with, turned me onto them and while it's not fancy or expensive, I just like the sound of it.
"Actually, there is a Kaos Pad that I might bust out sometimes, but to be honest I'm not much of a pedal guy. I just want the boost for leads. When I record I use Native Instruments and AmpliTube, a lot of that stuff, and I've started running my guitar through my laptop to make patches that could never be done with outboard gear.
"You can make some really wild stuff, and I use it on our records, but it's such a hassle to have that setup running parallel to the main rig. I don't know, maybe one day I'll make that jump using software like Ableton…"
Digging on Diamond
How did you end up discovering Diamond Amps?
"I started out with a [Mesa/Boogie] Dual Rectifier and I really liked that sound, but then I realised that everyone else had that too. No disrespect, it's a great combination with Les Pauls!
"So I looked for new things, and for a while I used the Hotrodded Plexis with the Billie Joe mod, where they crossed two of the inputs and did some weird modifications. But that wasn't quite right. I kept on searching to find what I wanted.
"Eventually, I got to Diamond Amps, which is a boutique company based in Texas. I always think people know about Diamond Amps but everywhere I go, no one seems to recognise them.
"Diamond make a bunch of different heads - the Nitrox has just the right sound that I wanted. It's got the heaviness and crunch without overdoing it. The amp sounds like what I always want to hear, so I've been playing those ever since, probably for about 10 years."
There's some really anthemic guitar breaks in AFI's songs, but do you see yourself as much of a lead player?
"I do play leads occasionally; every record, I'll pick one or two songs and really go for it with tapping and fuckin' arpeggio sweeps, ha ha! I suppose I'm not a shredder but I do like to shred.
"When I'm at home, I'll happily do it for two hours, it's fun but not necessarily appropriate for AFI. That said, playing punk is fast - doing tight rhythms on all six strings the whole way through the song - it takes a lot of wrist. And I'm a wrist player.
"You know, I've been in bands for over two decades and I've never broken a string on stage once. It's all in the wrist and there needs to be finesse. It's not like The Ramones just doing downstrokes, you need to perfect it otherwise it just won't work."
Shredders
What kind of shredders did you look up to?
"I watched the movie Crossroads in the 80s before I was even a guitar player, and I remember seeing Steve Vai in the scene at the end thinking, 'This guy's crazy. His guitar sounds rad!' So I love that kind of shredding: Vai, Satriani and Yngwie are absolute guitar heroes to me.
"I love the dudes from Slayer; Kerry King has such a mad style. The leads on Seasons In The Abyss are just killer, they're so melodic and the scales are insane. It sounds like he's not just shredding, he's thinking about the structure of the solos.
"Jeff Hanneman was always the guy that sounded like he was playing five million notes-per-second, but around the time of Seasons… Kerry King took this leap and started playing solos that were really unique.
"It was like songwriting, everything made sense and there was a plot or a narrative to them. One of my favourites of all time is both of them on Angel Of Death, that song just keeps getting more and more insane as it goes. I love Slayer!"
Of course, early on in AFI's history the Misfits must have been heroes too - though much less in recent years…
"I've been playing in the band almost 20 years now, and that whole Misfits thing was coming to an end when I joined. AFI covered Misfits songs and, obviously, [singer] Davey Havok had his makeup. We definitely have an interesting history. I wouldn't say that we're trying to distance ourselves from that, it's more like we're just not that band anymore.
"With AFI being together for 25 years... just like any human beings - we're not doing exactly what we did all that time ago. We're listening to new things at new points of our lives."
String The Sorrow
Jade explains his love for the lighter Gibson Les Pauls…
Gibson Les Paul Studios
"On the road, I was originally playing Standards. But they were so frickin' heavy, man. I move around a lot on stage, you can't do that with a big tank around your neck! I needed the next step lighter, so I started working with Studios, which had the right weight and still sounded good - with enough wood in the guitar.
"I have three Alpine White Les Pauls that are always in 440 standard tuning. We have different tunings like half a step down or dropped D, so white must symbolise neutrality! I had six at one point, I bought three and Gibson gave me three free on top of that. But about seven years ago, I had 20 guitars stolen, so now I only have half of them left.
"The black one [pictured top] has the logo from our Crash Love record, which came out in 2009. There's another black one with the eclipse from the cover of [2013's] Burials. I had that modded with LED lights that I control with a dimmer switch to create an eclipse. It's my dropped D guitar, and looks good with loads of fog in the room!"
Gibson Les Paul Standard
"I also have this blue/brown Standard, I was looking for something that wasn't one of the tanks and could be used live. Believe it or not, it was the lightest Standard I've ever found… it's probably the lightest guitar I have!
"Plus, it's got a funky look to it - a blue body with a brown neck, it's like an outfit you wouldn't want to wear, you know? All the wrong colours, ha ha! I keep all of these guitars with the stock pickups except for one that has an EMG set in it.
"The way I look at it, my first guitar was all stock, I couldn't afford to change the pickups, so I just grew to love the natural sound… they're never quite the same for each instrument."
AFI's self-titled new album is out now on Universal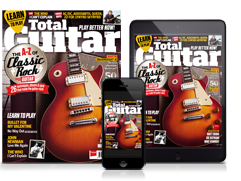 Stay up to date with the latest gear and tuition.
Subscribe and save today!