10 of the best mid-range bass guitars from £750/$1,000 to £1,500/$2,000
1. PRS Kestrel SE (£769)
BASS WEEK: Looking to upgrade from your budget bass? There's a world of choice out there for you.
Here, our team of bass experts round-up the very best you can get for between £750 and £1,500. First up is the Kestrel SE from PRS.
PRS Kestrel SE
PRS Guitars' SE range offers instruments with the brand's usual quality at slightly more affordable prices, thanks to the 'Made In Korea' label on the back of their headstocks. The Kestrel is instantly familiar, with that old-school, punchy sound you'd expect from dual single-coils. It's a tone that fits the Kestrel's looks.
You've got a top end that, with a touch of compression, will give you a solid slapping tone, and if you focus on that bridge pickup, there's your Motown sound at one end of the range and a usable rock sound at the other.
MusicRadar's verdict:
"Familiar look and versatile tone. Through-neck is a nice touch."
4.5 out of 5
Don't Miss
2. Schecter Stiletto Studio NT-8 (£775)
Produced in South Korea, the Stiletto Studio series of basses are a particularly good-looking family, and with its four doubled-up strings, EMG pickups and satin translucent black colouring, the Stiletto eight-string is a bass with rock and alternative players in mind.
There are a number of nice design perks, such as the headstock, which is angled backwards to pull the strings over the nut towards and around the tuning pegs: this eliminates the need for string trees.
For this price, the bass is built to a very high standard: everything about it suggests quality and strength. It's the build quality and value for money of this bass that's the real winner here.
MusicRadar's verdict:
"Great looks, rich tone and great value for money."
4 out of 5
3. Burns Club Series Bison (£780)
Look at those big old horns, flatwound strings and that three-single coil pickup configuration.
There's literally nothing modern about this bass, but flaws are hard to find. The traditional solid construction that Burns helped to pioneer is still in place: the frets are well dressed, the bridge and other hardware is immovable and there's nary a gap between any of the body and neck components.
There's a lot of plastic here, sure, as there is bound to be in any bass of this vintage, but it's all durable rather than obviously breakable. For under £800, you're definitely getting respectable quality.
MusicRadar's verdict:
"Excellent reissue of classic design that feels authentic."
5 out of 5
4. Lakland Skyline Jazz 44-60 5 (£929)
Basses don't come more vintage-looking than this: simple, defined and classic to the extreme. Anyone looking for a modern, but passive, Jazz, with or without the 'F' word on the headstock, should certainly give this bass some attention.
This bass resonates very strongly indeed against the player's body when worn, and for sheer comfort, there is certainly nothing to complain about as the offset body styling works so well.
In terms of playability, the profile of the flat-sawn rock maple neck is very pleasing without being too thick or too thin, but a happy medium between the two - closer to a shallow D-shape than anything else.
MusicRadar's verdict:
"Good value for money, well constructed and finished."
4 out of 5
5. Dan Lakin Bob Glaub Precision (£999)
Lakin's new bass is a signature model with production from Korea and a square focus on high quality at an affordable price.
This bass feels and plays like a far more expensive instrument than its pricetag would suggest. The lightweight alder body comes finished in a vintage Sonic Blue gloss finish with a three-ply white/black/white scratchplate and chrome Hipshot hardware, and despite the slightly odd design of the matching headstock, the overall impression is traditional and understated.
The high quality of construction and components is evident, and the neck is extremely comfortable and highly playable, which is always a bonus with a Precision-styled bass.
MusicRadar's verdict:
"Everything a great P-Bass should be at a pocket-friendly price."
5 out of 5
6. Spector Legend 4 (£1,150)
Spector's reputation for quality products is second to none, and despite being a cheaper alternative to the Euro range and the all-bells-and-whistles US models, the Legend product line has many admirers.
This latest offering sports a bubinga top, through-neck construction and Aguilar pickups and circuitry. The bass balances amazingly well and the legendary curved body works as well today as it ever has.
The upper and lower cutaways offer unhindered access to the upper frets, while the sumptuous body curves sit perfectly against the player. Playing a Spector has always been a comfortable experience, and this model is no exception.
MusicRadar's verdict:
"Tonal options that will keep you coming back time and again."
5 out of 5
7. Fender Limited Edition Sandblasted Precision (£1,343)
This is a gorgeous looking P-Bass: the crimson red sandblasted body is of course the main attraction here, its appearance enhanced through its pairing with a back three-ply scratchplate and maple fingerboard.
The chrome hardware is just the ticket for this combo, beautifully offsetting the dark intensity of the body. It has a soft satin finish, making it really quite tactile: you'll doubtless spend plenty of time running your hands over the finish.
In terms of hardware, the bass sports standard issue Fender components, with an American Standard Alnico V Split Coil P-Bass Pickup.
MusicRadar's verdict:
"If you want something that's unique to look at, this could be the one for you."
4 out of 5
8. Dingwall NG2 Combustion (£1,450)
The moment you pick Adam 'Nolly' Getgood's signature bass up, it feels instantly familiar and comfortable to wear.
Balance is good, with minimal headstock bias, and once placed on a strap, it feels like an instrument you've owned for years. The three-piece maple neck covers a 34" to 37" scale length. Understandably, the low B string naturally benefits from this - but so do the other strings.
The added tension and tautness gives each string an improved speaking length, which maximises the tone on offer. Despite the wide nut width, the thin C neck profile is very accommodating: it's a real joy to play.
MusicRadar's verdict:
"A bass that deserves not to be on the Periphery..."
5 out of 5
9. Eve Iona 5 (£1,500 - approx)
With its sleek shape and air of elegance, Eve's latest Iona is a thing of beauty all right.
Oiled and waxed to a perfect finish, the body begs you to pick it up and give it a stroke, although its slender depth and petite proportions may feel a little undersized to 'amply-nourished' bassists. This is a gazelle, not a buffalo.
The wooden components are handmade, and the entire instrument hand-assembled, so there's a definite feel to the Iona which a mass-produced bass doesn't have. It's hard to explain in words, because there are no flaws: however, there's a real sense that here and there, hands have shaped this instrument.
MusicRadar's verdict:
"A chance to own a genuine one-off at a reasonable price."
4.5 out of 5
10. Marleaux Consat Sopran (£1,450)
At over £1,400, the Marleaux Consat Sopran (German for 'soprano') is evidently a major investment for such a small bit of kit.
Pick this almost unnervingly light bass up - with one hand, if you like; it's only 2.3 kilos - and the first impression is satisfaction at its build quality. From the machine heads to the fret ends to the wooden electronic cavity cover, the Sopran emits a sense of well-engineered design, as it should at this price point. The default frequency range, an octave higher than a standard instrument, works perfectly well for soloing.
Obviously you won't get the full low notes, and Marleaux itself recommends the use of an octaver for those.
MusicRadar's verdict:
"Perfect for travel or for bassists with small hands."
4.5 out of 5
Don't Miss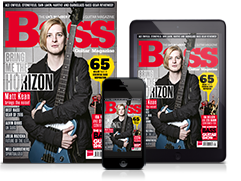 We're the UK's only print publication devoted to bass guitar.
Subscribe for star interviews, essential gear reviews and killer tuition!