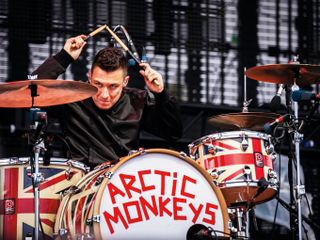 Matt Helders
The Rhythm Best of drums 2014 polls have received over 34,000 votes, and we're now ready to roll out the winners. The nominees were what we considered to be the drummers and gear that have excelled in 2014. Here, we present the best rock drummers of 2014. First up we have Arctic Monkeys' Matt Helders.
2014 highlight: Matt and the Arctic Monkeys followed up an impressive 2013, which saw the release of their gazillion-selling AM album, with a tour in support of the album that's taken up much of 2014, including sweet headlining slot at Reading and Leeds festivals.
Michael Miley
2014 highlight: The Californian rockers dropped their fifth studio album, Great Western Valkryie, which took just five weeks to record in Nashville but earned them a five-star review in Rhythm for its sweet kit sounds and Mike Miley's unquestionably huge groove.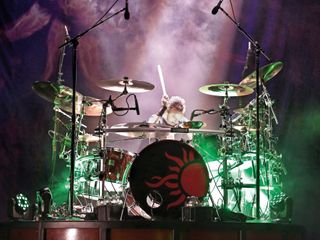 Shannon Larkin
2014 highlight: Rock drumming behemoth Larkin returned with Godsmack on their 2014 album 1000HP, reverting to his old-school roots with plenty of double bass blasts and 16th notes on the hi-hats and once again proving that he's one of rock's heaviest drummers.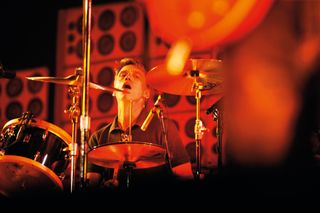 Matt Cameron
2014 highlight: Cameron may have jumped ship from the band he co-founded, Soundgarden, but his trademark busy grooves are all over Pearl Jam's Lightning Bolt album and he's helped bring their anthemic rock to the world this year on the band's tour in support of that album.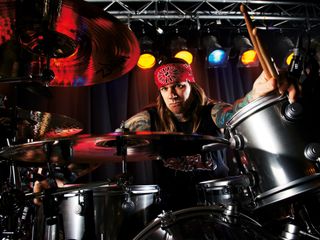 Stix Zadinia
2014 highlight: The unstoppable phenomenon that is Steel Panther released their third album, //All You Can Eat// this year, and as always Stix Zadinia laid down some incredible hard-rocking grooves behind hilariously themed but always musically superb tunes such as 'Glory Hole'. A sell-out UK tour and top-drawer Download appearance followed.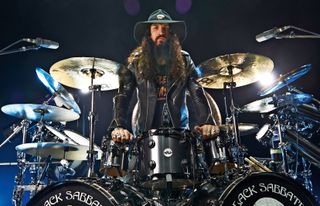 Tommy Clufetos
2014 highlight: Stepping into Bill Ward's shoes in Black Sabbath as the veteran rockers toured in support of their 2013 album is no mean feat. But, as anyone who caught the Sabs' triumphant Hyde Park gig in July 2014 will attest, Tommy pulled it off in style.
YouTube : 2014 highlight: stepping into bill ward's shoes in black sabbath as the veteran rockers toured in support of their 2013 album is no mean feat. but, as anyone who caught the sabs' triumphant hyde park gig in july 2014 will attest, tommy pulled it off in style.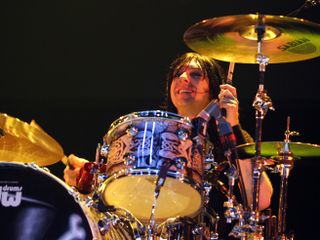 Brent Fitz
2014 highlight: It's easy to see why Fitz is the go-to drummer for Guns N' Roses' guitar legend Slash. The drummer has rock chops a plenty, which were called upon again for Slash's third solo album in 2014, World On Fire. On tracks like 'Stone Blind' and 'Automatic Overdrive' he delivers pace and power to support the riffs on what could be Slash's best to date.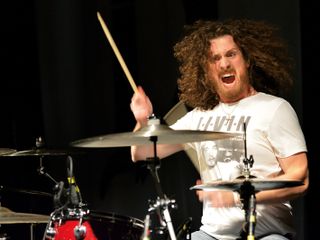 John Fred Young
2014 highlight: With a fantastic album, Magic Mountain, and a string of talked-about UK live appearances this year, Kentucky hard rockers Black Stone Cherry are on a high – with their high-voltage sticksman John Fred Young on absolutely career-high form as the band returned to a raw rock sound.
Taylor Hawkins
2014 highlight: Foo Fighters eighth album, Sonic Highways, landed this year, featuring as always Taylor's deft rock touch – but for us it's his Birds Of Satan side project that really impressed. And he even gave Rhythm readers an exclusive track featuring solos from no less than 10 drummers: Taylor, Zak Starkey, Matt Cameron, Butch Vig, Mark Brzezicki, Drew Hester, Dave Grohl, Kenny Aronoff, Stephen Perkins and Stewart Copeland.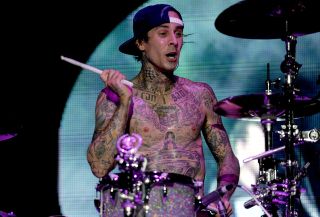 Travis Barker
2014 highlight: Punk-pop icon and hip-hop tinkerer Travis has proved his popularity once again. Blink-182 put in a great performance at Reading/Leeds festivals this year, and are working on a new album for 2015 – which should make Travis a shoe-in for top-spot next year too.
Each month Rhythm Magazine features exclusive interviews with the world's greatest drummers - just like the ones listed in this poll - alongside the very best video drum tuition, practical tips and tricks and expert gear reviews, all designed to make you a better, more versatile player.
Rhythm is available in print and digitally (or as a handy bundle combining both). Check out the latest amazing Rhythm subscription deals where you can save up to 59%.