Computer Music 128 – Star-studded DnB Masterclass and CMplay on the disc
Computer Music 128, August issue on sale now! Our huge Drum 'n' Bass Masterclass features Sub Focus, Clipz, TC, Chase & Status and DJ Hazard, and nearly two hours of video footage. There's also our great new ROMpler plug-in, CMplay; 2141 DnB samples; a Producer Masterclass with Desert Eagle Discs, and much more!
Get the cover image for your desktop here.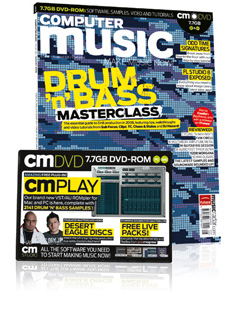 7.7GB OF CONTENT ON THE DUAL-LAYER DVD
• CMplay

CMplay is a ROMpler that loads up ready-mapped, sample-based patches – from now on, all our samples will also come with multisampled patches and drum kits in ready-to-play CMplay format! The plug-in itself is in VST/AU formats for PC/Mac, and has a mixer, assignable effects, patch layering, and more!

• 2141 samples in the CM DnB Collection 2008 + two Puremagnetik Live packs!
All our samples now come as ready-mapped CMplay patches and 24-bit WAVs. This time, we've got some of the most tearing DnB bass imaginable, punchy drums, nutty loops and wild synths galore. Additionally, Puremagnetik have recruited Gregory Shiff to produce a CM-exclusive Live Pack of glitchy, lo-fi drum kits, and their wicked TeeBee TB-303 pack is included too.


• Producer Masterclass tutorial and video: Desert Eagle Discs
The CM cameras catch Syze-Up and Richard Robson at work on their latest big-name production: a remix of Coolio's new single, Boyfriend – you can remix the track yourself in our competition too! If you're not familiar with Desert Eagle Discs, you'll surely have heard of the superstars that they've worked with or remixed, such as Amy Winehouse, Sugababes, Aretha Franklin, Gabrielle, Jamiroquai, Busta Rhymes and even Skunk Anansie!



IN THE MAG

• DnB Masterclass
Drum 'n' bass is one of the most production-centric dance genres, so who better to learn from than DnB's most happening artists? We film Sub Focus as he creates banging beats, ripping synths and basses, and reveals how to mix down and master for maximum effect. DJ Clipz is on camera too, demonstrating his own approach to beats and bass. Elsewhere, TC knocks up DnB FX using synthesis, DJ Hazard offers production tips, and Chase & Status explain how to capture polished vocals.

• Rack and Roll
Ableton Live's Racks enable you to create custom instruments and effects, and our in-depth tutorial shows you how it's done. Make a multieffect from scratch, get to grips with Chains, make your own automatic groovebox, and more! Puremagnetik's CM-exclusive Gregory Shiff Live pack and TeeBee are on the disc, too.

• Trafik
As well as being front-runners of modern dance, Trafik's tracks have popped up in shows such as CSI: Miami and several videogames, and they've even released a swanky sample CD via Loopmasters. In our interview, they reveal the gear they use, as well as the artists – and plug-ins – that they'd love to work with, and how they keep their live show exciting.

• The CM Guide to FL Studio 8
Image-Line's famous production suite recently reached v8, not to mention its tenth birthday. Get the most from it with our walkthrough tutorials on using FL SynthMaker to create a synth; chopping beats with Slicex; analysing signals with Wave Candy; using the Recording Filter to selectively record data; capturing ideas with the Score Logger; and using Soundgoodizer to, er, make the sound good. We've even thrown in a load of tips and tricks, too!

• Reviewed!
Cycling '74 Max/MSP 5 • Future Audio Workshop Circle • IK Multimedia AmpliTube Metal • Native Instruments Guitar Rig Session • Sonnox Oxford SuprEsser • 112dB Morgana • Schwa Oligarc • Humanoid Sound Systems Scanned Synth Pro 2 • M-Audio Fast Track Ultra • …and more

Plus!
• £958 of awesome M-Audio gear to be won, including the ProFire 2626 interface!
• The Strangest of Times: Obscure time signatures demystified!
• Guitar Lab: Part 2 in a series explaining the mysteries of compression
• Synth Essentials: Scot Solida reveals how to create ear-catching synth leads
• Off The Dial: Bring a sense of spatial identity to your music, with rachMiel
• The Easy Guide: How to use inversions to create smooth chord progressions
• The Burning Question: Why are there so many soundware formats out there?
• And much more!



You can order this issue (as well as recent back issues) by calling 0870 837 4773 in the UK, +44 1858 438795 everywhere else, or emailing future@subscription.co.uk.

Subscribe to Computer Music now and get 3 free issues (UK only) at the following address: