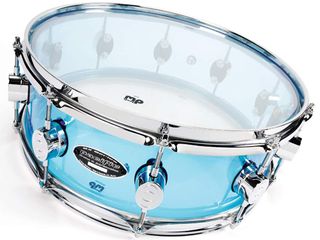 How to buy synthetic snares
Opinion can get heated when it comes to non-wood, synthetic shell drums - some drummers hate them with a vengeance, while others find that once they've tried one they are total converts.
The animosity is likely to be much less pronounced with snare drums, however. Snares are prized for their cutting-edge, rasping sound, sensitivity and dynamic range - all of which are qualities that synthetic (as well as metal) shell snares have in abundance.
A short history
The 1970s was the heyday of synthetic shell drums - watch those Top Of The Pops repeats and everyone seems to be playing an acrylic kit. But there is a resurgence just now, not just of acrylic shells but also of fibreglass or the slightly more expensive carbon fibre.
Synthetic materials are much more uniform than wood, and they are relatively unaffected by temperature and humidity. This gives them a consistency of performance and tone which some drummers like but others can find a bit sterile, dry or one-dimensional.
Plastic fantastic?
The manufacturers claim the earth for synthetics - volume, sensitivity, warmth, you name it. But you'll have to be the judge. Just remember, the drum heads which make about three quarters of a drum's sound are plastic - and this being the case, is there any reason why the drums themselves shouldn't also be plastic?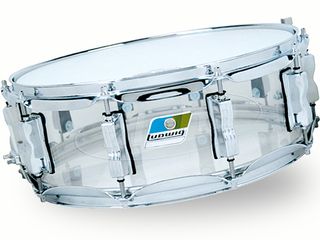 Ludwig Vistalite
While the Led Zeppelin man quite happily used his Amber Vistalite kit, at least on stage, John Bonham couldn't tear himself away from his metal Supra-Phonic 402 snare. However, while the 1970s Vistalite snares had flat bearing edges, this improved version with its proper 45-degree edges, is better built and is much less prone to cracking. (Read the full Ludwig Jellybean Vistalite Kit in full)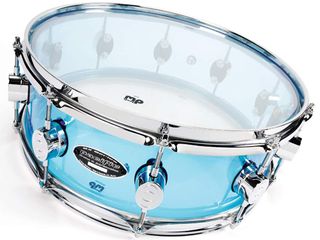 Pacific SX Acrylic
Yet again, Pacific weighs in with a handsome drum that seriously undercuts the opposition. A good range of alternative sizes is available – 10"x6", 14"x7" and 14"x6" – so, even if you don't fancy an acrylic main snare, at this price you could maybe afford one as an alternative voice.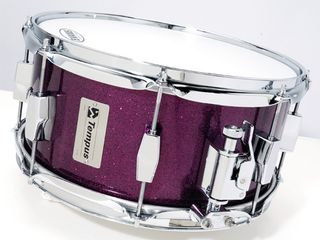 Tempus Carbon Fibre
Canadian company Tempus claims to make the thinnest carbon fibre shell in the world. Thin equates with lightweight and extra resonance. Tempus also says the drums are louder and stronger. Sixty glitter finishes and 500 solid colours to choose from! Tempus does glass fibre as well. (Read the full Tempus Fibreglass and Carbon-Fibre Snare drums review)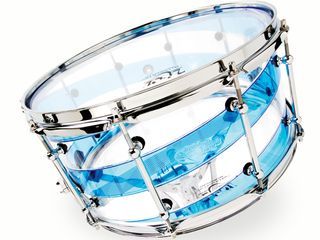 RCI Starlite Acrylic
The RCI Starlite Acrylic is really a designer drum - you choose your own fittings, lugs, strainer, plus a blinding array of patterns and colours. Standard drum has 1/4" shell, but RCI will make you a 1/2", 3/4" or even a massive 1" thick, geometrically-cut shell. That's one heavy drum, with a brilliant tonal presence. (Read the full RCI Starlite Kit review)