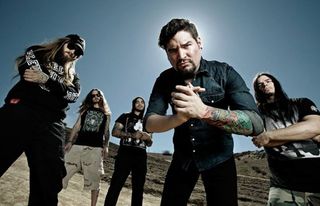 16. Mark Heylmun, Chris Garza (Suicide Silence)
The MusicRadar/Total Guitar Best in guitars 2017 polls have received over 136,000 votes, and we're now ready to roll out the winners. The nominees were what we considered to be the guitarists and guitar gear that have excelled in 2017. Here, we present the best metal guitarists of 2017. First up we have Mark Heylmun and Chris Garza of Suicide Silence...
2017 highlight: While this year's self-titled album was a slight departure from the band's usual deathcore strains, Suicide Silence was no less potent as far as the guitar work was concerned. Together Heylmun and Garza are a force to be reckoned with and there are very few modern metal guitarists who can compete with the face melting riffage of album opener Doris, or the downtuned might of Hold Me Up, Hold Me Down.
The MusicRadar Best in guitars awards are brought to you in association with Allianz Musical Insurance - the UK's Number 1 Specialist Instrument Insurer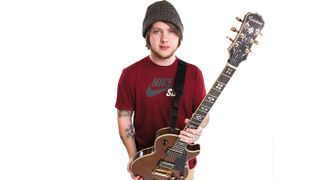 15. Lee Malia (Bring Me The Horizon)
2017 highlight: Malia continues to be one of the key driving forces in Bring Me The Horizon alongside keys/electronics maestro Jordan Fish. With his signature Epiphone in tow, Malia and the Sheffield band performed countless gigs in 2017, but most notably this year they released a best of compilation charting their diverse output between 2004 and 2013. To say the band has come a long way is the understatement of the century.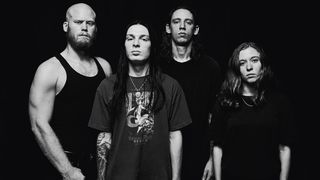 14. Reba Meyers, Eric Balderose (Code Orange)
2017 highlight: 2017 had been Code Orange's year. Since the release of their crushing third album Forever right at the start of the year, the Pittsburgh pummellers have been dominating stages around the world and demonstrating exactly what they're made of. Forever also earned them a Grammy nomination for Best Metal Performance. And the best part of all? They're only just getting started.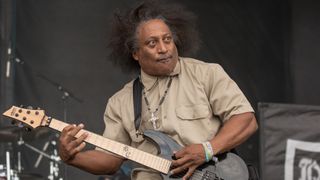 13. Ernie C (Body Count)
2017 highlight: Body Count founder Ernie C laid down some of his best ever riffs on 2017's Bloodlust. The album was politically and socially aware, full of venom and heavy as anything they put out in the '90s. Oh, and guests included Dave Mustaine, Max Cavalera and Randy Blythe. 'Nuff said.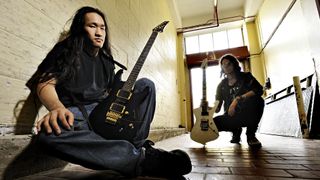 12. Herman Li, Sam Totman (DragonForce)
2017 highlight: Li and Totman have been mainstays of the British power metal beast since the very start. Having proved their mettle as masters of speed riffing, for this year's Reaching Into Infinity they showed a more dynamic side to their playing on tracks like Silence and The Edge Of The World. But fear not, there were still plenty of notes for the speed freaks too!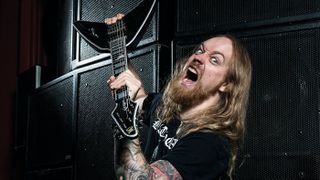 11. Anders Nystrom (Katatonia)
2017 highlight: 2017 was a year of celebration for the Swedish prog metallers. They spent much of the year on the road in support of 2016's excellent The Fall Of Hearts - going so far as to release a special tour edition - and released a 10th anniversary version of The Great Cold Distance, an album that won them plenty of new fans when it was first released, and a timely reminder of Nystrom's guitar prowess.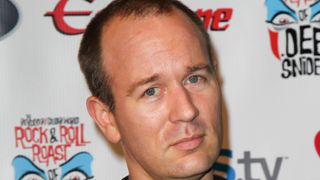 10. Brendon Small
2017 highlight: Once again Small placed tongue firmly in cheek to deliver one of the most fun metal albums of the year. Galaktikon II: Become The Storm is described as a 'high stake, intergalactic extreme rock/metal album' and tells an interplanetary war story, obviously. And the best part of all? The guitar playing is really, really good.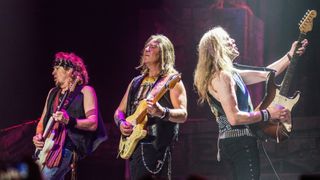 9. Dave Murray, Adrian Smith, Janick Gers (Iron Maiden)
2017 highlight: This year the iconic heavy metal band once again boarded Ed Force One and flew to all corners of the globe to deliver their Book Of Souls world tour to their rabid fanbase. As always, the triple-pronged guitar attack of Murray, Smith and Gers was firing on all cylinders. The band might be getting older now, but they're showing no signs of slowing down. Young bands take note.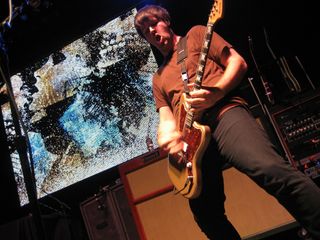 8. Kurt Ballou (Converge)
2017 highlight: When he's not producing albums for rising stars like Code Orange, Ballou can be found doling out razor sharp riffs with Converge. 2017's brutal The Dusk In Us was the band at its classic best – 13 powerful, cathartic and angry songs that were well worth the five year wait. Ballou even found time to produce the album, too.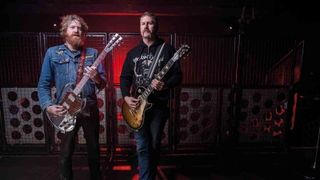 7. Brent Hinds, Bill Kelliher (Mastodon)
2017 highlight: What a year Mastodon has had. Not only did they release the epic Emperor Of Sand album back in March, but they were feeling so productive that they subsequently released a further four track EP, Cold Dark Place, in September. The EP, predominantly from the talented, twisted mind of Brent Hinds, was full of guitar interest, including an appearance from Brent's 1954 Sho-Bud 13-string pedal steel guitar.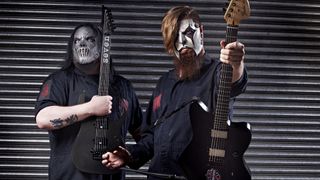 6. Mick Thomson, Jim Root (Slipknot)
2017 highlight: If 2014's .5: The Gray Chapter was the start of a new era for Slipknot, the subsequent live shows were testament to the skill and potency of the band's two guitar supremos. If you caught Slipknot's Day Of The Gusano Mexican live extravaganza you will have witnessed both guitarists in their element, and playing better than ever before.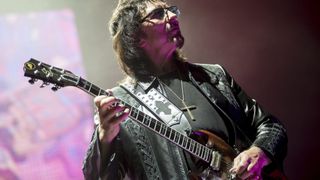 5. Tony Iommi (Black Sabbath)
2017 highlight: The curtain dropped on Black Sabbath's final ever show in 2017. While we hope that's not really the end, if the members of Sabbath really have called time on the greatest heavy metal band of all time then Tony Iommi has left unbelievable legacy for other band's to follow. We salute you, Tony!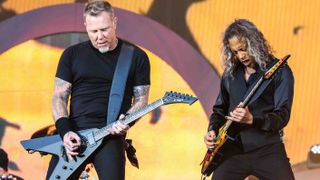 4. James Hetfield, Kirk Hammett (Metallica)
2017 highlight: Is it just us, or have James and Kirk got better with age? As if Hardwired... To Self-Destruct wasn't proof enough that there's plenty of fire still burning inside the metal icons, this year's fantastic WorldWired shows highlighted just what a natural chemistry two six-string behemoths share.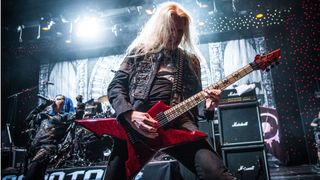 3. Michael Amott, Jeff Loomis (Arch Enemy)
2017 highlight: Loomis pulled out all the stops for his first studio album with Arch Enemy, the band he joined in 2014. Alongside Amott, the guitar duo produced the perfect blend of heaviness, groove and melody, and tracks like Blood In The Water and Murder Scene are fine examples of what the band at its colossal best.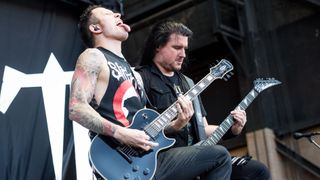 2. Corey Beaulieu, Matt Heafy (Trivium)
2017 highlight: The Sin And The Sentence, the follow up to the Floridian metallers 2015 album Silence in the Snow, is a return to the heavier style the band forged during their mid-2000's rise to fame. Matt Heafy has started screaming again, their new drummer is blastbeat crazy and subsequently Heafy and Beaulieu's guitar work is weapons-grade heavy!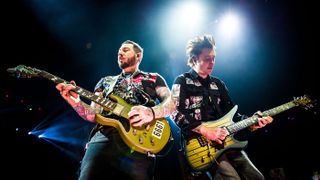 WINNER: Synyster Gates, Zacky Vengeance (Avenged Sevenfold)
2017 highlight: Avenged Sevenfold released The Stage at the tail end of 2016 and toured the bejesus out of it throughout 2017. The Stage was the sound of Syn and Zacky pushing their own playing and songwriting boundaries to the extreme and the result was some of their finest, most mature guitar work to date. To cap off an amazing year, the album's title track was nominated for Best Rock Song at the 2018 Grammy Awards.