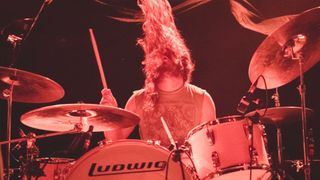 12. Mark Lierly (Pallbearer)
The Rhythm Best in drums 2017 polls have received over 137,000 votes, and we're now ready to roll out the winners. The nominees were what we considered to be the drummers and gear that have excelled in 2017. Here, we present the best metal drummers of 2017. First up we have Mark Lierly of Pallbearer...
2017 highlight: The Arkansas doom metallers may have been around since 2008, but 2017 was their breakout year thanks to the release of their critically-acclaimed new album Heartless. Everything from the drum sound to Mark Lierly's muscular, penetrating beats are pure perfection. Check out the punishing Thorns for a lesson in control behind the kit from the talented drummer.
The MusicRadar Best in drums awards are brought to you in association with Allianz Musical Insurance - the UK's Number 1 Specialist Instrument Insurer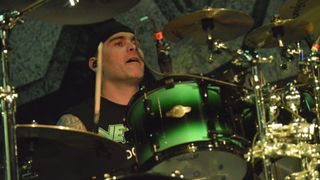 11. Jason Bittner (Overkill)
2017 highlight: We've missed Jason Bittner's drumming since Shadows Fall called it a day in 2014. For a while he spent some time in the drum seat for Flotsam and Jetsam, but it was when he officially joined New Jersey thrash merchants Overkill in May of 2017 that it truly felt like he was back. Jason brings his savage old school meets new school style to the Overkill gig, and we're pleased to hear there's talk of a new album with Bittner on drums coming in 2018.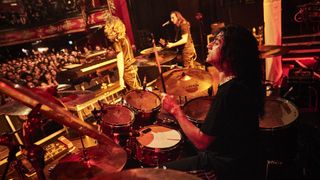 10. Max Portnoy (Next To None)
2017 highlight: Like father like son, Max Portnoy is gearing up to have a similar career trajectory to his famous drumming dad. While Next To None's debut album A Light In The Dark was the sound of a young band with obvious talent but a little rough around the edges, this year's prog metal opus Phases signalled the arrival of a band with a fully formed identity, bags of confidence and chops for days. Want to discover the future of metal of drumming? You'd do no wrong in listening to Max Portnoy.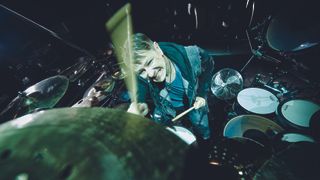 9. Ray Luzier (Korn)
2017 highlight: For their twelfth album The Serenity Of Suffering Korn worked with producer Nick Raskulinecz for the first time, and it really paid off. The result was a record that harked back to the classic Korn era, and some of Ray's finest work with Korn to date. This time round the drummer found his true identity in the band and laid down some of his best ever takes on tracks like Rotting In Vain and When You're Not There.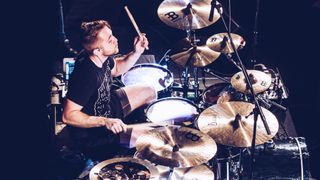 8. Alex Rüdinger (Good Tiger)
2017 highlight: While Good Tiger have been a little quiet until recently, new single Grip Shoes suggests that old and new fans of the band's epic prog rock will be pleased to have them back when the album We Will All Be Gone finally drops. Our personal Alex Rüdinger highlight was his electrifying performance at this year's Meinl Drum Festival. Check him out playing the Kaz Rodriguez track Shift below.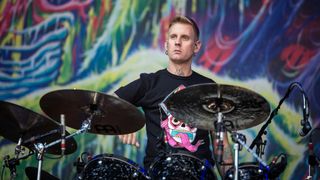 7. Brann Dailor (Mastodon)
2017 highlight: It's almost impossible to fault Brann Dailor. He does his job so incredibly, consistently well that his performance behind the kit repeatedly blows us away with every new Mastodon album. That was no different on this year's monumental Emperor Of Sand, which became the band's best selling album ever and produced such metal anthems as Show Yourself and Satan's Curse. Secretly though, our 2017 Brann Dailor highlight was his cameo as a White Walker in season seven of Game Of Thrones…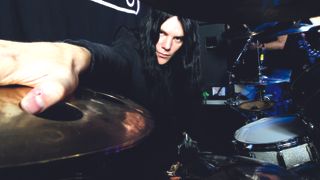 6. Daniel Erlandsson (Arch Enemy)
2017 highlight: For Arch Enemy's latest album Will To Power, Daniel Erlandsson took things back to basics, and it really paid off. Shedding his usual monstrous double kick kit, he recorded most of the album using a simple five piece set-up with a single bass drum and, while there are some super technical parts on the album, there's also plenty of space thanks to Daniel's economical approach, and the album feels bigger as a result.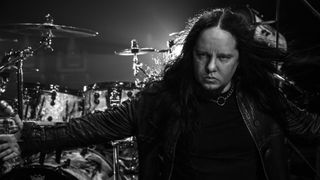 5. Joey Jordison (Vimic)
2017 highlight: Following a rough few years Joey is back where he belongs, both behind the kit and riding high in our best metal poll. While much of 2017 has been relatively quiet for Joey and his new band Vimic, in October he surprised us with a new song, Fail Me (My Temple) featuring Dave Mustaine, and news that a full album will emerge in 2018. If this early taster is anything to go by the album is going to be a real head banger, with Jordison playing better than ever.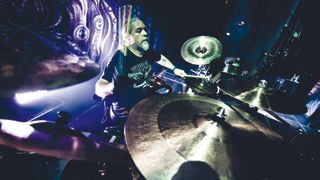 4. Tomas Haake (Meshuggah)
2017 highlight: There was a different vibe on Meshuggah's newest album The Violent Sleep Of Reason. That probably had something to do with the fact the band recorded everything live. Meshuggah's signature brutality and technicality remained, but recording together created a special chemistry. Tomas Haake's beats are as devastating as usual and the groove on Born In Dissonance is enough to snap your head clean off.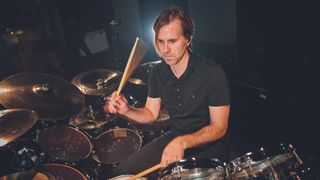 3. Brooks Wackerman (Avenged Sevenfold)
2017 highlight: Pretty much all of 2017 has been a highlight for Brooks Wackerman. This was the year he and Avenged Sevenfold were finally able to take massive new album The Stage to a live setting (complete with a drum solo from Brooks). At every show the drummer proved just why he's the perfect pick for the band; equal parts technical, grooving and brimming with personality behind the kit, just like The Rev. What made Brooks' year even better is that Avenged Sevenfold have just been announced as 2018 Download Festival headliners!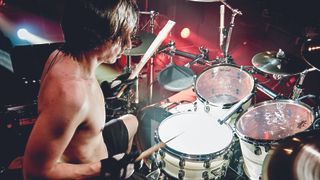 2. Mario Duplantier (Gojira)
2017 highlight: Riding high from taking the top spot in this very poll last year, Mario and Co. have had a storming 2017. Not only did their own headline tours in support of crushing sixth album Magma sell out around the world, but they also joined Avenged Sevenfold and their heroes Metallica on the road through the summer.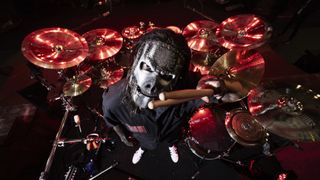 Winner: Jay Weinberg (Slipknot)
2017 highlight: Two years after storming the best metal drummer category, Jay Weinberg returns to the top spot after proving himself more than worthy of the most coveted drum gig in metal. If you need further evidence just check out Slipknot's recent Day of the Gusano movie featuring a lively Weinberg firing on all cylinders.