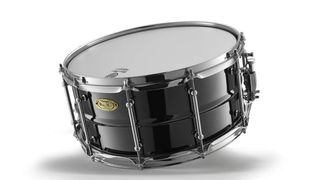 10. WorldMax Black Dawg black nickel over brass
The Rhythm Best in drums 2018 polls received an astonishing 100,000 votes, and we're now ready to roll out the winners. The nominees were what we considered to be the drummers and gear that have excelled in 2018. Here, we present the best new snare drums of 2018. First up we have the WorldMax Black Dawg black nickel over brass...
We say: This snare embodies all of the qualities that WorldMax has become renowned for; it's well built, looks great and plays wonderfully.
Read the review: WorldMax Black Dawg black nickel over brass review
The MusicRadar Best in drums awards are brought to you in association with Allianz Musical Insurance - the UK's Number 1 Specialist Instrument Insurer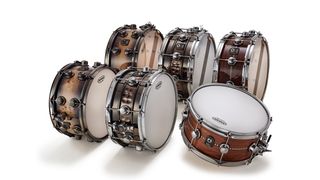 9. Natal Cafe Racer Tulip Wood inlay
We say: Once again, the UK's Natal drums belie their mouth-watering prices with distinctive looks, superb finishes and thoughtful attention to detail. The warm tulip of these drums is a real winner. It's a luxurious, warm tone, thick without becoming muddy as the tension is eased off. But don't get the wrong idea, it is also snappy if you give it an extra twist top and bottom.
Read the review: Natal Cafe Racer Tulip Wood inlay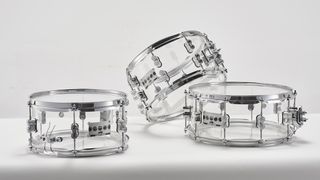 8. PDP Chad Smith signature
We say: Not every signature drum manages to capture the essence of the artist that inspired them; these snares do. They're loud (visually and audibly) yet are full of nuance and charm and can slot into - and jump between - many musical situations. And if they're good enough for Chad...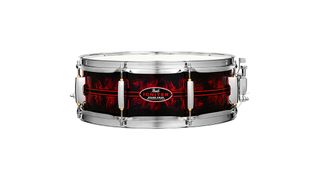 7. Pearl Igniter
We say: Now here's a first: an artist snare drum designed in collaboration with a YouTube drummer, namely COOP3RDRUMM3R (Casey Cooper), the well-known online personality with over 1.5 million subscribers! The Igniter snare drum features a 14"x5" shell with all-maple interior for power, tone and projection, while custom flame and pinstripe graphics are certain to draw a crowd whether you're performing on stage or on screen.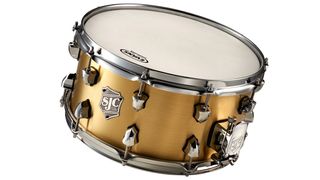 6. SJC Goliath
We say: A slightly more affordable alternative to the top-line bell brass snares, which tend to push £1,000. This rolled brass shell delivers an abundance of tone and the end result is a sensitive yet fierce instrument.
Read the review: SJC Goliath review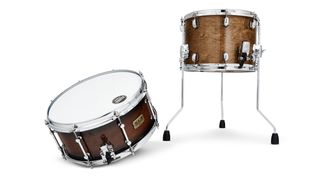 5. Tama Duo Birch
We say: Once again Tama has produced quality, musical drums at a surprisingly affordable price-point. In terms of sound alone, the S.L.P. range is hard to fault and comes highly recommended. The Duo Birch (pictured right) wires are astonishingly sensitive given the depth of the drum. As you take the drum up through the registers it becomes quicker and snappier until it's completely forgotten that you were just using it as a floor tom.
Read the review: Tama Duo Birch review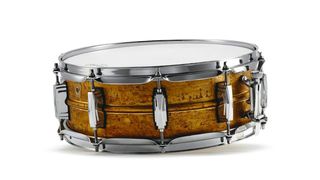 4. Ludwig Raw Brass Phonic
We say: The Raw Brass is expensive but highly musical. It feels substantial, and you are immediately reassured by the sound, which is tonally rich. In fact, it sounds the way it looks - a lethal combination of super-clean bright and shiny chrome with musically complex and dusky funky brass.
Read the review: Ludwig Raw Brass Phonic review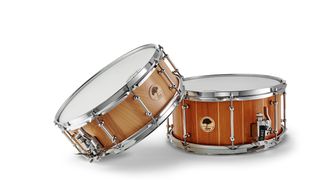 3. The Green Drum Co. Mabel
We say: There is so much about this snare that impresses (pictured left). It's beautifully made, painstakingly detailed and delivers cracking performances. Factor in its environmental qualities and affordability and it's practically in a league of its own.
Read the review: The Green Drum Co. Mabel review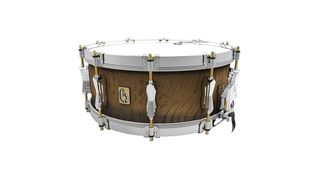 2. British Drum Company The Duke
We say: The British Drum Company continues to impress. The Duke, crafted using 3,000 year old bog oak, is an absolute triumph; so much so that the limited edition drums sold out in record time. If you managed to snap one up you should consider yourself very, very lucky.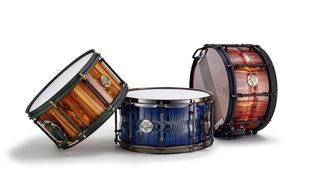 Winner: HHG Contoured White Ash
We say: Hailing from the eastern USA, HHG drums feature stave shells precision crafted in some of the most visually impressive woods available. The resulting drums sound as good as they look. Stave drums require minimal adhesive compared with ply. They're almost solid. Accordingly, you get the full woody timbre allied to abundant power and precision. With a wide and easy tuning range, the Contoured White Ash snare (pictured centre) is a super-versatile drum.