The 10 best bassists in the world right now
10. Roger Glover (Deep Purple)
The Total Guitar/MusicRadar Best in guitars 2018 polls received an astonishing 126,000 votes, and we're now ready to roll out the winners. The nominees were what we considered to be the guitarists and guitar gear that have excelled in 2018. Here, we present the best bass players of 2018. First up we have Roger Glover of Deep Purple...
2018 highlight: As a member of Rainbow and Deep Purple, Glover has more than earned his place in the upper echelons of rock royalty. He's still with the latter, and in 2018 the band who's name is mentioned in the same breath as Zeppelin and Sabbath, hit the road in the US with another legendary band, Judas Priest. The tour was a reminder that some of the greatest music was recorded decades ago, by the most pioneering musicians. And Glover is one of them.
The MusicRadar Best in guitars awards are brought to you in association with Ernie Ball. #colorsofrocknroll
9. Joe Dart (Vulfpeck)
2018 highlight: Funky American quartet Vulfpeck have been been likened to classic session bands like The Wrecking Crew and The Funk Brothers, and for good reason. The rhythm section, nailed to the floor by drummer Jack Stratton and hip-shaking bass player Joe Dart is as authentic as it comes and the band as a whole knows how to make people dance. Latest track Darwin Derby is a funky sign of things to come on new album Hill Climber.
8. Robert DeLeo (Stone Temple Pilots)
2018 highlight: Stone Temple Pilots bassist Robert DeLeo has been through a lot in recent years. Fortunately his band have returned with a cool comeback album in the shape of 2018's self-titled longplayer. As always, DeLeo's bass guitar work is assured, rock solid and laden with hooks.
7. Marcus Miller
2018 highlight: Miles Davis. Herbie Hancock. David Sanborn. Donald Fagen. Dizzy Gillespie. A whole host of film soundtracks and a string of awe-inspiring solo albums - what else is there to say about the great Marcus Miller? Well, just the fact that his newest album, Laid Back, sees Miller playing as virtuosically as ever, with an astounding opening track in the shape of Trip Trap.
6. Michael League (Snarky Puppy)
2018 highlight: As bandleader of instrumental super troop Snarky Puppy, 3x Grammy winning League has cemented his name as a big hitter in the bass world. Aside from countless sessions, in 2018 League released a new album with world music ensemble Bokante, alongside Jules Buckley and the Metropole Orkest. Tidy.
5. David Ellefson (Megadeth)
2018 highlight: With Megadeth enjoying some downtime of late, Ellefson seized the opportunity to share his story, his technique and a little playing with audiences across America on his Basstory masterclass tour. The shows have been very well received and we hope he lines up more for 2019 (that's if Megadeth don't release a new album first).
4. Les Claypool
2018 highlight: Among his multiple musical collaborations, writing novels, fly fishing and making his own wine, Les Claypool somehow found the time to reunite with Primus, the band that in bass world at least, made him a household name. The ever-indescribable band's latest album The Desaturating Seven - their ninth - reunited Claypool with the classic line-up of drummer Tim Alexander and guitarist Larry LaLonde, and found the trio venturing into some distinctly progressive territory.
3. Stanley Clarke
2018 highlight: There are good bassists, and there are great bassists - and there's Stanley Clarke, veteran of close to half a century as bass player, composer, bandleader, band-member and all-round guru to our low-frequency community and far beyond. New album, The Message, was written and recorded in France and Belgium with a young band of incredible talent and delivers music that spans a wide range of genres.
2. Robert Trujillo (Metallica)
2018 highlight: Metallica extended their WorldWired tour into the far reaches of the globe in 2018 and, as always, Trujillo was working hard in the engine room to ensure that Lars, Kirk and James had the rock solid foundation they needed.
Winner: Billy Sheehan (Sons Of Apollo)
2018 highlight: As if Sheehan's past work with Mr Big, Steve Vai, The Winery Dogs, Dave Lee Roth and other rock and prog greats wasn't enough, most recently he's added Sons Of Apollo - a supergroup featuring Mike Portnoy, Neal Morse, Bumblefoot and Jeff Scott Soto - to his monstrous CV. Sons Of Apollo burst from the blocks with debut album Psychotic Symphony, but is was the band's electric live shows that have really shown what this low-end powerhouse is truly capable of.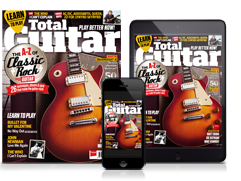 Stay up to date with the latest gear and tuition.
Subscribe and save today!