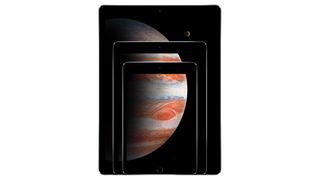 A touchy subject
With the launch of the iPad Pro at its Special Event last month, Apple put quite a sizeable cat amongst the multitouch pigeons for all iPad 'power users', but particularly those of a creative bent.
For the artist, videographer and - yes - musician, suddenly there's a much more powerful creative platform than the iPad Air 2 to consider, with an even bigger screen, unprecedented (in a tablet) processing grunt, and a stylus 'done right'.
The same gig saw the strangely understated introduction of the iPad mini 4, the upgrade the iPad mini 3 should have been last year.
The upshot of all this (well, one of the upshots of all this) is that the Air 2 - previously the flagship of the fleet - now has a genuinely competitive smaller alternative as well as an evidently superior bigger one. Meanwhile, the original iPads Air and mini 2 are still very much available for those with lesser requirements and/or on a tighter budget. There's never been a better time to buy an iPad, clearly, but how do you choose between them?
In this round-up, we'll give you an overview of the full iPad line-up, from mini 2 to Pro, examining the strengths and weaknesses of each in order to help you decide which is right for you and your musical needs.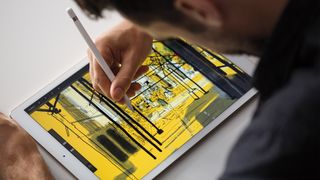 iPad Pro
Announced in September but not available til November, Apple's latest and, we can safely assume, greatest fondleslab is the one the pundits have been waiting for: the iPad Pro.
This gargantuan masterpiece of engineering sports a 12.9-inch multitouch Retina display running at an impressive 2732x2048 resolution and geared up to accept input from the also-imminent Apple Pencil, enabling pressure- and tilt-sensitive stylus input. This last feature doesn't mean a great deal for music, but if you also design your own album artwork…
At the heart of the iPad Pro is Apple's spanking new "desktop-class" 64-bit A9X CPU, said to have 1.8x the power of the iPad Air 2's A8X (and "double the graphical performance"). Given that the A9 in the iPhone 6S benchmarks at roughly the same level as the 12-inch MacBook, we have no reason to doubt the veracity of that claim.
As for memory, just after the initial iPad Pro announcement, Adobe issued a press release about its Creative Cloud suite of mobile apps in which it stated that it features 4GB RAM. Apple, of course, said nothing and Adobe removed the reference shortly after. We'd put money on the claim being true, though, since to really justify its lofty suffix, the Pro is going to have to put multitasking fluidity at the top of the agenda.
The Smart choice?
Another technology debuting with the iPad Pro is the Smart Connector, an intriguing new port designed, initially, to serve data and power to the upcoming Smart Keyboard. We've no idea what kind of data rates this supports, but we'd be surprised if it was enough to facilitate meaningful audio I/O. You never know, though.
Despite its cutting edge performance, Apple says that the iPad Pro delivers the de rigeur ten hours of battery life. As ever, this will have been achieved under fairly specific conditions, so we'll have to wait and see how it bears up under the weight of 40 audio tracks in Cubasis and a ton of synths.
Finally, although no one's ever going to rely on any tablet's built-in speakers for serious monitoring usage, the iPad Pro's innovative four-speaker array should at least make playback for rough mixing a bit more tenable when you've left your headphones at home.
Although we're still really waiting for an iPad that runs OS X rather than the actually-not-very-pro-at-all iOS, if the iPad Pro lives up to the stated potential, its processing power and enormous screen will clearly make it the prime choice for musicians looking to maximise the number of audio tracks, virtual instruments and effects they can run at once, as well as screen real estate. As you'd expect, iOS 9's Split View, which enables you to use two apps side by side, is supported.
More than anything, though, we just can't wait to get Liine's amazing Lemur controller app fired up on it.
Specs
CPU: A9X
RAM: 4GB?
Display: 12.9-inch (diagonal); 2732x2048 resolution at 264 pixels per inch
Dimensions: 305.7x220.6x6.9mm
Weight: Wi-Fi - 713g; Wi-Fi+cellular - 723g
Connector: Lightning, Smart Connector
Battery life: Up to 10 hours
Prices
Wi-Fi: 32GB - £TBC/$799; 128GB - £TBC/$949
Wi-Fi+Cellular: 128GB - £TBC/$1,079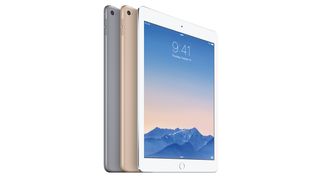 iPad Air 2
Right now, the current leader of the iPad pack is the Air 2, released in Summer 2014. This astonishingly thin (6.1mm!), light (437g!) mobile music production powerhouse is built on Apple's triple-core 64-bit A8X CPU, which is around 40% faster than the A7 in the previous iPad Air, and was the first iThing to make the long-overdue jump to 2GB of RAM.
In practice, this setup proves supremely capable for even the most demanding of on-the-go production work, with that capacious memory giving a considerable performance boost to high-end music apps like Auria and Cubasis, and making multitasking between iOS instruments a smoother experience than ever before. If you have iOS 9, Split View is supported.
The truly gorgeous 9.7" Retina screen packs the same resolution as every iPad since the third - 2048x1536, at 264 pixels per inch - but this time round, its fused to the backlight, not only widening the colour gamut, upping the contrast and making that super-svelte frame possible, but also doing away with the weird, slightly hollow response that comes from tapping the centre of the original Air.
As for battery life, Apple state that you'll get ten hours out of the Air 2 and we can happily confirm that to be true.
On the downside, as a consequence of the iPad Air 2's extreme thinness, the speakers cause the whole backplate to vibrate heavily at even the lowest volume level; but since you won't be using them for serious audio work, that certainly shouldn't have a bearing on any buying decision.
Lastly, although not marquee features for the musician, the iPad Air 2's Touch ID and 8MP rear camera are nice to have.
Still got it
It might be over a year old now, but the iPad Air 2 still looks and feels as cutting edge as it did on the day it launched. It is, in a word, awesome. Of course, the iPad Pro will be throwing a long shadow over it on its release next month, but that's really quite a different proposition due to its size and weight.
Also, while it would be reasonable to surmise that Apple isn't going to upgrade the Air to v3 - adding the iPhone 6's potentially game-changing 3D Touch and the crazy-fast A9X CPU - until next Summer, we wouldn't be hugely surprised if it happened sooner than that.
Playing the blind waiting game with any technology these days is kind of pointless, though, so the iPad Air 2 is without doubt the full-size tablet to go for right now if screen space and premium performance are your prime concerns - which, as a music producer, they are, right?
Oh, and don't be tempted by the lower price of the 16GB model, by the way - you'll eat through such paltry storage in no time, so go for at least 64GB.
Specs
CPU: A8X
RAM: 2GB
Display: 9.7-inch (diagonal); 2048x1536 resolution at 264 pixels per inch
Dimensions: 240x169.5x6.1mm
Weight: Wi-Fi - 437g; Wi-Fi+cellular - 444g
Connector: Lightning
Battery life: Up to 10 hours
Prices
Wi-Fi: 16GB - £399/$499; 64GB - £479/$599; 128GB - £559/$699
Wi-Fi+Cellular: 16GB - £499/$629; 64GB - £579/$729; 128GB - £659/$829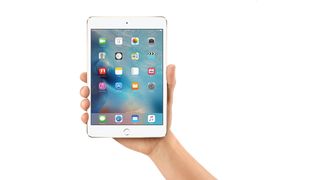 iPad mini 4
Although relegated to a cursory mention at Apple's September Special Event, for the iOS musicians who have maximum portability on the priority list, the unexpected announcement of the iPad mini 4 was bigger news than the launches of the iPhone 6S and iPad Pro put together.
With the iPad mini 3 barely qualifying as an incremental upgrade from the mini 2, many 'analysts' were predicting that Apple's scaled-down tablet was being marched towards redundancy by the iPhone 6+ - but how wrong they were.
The fourth mini is, to most intents and purposes, a smaller (7.9") iPad Air 2, adopting the beautiful fused Retina display (2048x1536 at 326 pixels per inch), A8 CPU (albeit 'only' dual-core and minus the 'X') and 2GB RAM of its larger counterpart, to reduce the thickness of the device (6.1mm, down from 7.5mm) and massively up its game in terms of performance and image quality.
Although the mini 4 clearly improves on all of its predecessors in every department that matters, the iPad Air 2 still smokes it in multicore and RAM benchmarks - and the iPad Pro will, of course, widen that gulf further when it arrives in November. Thus, choosing between those three for music production usage is about more than just screen size: if you simply have to be on the bleeding edge of mobile music technology, the mini 4, as speedy and responsive as it is, isn't the one to go for.
However, if your main concern is size and/or price, it makes for a solid upgrade from the mini 3 and 2 and a night-and-day transformation from the non-Retina original, offering more than enough power to get the job done, in a stunning form factor (and with Split View support).
As with the iPad Air 2, though, we strongly suggest stumping up for at least 64GB of storage - why Apple still even sells a 16GB option is baffling.
Specs
CPU: A8
RAM: 2GB
Display: 7.9-inch (diagonal); 2048x1536 resolution at 326 pixels per inch
Dimensions: 203.2x134.8x6.1mm
Weight: Wi-Fi - 298.8g; Wi-Fi+cellular - 304g
Connector: Lightning
Battery life: Up to 10 hours
Prices
Wi-Fi: 16GB - £319/$399; 64GB - £399/$499; 128GB - £479/$599
Wi-Fi+Cellular: 16GB - £419/$529; 64GB - £499/$629; 128GB - £579/$729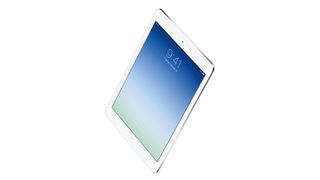 iPad Air
The original iPad Air was quite the hit in its day, two-and-a-bit years ago, and still stands as a perfectly viable multitouch production platform, MIDI controller and all the rest of it.
It's good news for the thrifty muso, then, that Apple still offers it as a cheaper alternative to the iPad Air 2, even it it does come very much second place in terms of CPU (dual-core A7 vs triple-core A8X), memory (1GB vs 2GB RAM), thickness (7.5mm vs 6.1mm), weight (469g vs 437g), display quality (non-fused vs fused screen), iSight camera spec (5MP vs 8MP) and security (no Touch ID).
Okay, so every one of those Air 2 improvements is significant, but honestly, the iPad Air still performs pretty well, handling every DAW and synth on the App Store with aplomb, as well as being 'fully Retina' and anything but hefty.
Ultimately, the 32GB iPad Air (again, don't even think about the 16GB) remains a great option if your budget can't stretch to the 64GB Air 2 or mini 4.
Specs
CPU: A7
RAM: 1GB
Display: 9.7-inch (diagonal); 2048x1536 resolution at 264 pixels per inch
Dimensions: 240x169.5x7.5mm
Weight: Wi-Fi - 469g; Wi-Fi+cellular - 478g
Connector: Lightning
Battery life: Up to 10 hours
Prices
Wi-Fi: 16GB - £319/$399; 32GB - £359/$449
Wi-Fi+Cellular: 16GB - £419/$529; 32GB - £459/$579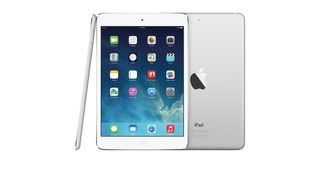 iPad mini 2
As mentioned earlier, the iPad mini 3 didn't improve on the iPad mini 2 at all beyond the addition of Touch ID, which would explain why the latter is still available as the second-tier option below the mini 4, for those seeking a smaller iPad with a lower pricetag.
Like the iPad Air in comparison to the Air 2, the mini 2 is thicker (7.5mm vs 6.1mm), heavier (331g vs 298.8g), slower (dual-core A7 vs A8), less brainy (1GB vs 2GB RAM), visually less impressive (non-fused vs fused display), and with a lower quality camera (5MP vs 8MP) than the mini 4, and, obviously, doesn't include Touch ID.
However, with performance identical to that of the Air, it's still a nifty little mover in a relatively lightweight package that will confidently take on any music-related app you care to throw at it - you just won't be running as many of them at the same time as you would with any of the three higher-spec models.
If you're playing in this end of the iPad market, it all comes down to size, weight and price, since the mini 2 and Air are equals in every other respect. When the chips are down, neither will disappoint - as long as you shoot for the maximum 32GB of storage!
Specs
CPU: A7
RAM: 1GB
Display: 7.9-inch (diagonal); 2048x1536 resolution at 326 pixels per inch
Dimensions: 200x134.7x7.5mm
Weight: Wi-Fi - 331g; Wi-Fi+cellular - 341g
Connector: Lightning
Battery life: Up to 10 hours
Prices
Wi-Fi: 16GB - £219/$269; 32GB - £259/$319
Wi-Fi+Cellular: 16GB - £319/$399; 32GB - £359/$449