22 of the best budget signature guitars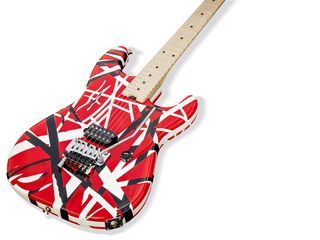 22 great budget signature guitars
"IT WILL be mine. Oh yes, it will be mine." No sentence in popular culture sums up the act of guitar lust as well as Wayne Campbell's declaration from 21 years ago.
The Olympic White "Excalibur" Fender Strat in Wayne's World may not have been a signature model per se, but it was a definite nod to Jimi's Woodstock Strat, and that's an important point to remember.
All guitar purchases stem from somewhere.
It starts with the idolising of your favourite player, continues with the beg-borrow-steal mentality of saving every last penny you can to cop a piece of their style, and ends... well, it never really ends. But what if it didn't have to be quite as hard as this?
The good news is that it doesn't. Thanks to progress, it's now possible to buy extremely decent gear at extremely decent prices, and that extends to budget versions of your favourite guitarist's iconic axe.
You might be wondering how we chose our list: firstly, the guitar has to be available as a current model; and secondly, it has to be 'affordable'. Granted, that's a pretty loose term, but we're starting at a big fat zero, and setting a ceiling street price of around a grand.
Set your mouth to 'drool', and prepare to make a shopping list. Reading this is gonna cost you (an affordable amount).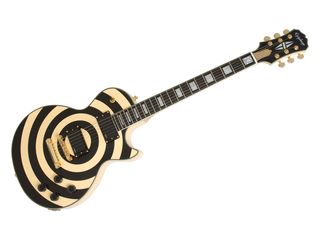 Epiphone Zakk Wylde Les Paul Custom Plus Bullseye
The former Ozzy axeman is all about three things: brutal riffs, beards and bullseyes.
The latter makes a starring appearance on Wylde's iconic Les Paul, which has appeared in Camo and Buzzsaw forms, but perhaps the most faithful in this price bracket is Epiphone's Les Paul Custom Plus Bullseye.
Here, you get that essential finish in Antique Ivory, plus Grover machineheads and Zakk's preferred EMG 81/85 pickup combo – bullseye indeed.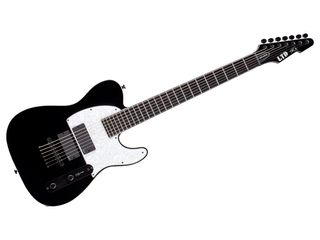 LTD SCT-607B Stephen Carpenter
The Deftones riff merchant has a huge range of ESP/LTD axes, from six-strings to eight-strings and everything in between.
However, we're particularly taken with this T-type seven-string baritone. Stef's made some wise decisions with the hardware, which includes EMG 81-7 humbuckers, 24 frets and locking tuners, while the 686mm (27-inch) makes it ideal for those low tunings that Stef just couldn't get enough of – until he got his hands on a few eight-strings.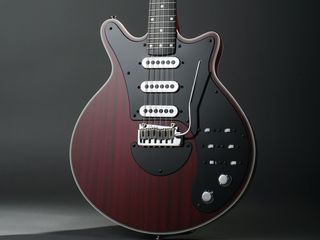 Brian May Signature
The Queen guitarist's main instrument – that he used on all but two of the band's recordings – is one of rock's most iconic squeezes and the fact that he and his father made the entire thing virtually from scratch in a shed at the bottom of the family garden almost beggars belief.
Fans had been reduced to putting together their own versions of what is affectionately known as the Red Special, and with widely differing results. Brian actually has a small collection of the better submissions at his home, but the world was crying out for an official model.
May had dallied with the likes of Guild and Burns, who produced the first BM signatures at a number of price points to rave reviews before the relationships turned sour (something about inconsistencies in quality), and finally, in 2004, the fully sanctioned guitar hit the streets.
Loaded with the same TriSonic pickups and switching system as the original, it's very close to the Red Special in both tone and feel, even though it boasts a slightly slimmer neck and modernised vibrato.
The incarnation with the Antique Cherry finish is easily the most authentic, but maybe think twice before opting for the all-black Metal May.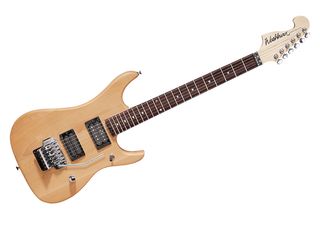 Washburn N2
Nuno Bettencourt made such a reputation with Boston rock funkateers Extreme that no less than pop megastar Rihanna hired him to melt the frets as part of her touring band. Thanks to him, Rhi-Rhi's show rocks most satisfactorily.
Nuno's original axe, apocryphally put together from Schecter parts, is about as road-worn as guitars get, and it sounds amazing. The nicely priced N2 is very close to it in spec, vibe and feel. Funky!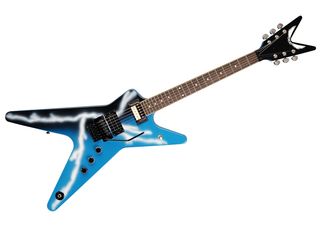 Dimebag Dean From Hell
Ever since Pantera's glam-metal days, Dimebag had been keen for Dean, and the most iconic guitar on his guitar stand is the anything-but-subtle lightning bolt'd Dean From Hell, as wielded on the cover of Cowboys From Hell.
The guitar is based on Dean's ML series, but Dime had the bridge cavity routed to take a Floyd Rose vibrato, and fitted a Bill Lawrence L-500XL pickup in the bridge position. Today's models are similarly spec'd – and also come from hell, of course.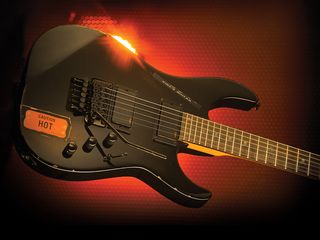 LTD KH-25 Kirk Hammett
Almost as synonymous with Metallica's lead machine as the wah pedal, Kirk's ESP axes have toured the world with him for over 25 years.
To celebrate this milestone, in 2012 LTD unveiled the KH-25, a budget version of Kirk's touring guitar with a number of faithful touches.
Dings, replica nstickers and skull and crossbone inlays are standard – the only differences are in the hardware department, with a Floyd Rose Special vibrato and ESP ALH-200 active humbuckers replacing the KH-2's Floyd Rose original and EMG 'buckers. It's still some kind of monster, though!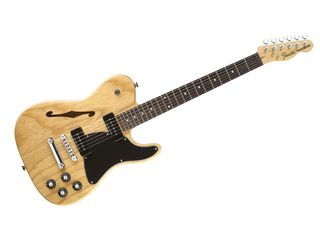 Fender Jim Adkins JA-90 Telecaster Thinline
Jimmy Eat World's frontman caused emo kids to cheer up worldwide by announcing his signature Fender Tele.
Jim had previously been playing a double- cut TC90 Thinline, which, like his signature model to-be, featured a semi-hollow ash body and soapbar pickups.
Jim's signature model has Seymour Duncan soapbars for the fine balance of punch, clarity and weighty tone. Adkins' TC90 is available in three fetching finishes: Natural, Transparent Ebony and a Transparent Crimson.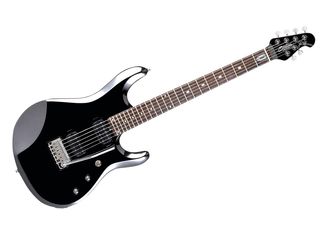 Sterling Petrucci JP60
Low on smiles but high on flurries of notes, Dream Theater guitarist John Petrucci is a well established member of the Music Man family, and his new 13 model has just hit both the streets and fans' wallets.
The guitars are universally droolsome, but do cost a pretty penny, and MM's offshoot brand Sterling provide guitars of a similar ilk at the fraction of the price.
The spec of the JP60 is just about close enough to the full-on JPX6, but with the JP13 costing around £2,659, the compromise starts to look rather attractive.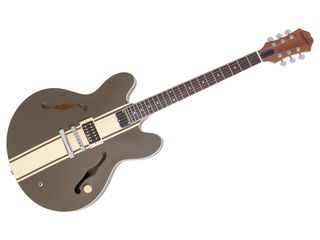 Epiphone Tom Delonge Riviera ES-333
Back when Blink-182 had as many dick jokes in their songs as they did in their onstage banter, Tom was best known for his signature Fender Strats.
However, as he turned serious with Box Car Racer and Blink's self-titled 2004 album, he worked with Gibson to craft a new take on the semi-hollow ES-333, with a big ol' racing stripe down the middle of its brown finish.
Like his Strats, the ES-333 features just one pickup and one volume control, but this time that pickup is an overwound Gibson USA Dirty Fingers humbucker. This Epi version is faithful to Tom's original.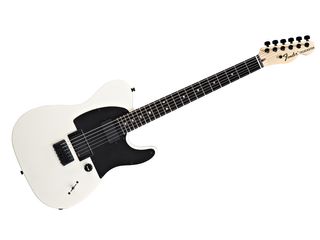 Fender Jim Root Telecaster
When you're playing gigs with Slipknot and Stone Sour, you need a guitar that can not only bring the riffs, but withstand a beating, too.
Jim's takes on the traditional Strat and Tele fuse a few Gibson- esque traits with the Fender designs. So, there's a heavyweight mahogany body to contend with, plus an EMG 81/60 humbucker pairing, contrasted by a 648mm (25.5-inch) scale length and classic headstocks. Squier makes a budget version of Jim's Tele, too, but we'd stretch for the Fender.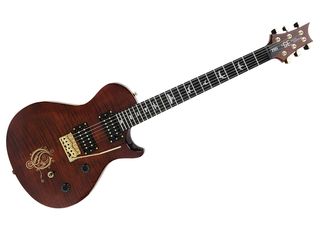 PRS SE Mikael Åkerfeldt
For a player who stretches his formidable fretting hand between the tones of death metal and folk in Swedish progressives Opeth, Mikael's signature model had to be a flexible steed.
A 24-fret Singlecut is a rare brown beast in itself, and the bridge HFS humbucker can deal out everything from twang to meaty rhythm.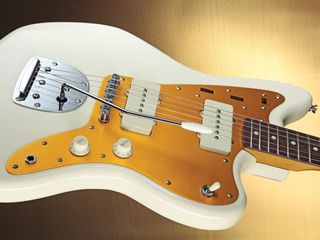 Squier J Mascis Jazzmaster
Here are a few things you need to know about Dinosaur Jr's frontman: 1) he's one of the loudest guitarists on the planet; 2) he owns more Big Muffs than you; and 3) his Squier Jazzmaster is a monster of a signature model.
"The Jazzmaster is just the first guitar I really had, and I learned how to play on it," Mascis explains. "I kind of built my sound around it. So I'm just used to it, I guess. Now, when I hear it against other guitars like a Strat, it sounds like it has a little bit more. It's not as trebly or thin.
"People first thought it was weird playing distorted music with a Jazzmaster because they only thought of surf and stuff with them," he adds. "But by now it's become pretty accepted that they can make a lot of noise also."
This isn't J's first signature model, though. Back in 2007, Fender launched the Purple Sparkle beast that was J's first signature model, but after some persistence from J, the company agreed to launch the more wallet-friendly Squier version you see here.
"First, I had the Fender [signature model] but still I always wanted something cheap that people could buy," Mascis explains. "The Fender one started out at, like, $900 and they kept raising it and suddenly it was, like, $1,200 or something and so I was interested in the Squier and finally persuaded them to let me do a Squier one."
As is common with Fender's offset designs, the bridge has been replaced with an Adjusto-Matic model, but otherwise all of the classic Jazzmaster appointments – single-coil Jazzmaster pickups, rhythm/lead circuit, floating vibrato and three-way pickup switch – are present.
The whole thing is finished with a blingy White/Gold paintjob and scratchplate, and will appeal to players outside of Dinosaur Jr's remit. If you look around, you'll bag one of these for just over £350, making this a retro-junkie's dream.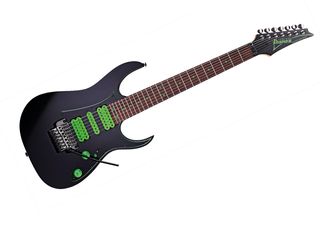 Ibanez Premium UV70P
Step back a few years and mention seven-string guitars, and you'd be met by some dude with dreadlocks and an eyebrow ring telling you why guitar solos suck.
To be fair, you can ignore the watered-down soundalikes and skip straight to Munky and Head's groundbreaking guitar work on Korn's first three albums, carried out under the influence of Steve Vai's signature guitar.
Seven-strings are hotter than ever right now, and it's all thanks to the Universe – the first mass-produced seven-string electric guitar. The first iteration of Vai's seven-string collaboration with Ibanez, the UV7, was launched in 1990.
It was available in three finishes: a Multi-Coloured Swirl (as seen on the cover of Passion And Warfare), White, and the most coveted fan-favourite, Black and Green. It's the 'Green Dot' or 'Green Meanie' finish that Ibanez has gone with for the latest version, the sub-£1,100 UV70P.
"Basically, the initial idea of the UV70P project came out of a discussion with Steve," says Ibanez's Mike Taft. "Because of the surge in popularity of the seven- string guitar in the last few years, particularly in the extreme and technical metal genres, Steve felt it was a good time to take a fresh look at the Universe. [The UV7BKs] are sought after by many fans, so based on the success of the Premium JEM70V model, we made the new Universe a Premium model to make it as affordable as possible, but still retain the quality."
The striking look is set off by the green inlays, logo controls and pickup bobbins. It's pushing the top-end of our price limit, but the spec sheet confirms you're getting an extremely high quality, yet still affordable tribute to the original.
There's the titanium reinforced Wizard-7 neck, DiMarzio Blaze pickups, Edge-Zero II-7 vibrato, and, of course, that finish.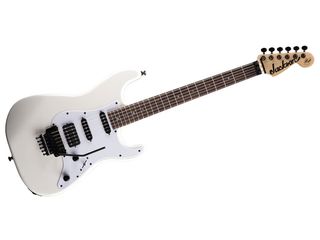 Jackson Adrian Smith SDX
Got gallop? If not, you soon will have. Adrian's full-fat Jackson was actually modelled on a Fender.
"Grover Jackson came to a lot of the shows with different prototype guitars for me to try," he says. "I had a 50s Fender Strat that I liked, so he took measurements from that and it formed the basis for the [signature] model."
In 2012, Jackson unleashed the cut-price SDX version of the Maiden man's San Dimas model. But wait! What about the spec differences? Okay, so you get a basswood body instead of alder, own-brand pickups instead of DiMarzio/ Samarium aftermarket models, and a Floyd Rose Special rather than a 'real' one.
But you need to put down the spec sheet, stop listening with your eyes and trust us – it doesn't matter. You still get the fundamentals of Adrian's guitar, with the all- important compound radius neck, HSS pickup configuration and the (in reality) rock-solid Floyd.
When we reviewed it in 2012, we were bowled over, describing it as "a bit of a game changer in the sub-£500 guitar market. The SDX could convince you it's worth double the street price: no small feat." Do yourself a solid and try this guitar.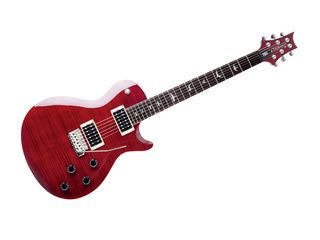 PRS Mark Tremonti SE
"Creed? But I hate them!" Silence, idiot, for you're missing out. Mr T's signature has become a modern mid-price single-cut classic when it comes to providing tones for the heavier side of rock or the lighter side of metal.
That sleek 'bevelled mahogany' body looks and feels the business, and the Wide Fat neck profile combines with PRS's usual 635mm (25-inch) scale-length (pitched directly between traditional Fender and Gibson scales) for the perfect mixture of speed, tension and tone.
Two humbuckers, two volumes and two tone controls means you're as well stocked as ever with this type of guitar. We like the solid vibe of the original version (available in Black or Vintage Cherry), but if you're after a little more luxury, take a look at Mark's latest SE Custom model, which adds a flame-maple cap, SE-245 Humbuckers, a PRS vibrato and a thinner neck profile.
Don't let the price tag fool you, either. We've seen these guitars used on stage by 'proper' bands in 'proper' venues. You'll be hard-pushed to find a better single-cut for the money.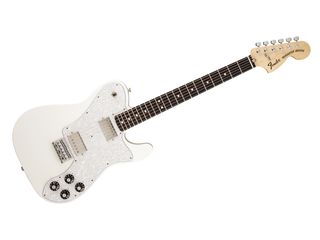 Fender Chris Shiflett Telecaster
Part punk, part honky-tonk twanger and very much a crucial member of one of the biggest rock bands in the world, Chris Shiflett is a versatile guitarist with a signature model to match.
It's based on Chris's 'Shifty' Telecaster, which isn't actually a Fender, but rather put together with Warmoth parts. "I wouldn't even say that I actually ever dreamt of having a signature guitar, because that just seems silly, it's like, ridiculous, you know?" Chris told Fender.com.
"A lot of my favourite guitar players played Telecasters through the years... you see a picture of Joe Strummer and he's playing a Tele and it had that cool vibe to it. [Fender] said, 'Hey, we noticed you've been using those parts guitars out there. Would you be interested in a signature model?' The obvious choice was something based on what I'd actually been using."
The production model is a no- nonsense electric, providing a solid base for gigging players. "It's got a rosewood fretboard, and we did a four-bolt neck [plate] instead of the usual three-bolt," he says. "The pickups are hotter humbuckers and, of course, you know, it's got my name scribbled on the back!"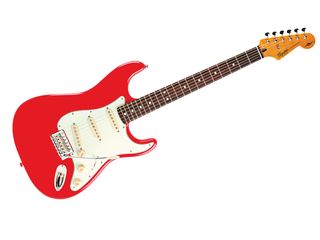 Squier Simon Neil Stratocaster
Few rock players have emerged in the last decade with as much personality and tonal muscle as Biffy's frontman and Simon Neil, who continues to amaze listeners by making such a huge racket with single-coil pickups.
Simon's signature is based on his Fender Custom Shop Time Machine 60s Strat, and this Classic Vibe-derived model is loaded with great looking vintage-esque features like the tinted neck, three-ply mint green scratchplate, Custom-Vintage-Style single coils and the Fiesta Red finish.
The idea came about when Fender's Neil Whitcher suggested a signature model: "Neil came up with the idea just before we were making [Only Revolutions] and we were delighted. My very first guitar was a Squier, so it's come full circle. For us, it was basically getting the best possible guitars for a reasonably cheap price. We've used these guitars live and they sound absolutely amazing."
It's a versatile guitar that'll work for plenty of styles from blues to funk, to Biffy's own brand of riffy rock. You're getting a far bigger slice of Fender tone and aesthetic than you have any right to at this price.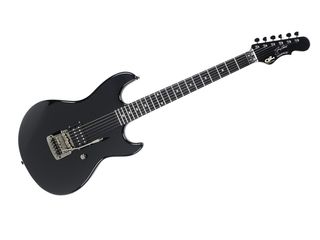 G&L Tribute Jerry Cantrell Rampage
Jerry's love for G&L is well known, and the Tribute Series Rampage offers the foundation of his sound.
Like Jerry's stage axe, it's a stripped-back guitar with one pickup (a Jerry Cantrell Alnico V humbucker), one volume control, and a Kahler X-Trem. We'd suggest the Ivory finish, but it also comes in a Gloss Black. If you're a fan of Jerry's meaty sound but find yourself down in a hole financially, this is the guitar for you.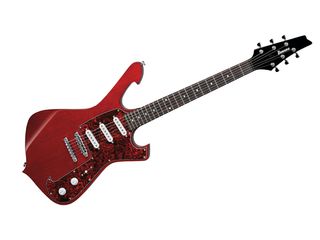 Ibanez Paul Gilbert FRM100
We out a little bit of wee when we first got wind of this model. It happened by accident when we received a press release about Paul Gilbert's then-new DiMarzio Injector pickups – usually enough of an announcement to get us excited on their own – but what grabbed our attention was the guitar they were fitted into.
Gilbert went on to explain further: "This is my newest and most favourite Fireman, and I've heard a rumour that they [Ibanez] are gonna mass-produce them. The first Fireman was an incredibly cool guitar, but although I love it, it was really expensive, so I wanted to make one that's more affordable for you."
It may have taken longer than we'd hoped to surface (about 18 months longer), but last year the wait was finally over, as the FRM100 landed on our desk. The cut-price Fireman doesn't disappoint: a sturdy mahogany body, fixed Tight-Tune bridge and set neck lay the foundation for Paul's single coils, delivering on their promise of a noise-free, modern single-coil sound for shredders.
Whether you can sweep pick or not, the reverse Iceman shape combined with the Transparent Red finish makes this a fine-looking axe. Paul Gilbert is one hell of a player, and this is one hell of a signature guitar at a bargain price.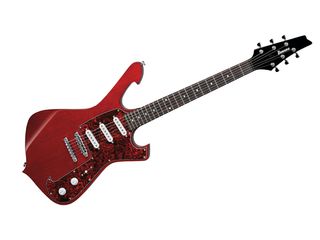 Ibanez Paul Gilbert FRM100
We out a little bit of wee when we first got wind of this model. It happened by accident when we received a press release about Paul Gilbert's then-new DiMarzio Injector pickups – usually enough of an announcement to get us excited on their own – but what grabbed our attention was the guitar they were fitted into.
Gilbert went on to explain further: "This is my newest and most favourite Fireman, and I've heard a rumour that they [Ibanez] are gonna mass-produce them. The first Fireman was an incredibly cool guitar, but although I love it, it was really expensive, so I wanted to make one that's more affordable for you."
It may have taken longer than we'd hoped to surface (about 18 months longer), but last year the wait was finally over, as the FRM100 landed on our desk. The cut-price Fireman doesn't disappoint: a sturdy mahogany body, fixed Tight-Tune bridge and set neck lay the foundation for Paul's single coils, delivering on their promise of a noise-free, modern single-coil sound for shredders.
Whether you can sweep pick or not, the reverse Iceman shape combined with the Transparent Red finish makes this a fine-looking axe. Paul Gilbert is one hell of a player, and this is one hell of a signature guitar at a bargain price.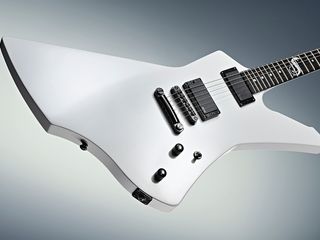 LTD Snakebyte
Yes, we could have gone with Jaymez's Truckster, and LTD doesn't make an affordable Iron Cross, but we actually think that the classic Hetfield is the Hetfield holding an X-shape.
Just in time for the Big Four shows in 2011, the man with the most reliable right hand in metal set his mind towards creating a brand-new signature model with ESP. Based on that shape, Het snipped a bit of the arse-end, introduced some curves to the slab body and smashed his trusted combination of EMG 81/60 pickups into it.
The result? One of the coolest signature models in metal. It's a relatively simple animal – one volume and one tone control, 22 XJ frets and a three-position switch – and the finish options are either White or Black, but it's built for huge riffing, crystal cleans and speedy leads.
The SRP is out of our 'budget' bracket, but this is the real world, where you can bag one for well under a grand. Chhhhyeauuuuuh!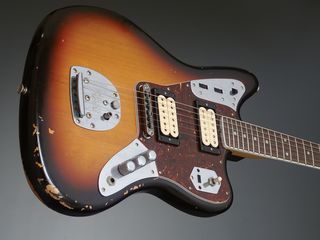 Fender Kurt Cobain Jaguar
The Jagstang had Kurt's direct input; his Competition Mustang featured in the Smells Like Teen Spirit video; and the Vandalism black Strat was the most punk. But as far as desirability goes, Kurt Cobain's '65 Jaguar comes top of the heap.
The story goes that around the time of the 1991 Nevermind sessions, Cobain bought his Jag from a classified ad in the LA Recycler. The identity of the seller is unknown, but the guitar came in a roadworthy Anvil tour case, with a plethora of mods carried out by the previous owner.
The curiosities start with the 'Spaghetti' Fender logo (out of use by 1965), Strat-sized headstock and small Jaguar lettering, which, according to Fender, are freak original features, maybe due to a shortage in left-handed necks, rather than modifications.
Next up are the DiMarzio Humbuckers: a PAF in the neck and Super Distortion in the bridge. The Jaguar slide-switches were swapped for a three-position toggle (mounted to the horn), and the bridge was replaced by a black chrome Gotoh model.
Fender's replica includes all of this, but the beauty of the guitar is brought out by the finish. Cobain's Jag had undergone its share of abuse over the years – it had a melon smashed into it, was slammed into the ground, and was even used as a weapon against security at the Trees Club in Texas.
The age of the guitar and the punishment it underwent meant that the red colour of the Three-Tone Burst finish had faded. Fender has matched the tone of the paintwork, and authentically relic'd the guitar with dings and a patina that could fool even the most well-trained eyes.
With a full-whack price tag of around £1,300, it's a stretch to call this a budget model, but with street prices just tipping a grand, and given the fact that a real 65 Jag would cost you a lot more than this, we're allowing it into our list.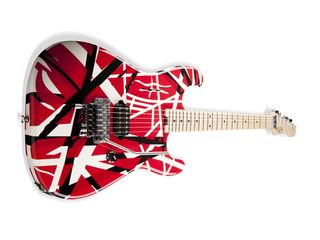 EVH Striped Series
You know this guitar. You may also know that the last (and extremely faithful) replica of Eddie Van Halen's Frankenstein in 2007 cost $32,000.
They were so limited that by the time you could fill out the forms to simultaneously re-mortgage, sell your nan's kidney and get divorced, these puppies were already off the market.
Well, it might not be quite the heavy relic that Eddie built, but this guitar is close enough. It's the most anticipated rock guitar of the year – if not decade – and it can be yours in a choice of three striped finishes for less than half-a-grand. Let's start at the beginning...
The Frankenstein has been Ed's number one guitar since he put it all together from parts sourced largely from Wayne Charvel's San Dimas repair store. Legend has it that he literally had to trawl through a pile of blanks until he found two that he just felt went together.
"You know, I bought a body from them for 50 bucks and a neck for 80 bucks, slapped it together, put an old Gibson pickup in it, and it's my main guitar," said Ed at the time. "Painted it up, you know, with stripes and stuff. I guess that's my thing."
The Frankenstein's hardware was stripped from a vintage Strat Eddie had bought previously during his time with various high school bands.
"[The vibrato] was actually from my old '58 Strat: I took the tailpiece out. Like with new Fenders, the vibrato tailpiece isn't half as good as the original old ones. So I took that out..."
Eddie's guitar features a humbucker that's shrouded in confusion – it came from a Gibson ES-335 and was fitted into Frankenstein for use on Van Halen's first album, but Ed subsequently used the guts of that same PAF to rewind – by hand – a DiMarzio unit.
"Yeah, a DiMarzio with a PAF magnet, rewound with copper tape around the windings," Ed confirmed. "Well, I dipped it in paraffin [wax] before I put the copper tape on. I mean, you have to be really careful with the plastic. It looks like a wrinkled prune, actually, but it still works."
By his own admission, Eddie had fallen in love with using vibrato but found that – perhaps unsurprisingly – it was very difficult to keep the guitar in tune. As a result, he was forced to go looking for some solutions.
The list of these included hand-stretching the strings while playing after using the whammy bar, boiling his strings to remove their elasticity, carefully stringing the guitar so that the ball end wasn't in any way twisted and having as shallow an angle as possible over the nut – so much so that Ed found he'd actually have to pop the strings back into the slots while playing.
Then along came a young American innovator by the name of Floyd Rose... And Eddie was set up.
"The Floyd Rose thing is a real good idea," confirmed Ed at the time. "My brother actually had the exact same idea years ago. He said, 'Why don't you clamp it down here and there, and there's no way it will go out of tune?' But I just kind of passed it off because I don't have a machine shop, so I couldn't build it. So Floyd pursued it, and he's got a hot item."
Not only did Eddie create one of the most iconic electric guitars ever, but he also sparked the hot-rodding revolution, the influence of which still rings through guitar design to this day. There's no way you can expect EVH to replicate every inch of the Frankenstein in a budget model – there's a reason for that whopping price tag and hen's-teeth availability – but the company has captured the essence of the Frankenstein with the new Striped series.
You get an EVH Wolfgang bridge pickup, EVH-branded Floyd Rose with Eddie's D-Tuna and compound-radius neck (with the same hand-rubbed oil finish as the Wolfgang Special) and the all-important striped paintjob. Eddie's original was finished with tape, and the Striped series comes in a choice of three colour schemes: Red with Black (and White), Black with Yellow, and White with Black stripes.
We've placed this guitar at the top of our list for a number of reasons: 1) it's an instantly recognisable icon; 2) it's one of the most anticipated guitars we've seen in a long time; 3) the features and that all-important finish give you a ton of options; and finally, and most importantly, 4) it offers all of the above at what we consider to be a ridiculously low price.
Of course, this is all totally dependent on whether or not you like the Striped finish to begin with, but surely that's the whole point of a signature model? Ultimately, it's fitting that the man who took customisation to the extreme should top our list.
Subtle it certainly is not, but if veiled scrawls and hidden tweaks are your bag, buy a standard production guitar. Meanwhile, we can feel an eruption coming on.