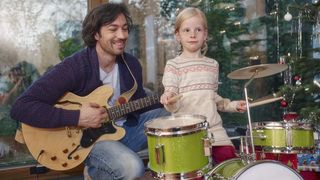 15 gifts for drummers
What do you buy the person that loves nothing more than sitting at the back of a stage, often in near-total darkness, smashing the life out of a drum kit? Oh man...
Yes, drummers aren't the easiest folk to purchase Christmas gifts for. Unless you're blessed with a fat wallet, a kit - or even a snare - will be out of the question. But don't worry: help is at hand as it turns out that there are plenty of amazing and more affordable gifts that will put a smile on the drummer in your life's face.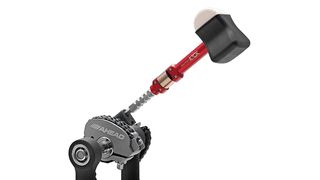 Ahead Switch Kick
Revolutionary is a brave word to use in today's music world, but that's the tagline Ahead has plumped for with its Switch Kick.
This quick-release bass drum beater system allows players to flip or change the beater in a matter of seconds - a major plus for mid gig-alterations. There's also a host of beaters on offer for the system, including the dual-head Sonic Kick, standard Felt and jazzy Brush.
The two-way Switch Kick will set you back £68, with replacement heads costing £47.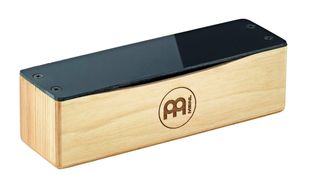 Meinl Percussion FX Modulation Shaker
Add some light and shade to your drum work this festive season with this neat new percussion piece from Meinl. The FX Modulation Shaker features a birch body and black plastic top.
According to the top brains at Meinl Percussion, the gap between the contrasting surfaces enables players to modulate the sound by adding pressure to the top portion, changing the pitch in the process.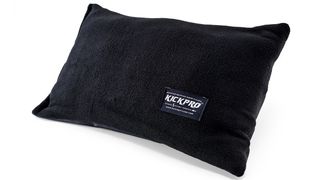 KickPro Weighted Bass Drum Pillow
What's this, a pillow for Christmas? Well, not quite…
We've all experienced headaches taming bass drum tone and tried bunging pillows, duvets and all manner of other stuff in the front of our kicks. Well, the KickPro Weighted Bass Drum Pillow aims to offer a one-stop solution for such problems.
For starters, the pillow is (as the name suggests) weighted, so it won't shift around mid-gig. This is further reinforced by the non-skid, rubberised fabric found on the bottom of the pillow, meaning it stays exactly in place without the need for fiddling around with velcro or fasteners.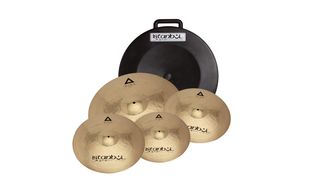 Istanbul Xist Power Cymbals
I have the power! That's something you might scream at the top of your lungs in He-Man style if you got your hands on a set of these new cymbals from Istanbul this Yuletide.
And with good reason: these additions to the Xist line are as muscular as their moniker suggests. The range is also extensive, taking in splashes, crashes, rides and hi-hats.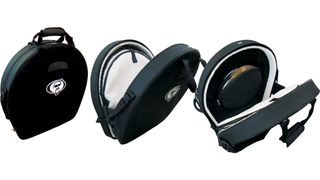 Protection Racket Deluxe Rigid Cymbal Vault
If you have particularly deep pockets, here's something that every drummer would love to find beneath the tree.
Protection Racket is one of the biggest Brit drumming success stories of the last decade (and thanks to the rise and rise of UK custom builders we've had plenty of triumphs on these shores). The key to the company's success can be seen in its new and improved Deluxe Rigid Cymbal Vault.
Your precious metals will be in safe hands here, as this thing is just about impenetrable thanks to its fleece and rocket foam lining, fibreglass internal compartments and resilient yet lightweight polycarbonate frame.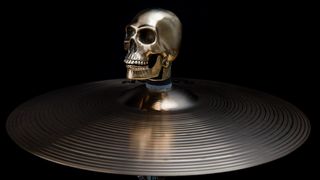 Silver Luthier Skull Cymbal Topper
How's this for a stylish stocking filler?!
We've seen the wares of Silver Luthier previously, but this latest version of the company's eye-catching cymbal topper is well worth revisiting. Sculpted from solid bronze and just a shade larger than a tennis ball, these toppers fit on standard cymbal stands and look the absolute business.The jaw can be adjusted to be closed, open or removed, if you so wish.
These look pretty intimidating; we're not sure any drummer would dare to try and pinch any of your felts with one of these beasts sitting atop your cymbals.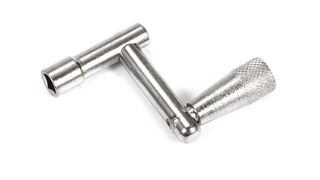 Drum Tuning Speed Key
We are now entering stocking filler territory. Yes, drum tuning may not be the sexiest of topics, but us drummers always need a trusty key to hand.
The Speed Key is not just trusty; it is also (as its name suggests) darn speedy. It slots onto your tuning rods as normal, but the pivoting handle provides additional leverage and increases the torque so you can tighten or loosen a head much quicker.
With your heads tuned in record time, you'll be free to focus on the important task of letting rip on your drums.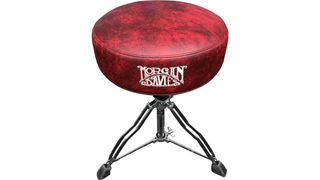 Morgan Davies Thrones
You can spend as much cash as you like on drums, cymbals and whatnot, but if you don't have a comfortable throne you're not going to have a whole heap of fun behind the kit.
Sussex drum builder Morgan Davies is applying its first-rate craftsmanship to a new range of thrones. Each one is built and upholstered by hand at the company's Brighton workshop and combines durable fabrics with a multi-layer foam core, all mounted on a solid 18mm birch ply base - the ideal combination of support, comfort and luxury for your derriere.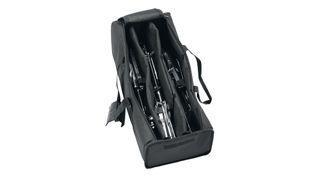 DW 6000 Ultralight Hardware
Anything that makes carting our gear around a little less painful is just fine with us, and that is one of the many benefits of DW's new hardware range.
The Ultralight series is inspired by the hardware of the '50s and '60s and their aluminium flush base design. It's also feature packed, including the Glide Tilter for pinpoint snare and cymbal stand angle adjustment. The sleek snare basket continues the retro look.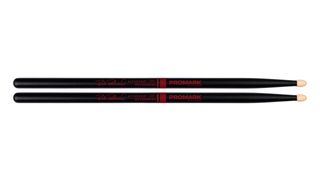 Promark Active Grip sticks
Ah, drum sticks: the classic Christmas gift for a drummer. But these are a little different.
Thankfully, those innovators at Promark have been at it again. It wowed us with the Glenn Kotche-approved Active Wave sticks, and now it has rolled out the head-activated grip technology of those sticks to a selection of its current range.
For those not in the know, the ActiveGrip becomes tackier as a player's hands sweat, ensuring the sticks won't fly out of your hands during a gig. This technology can now be found in Promark's Mike Portnoy and Rich Redmond signature models as well as the Select Balance acorn tips.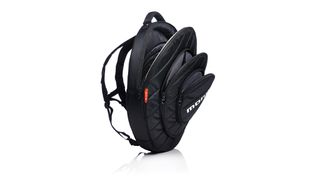 Mono Drum Cases
A new name on these shores, Mono offers high-end protection for your gear. Not only that, but these cases do it style thanks to their lush looks.
The M80 Cymbal Case, for example, is billed as being "equal parts performance, protection, comfort and style". The company says its cases are made to be super durable but also airport friendly. The range also includes bags and cases for your snare, pedals and sticks. Plus, there's the FlyBy Pack, which can house your laptop and nick nacks.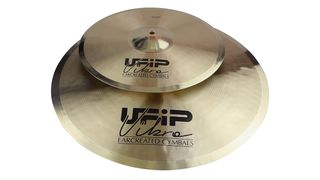 UFiP Vibra cymbals
We have been wowed by UFiP's wares a hell of a lot in recent years. What's more, the company's linking up with UK distributor Music Shipping has made finding its cymbals easier than ever.
The latest range out of the Italian company's stable is the Vibra line. These B20 bronze metals use UFiP's Rotocast method and a special hand hammering process. The result is explosive crashes, controlled rides with supreme stick definition, and dynamic hi-hats that are packed full of power.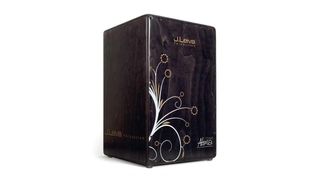 J Leiva Alma Classe Cajon
Who wouldn't want a cajon for Christmas?!
This J Leiva cajon cajon is an absolute beaut as well. With the all-new and improved Alma Classe, the percussion powerhouse claims to have bettered its predecessor (the limited edition Classe) by 200%.
While we're not quite sure how such a calculation was arrived at, what we can report is that things are looking awfully bright for this Russian birch cajon. It is described as a war house by Leiva, and produces a forceful and bright top-end alongside powerful low-frequency bass. It comes in at 48 x 30 x 32cm.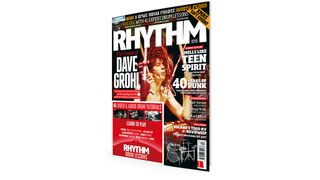 Rhythm magazine subscription
Ah, the ultimate Christmas gift. What better gift to give to a drummer than a subscription to Rhythm magazine?
Your favourite percussive periodical has been going for well over 30 years now, so they know their drumming onions. Whether you prefer a print copy to read between rehearsals or sat on the loo, or you fancy loading up your tablet or smartphone with the interactive digital editions, there's a subscription package to suit you.