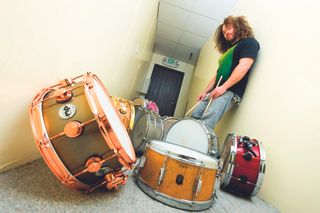 Dave Elitch
The results are in! The Rhythm best of drums 2014 polls received more than 34,000 votes, and we're now ready to roll out the winners. The nominees were what we considered to be the drummers and gear that have excelled in 2014. First up, then, the 10 best metal drummers of 2014, starting with Dave Elitch.
2014: highlight: Not only did Dave release an album alongside members of Mastodon, Soulfly and Dillinger Escape Plan as Killer Be Killed this year, but he also found the time to dep for Miley Cyrus' drummer and hit the road with Antemasque, featuring Omar and Cedric from The Mars Volta. Phew!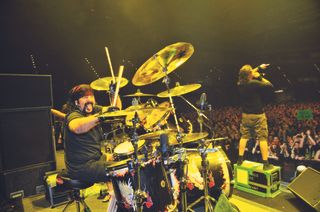 Vinnie Paul
2014 highlight: A new Hellyeah album was forthcoming from Vinnie and Co, but the rumours we hear of a Pantera reunion edging ever closer are what's keeping us on the edge of our seats. Come on Vinnie, get your groove on!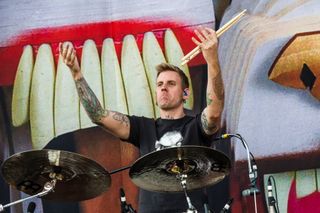 Brann Dailor
2014 highlight: One of the year's biggest metal releases was Mastodon's Once More Round The Sun, featuring Brann's unmissable beats as well as some accomplished singing to boot.
Brann is also on the latest cover of Rhythm Magazine, sharing his insider secrets on surviving behind the kit and on the road with Mastodon.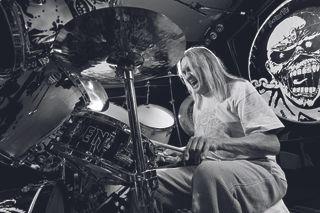 Nicko McBrain
2014 highlight: Is there ever a quiet year for Nicko and his Iron Maiden brothers? Their headline slot at Sonisphere UK, including an aerial dogfight, was a pretty special moment on the heavy metal calendar.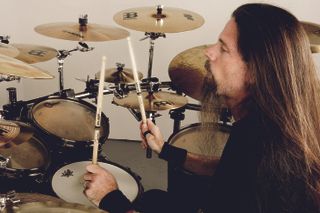 Chris Adler
2014 highlight: After a particularly harrowing 2012 and 2013 (singer Randy Blythe endured a prison stay and lengthy legal proceedings over an incident involving a fan), the band have stayed relatively quiet on the live circuit this year, but they've been hard at work on a new album. Expect anger, aggression and release when it drops next year.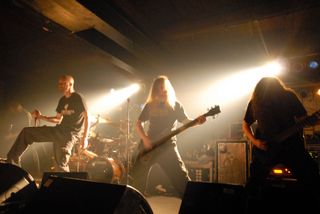 Tomas Haake
2014 highlight: Can you believe it's been 25 years since the progressive metal sluggers formed? 2014 has been a year of celebration, with Haake driving everything from the back as usual.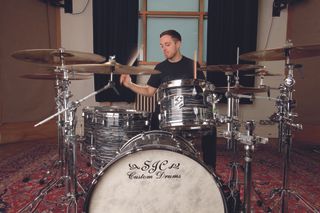 Dan Searle
2014 highlight: A high position for this relative newcomer but thoroughly deserved. Whether it's his enviable technique or his performance on the Brit band's landmark album Lost Forever//Lost Together, Dan in one of metal's great hopes who will surely take the genre forward and inspire countless new players.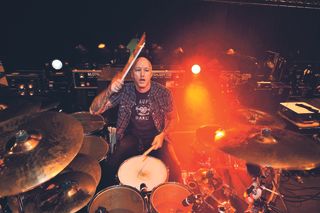 Dave McClain
2014 highlight: They may be elder statesmen of the scene, but that doesn't mean they can't play and tour hard. New album Bloodstone and Diamonds is the sound of a band with aggression in spades and it features some of McClain's best playing to date.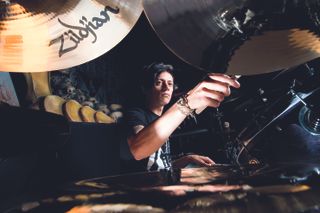 Arin Iljay
2014 highlight: The Rev's drum throne was always going to be a tough spot to fill, but Arin is proving himself show after show, including a triumphant headline slot at Download 2014.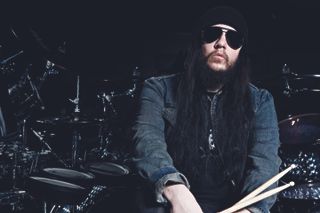 Joey Jordison
While Slipknot have spent the 12 months since parting company with their drummer getting back to work, it's clear that Joey's drumming legacy stretches far beyond the confines of that band, and this award shows his loyal fanbase has not left his side. He may have been quiet of late, but we can't wait to see and hear what he's cooking up next.
Each month Rhythm Magazine features exclusive interviews with the world's greatest drummers - just like the ones listed in this poll - alongside the very best video drum tuition, practical tips and tricks and expert gear reviews, all designed to make you a better, more versatile player.
Rhythm is available in print and digitally (or as a handy bundle combining both). Check out the latest amazing Rhythm subscription deals where you can save up to 59%.