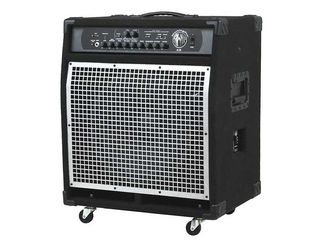 SWR WorkingPro 15 Combo
For a long time bass amplification was notoriously expensive compared to the guitar equivalent but these days, thanks to huge developments in bottom end technology and design you can buy good bass gear for less than an arm and a leg. Compiled from your votes and nominations from our expert panel, Ask MusicRadar has produced a top ten roundup of what we consider to be 'pro quality' gear that retails at less than a grand.
To be considered as pro quality each head, cabinet or combo needs to be capable of producing a good level of undistorted volume, have good tonal abilities to cope with different makes of bass and preferably feature an onboard DI or line out socket to link to a PA system. This facility allows backline amplification to handle much bigger gigs than the stand-alone unit can cope with.
Thanks to everyone who contributed suggestions for this roundup. Kicking things off is a chunky little combo with plenty of punch...

SWR made a huge impact on the bass scene when they unveiled their Red Head Combo back in 1988. Today their WorkingPro range offers good quality amplification that comes in at a more pocket friendly price.
The preamp section employs a rotary EQ, Aural Enhancer and Bass Intensifier circuit and offers plenty of warmth at the lower end but with enough punch to get across in the mix. As the name suggests it features a versatile 15-inch driver as well as an adjustable tweeter so although it's one of the less powerful units here it will still get you noticed. It also has a curious front leg that flips out to provide tilt-back presentation.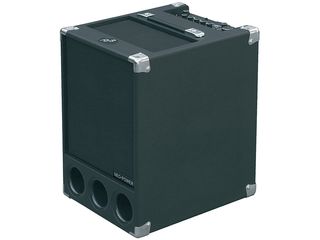 Phil Jones Bass BG300 Super Flightcase Combo
With Phil Jones bass combos size definitely matters as their main aim in life seems to be to produce pro-quality sounds and delivery from the smallest units possible. And they manage to achieve their goals magnificently with several ultra portable models of various overall dimensions.
This is one of the less small however and contains six of the remarkable PJB NeoPower five-inch drivers that cope with the bottom end excesses of bass incredibly well. Single channel with five-band EQ and an impressive flat frequency response, the main idea being to allow the natural tone of your bass to be retained then gently enhanced to perfection and indeed it works a treat.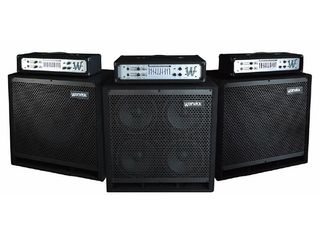 Warwick Mini Stack
Comprising:
Warwick WA300S Head with sleeve - 300 Watts - £450
Warwick WCA 410 Cabinet (with wheels) - 400 watts - £391
This is a brand new bass head from Warwick with standard rackmount dimensions. You can buy it without the sleeve casing and save £100 but we think this is far better for transporting. It has active and passive inputs, a comprehensive 10-band graphic equaliser and adjustable compressors so there's plenty on offer.
The 410 reflex cabinet is also available without wheels but the saving is minimal compared to the advantage of movement here. Warwick amps always seem very powerful and tend to sound much bigger and louder than you'd expect. As with any mini stack you can always add an extra cabinet later but remember to use the correct impedance.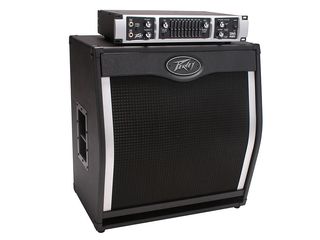 Peavey Tour Full Stack
Comprising:
Peavey Tour 450 Head - 450watts - £457
Peavey 410TVX Cabinet - 350 watts - £ 351
Peavey 115TVX Cabinet - 200 watts - £177
Peavey has a long reputation of being solidly built and reliable. To realise the full potential of this head you will need both cabinets but even as a stack it still comes in on budget.
The head is powerful and sophisticated with a 9-band graphic EQ, shelving controls and for a bit of luxury it boasts an analogue octave synth/divider, and that seems a lot for the money. It's compact too being of standard rack-mount proportions which helps compensate for having three items to carry. Of course for smaller gigs you could just opt for one cabinet so this offers the ultimate in versatility.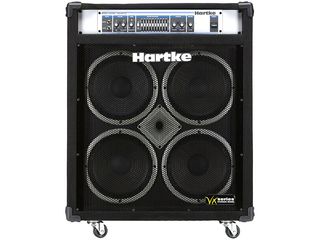 Hartke VX3500 Combo
Hartke bass gear has always had a very definitive sound particularly when their cabinets are loaded with their iconic aluminium coned speakers that give a distinctive bark that many players love. Here however the four 10-inch drivers have traditional paper cones so it's a high frequency compression driver that allows the amp section to deliver some of that expected 'snap'.
The amp section offers both tube and solid state preamps and as Hartke are never ones to leave anything out, the control panel boasts a 10 band graphic EQ, bass, treble and contour controls plus variable compression. With all this to hand tonal variation is plentiful and there's headroom to spare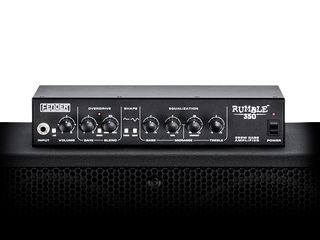 Fender Rumble Mini Stack
Comprising:
Fender Rumble 350 Head - 350 watts - £383
Fender 410 Rumble Cabinet - 1000 watts - £323
Fender Rumble bass gear slipped off the dial for while but they are definitely back now and better than ever. Relatively small, logical and effective the Rumble amp head offers a four-band rotary EQ, two Preshape tonal patterns and built in switchable overdrive.
The 4x10 cabinet is rated at a cool 1000 watts so is more than capable of handling whatever demands you put on the amplifier. Together they provide serious low frequency response whilst clarity is maintained throughout the full tonal range by a switchable tweeter. The pairing also includes a curious magnetic system that holds the head in place. Radical!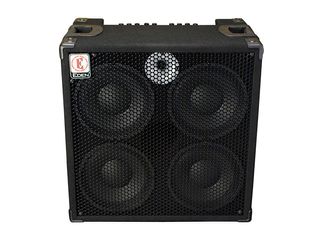 Eden E410C Combo
Eden has an awesome pedigree in the bass market. They have a very definitive sound but it's full ranged so adaptable for all styles of playing. Although sometimes criticised for their complicated control panels, thankfully here you do get ease of use added to stunning sound quality from the four Eden designed 10-inch speakers plus a T2004 Titanium diaphragm tweeter to add some extra snap, clarity and sparkle.
With switchable automatic compression, semi-parametric tone and effects loop this is a very versatile unit that delivers great bottom end and is man enough to handle a variety of gigs and at 62 lbs gross weight it's easy enough to transport.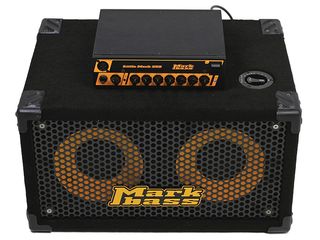 Mark Bass Mini Stack
Comprising:
Little Mark 250 - 250 watts - £413
Mark Bass Traveller 102P Cabinet - 400 watts - £554
Compared to some Mark Bass are relatively new kids on the block but boy they've certainly made an impact! We could have gone for a combo here but this mini stack is particularly good at what it does.
The small sized head is well equipped with four rotary tone controls, Preshape sounds, Vintage Loudspeaker Emulator, effects loop and balanced DI. The cabinet claims to be the 'smallest and lightest 2x10 on the market' and it is indeed compact but at 400 watts handling proves man enough to handle this capable head. Size wise this could even be considered as a micro stack, but with remarkable bottom end handling it's definitely big on full range sound and delivery.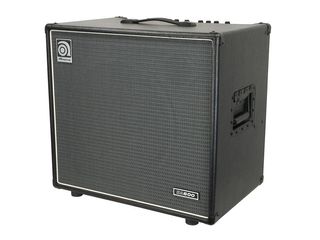 Ampeg BA600/115 Combo
Ampeg are another huge name in bass amplification and even when they are concentrating on this level of portability they don't cut corners with their sound.
The single 15-inch driver and an HF horn, for improved clarity and definition, ensure that sound will be well projected and with a valve included in the preamp along with three-band EQ, Style control plus Ultra-High/Low switches there's plenty of tonal manipulation at hand.
The BA600 also offers an effects loop and a variable compressor and with its retro styling is a fine part of their huge range of back line products. They class it as semi-pro gear but we beg to differ so believe us when we say this is well worthy of inclusion here.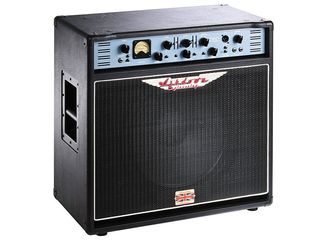 Ashdown EVO III Combo
There are a few Ashdown combos and stacks that would fit the bill here and indeed their 2x10-inch version of this is exactly the same price but we have plumped for the 1x15 format due to that accepted all-round versatility and quality.
It's a British company of course so you tend to get more for your money and 575 watts says you do! The footswitchable EQ has three main controls but with two pairs of additional sliders for some fine tonal tuning.
The standard Ashdown amp section features a retro-style meter and the magic sub-harmonic octave generator. With the addition of an effects loop, DI and tuned birch-ply cabinet this combo offers great value and is a tough act to follow. A more than worthy winner!
Connect with MusicRadar: via Twitter, Facebook and YouTube
Get MusicRadar straight to your inbox: Sign up for the free weekly newsletter