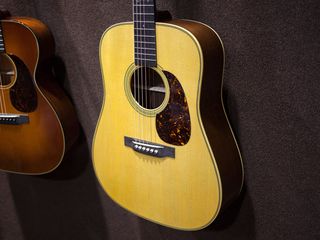 Martin D-28 Authentic 1937
Taking inspiration from perhaps the most prized of all 'Golden Age' D-28s, the latest Martin Authentic Series guitar features forward-shifted scalloped bracing, hide glue, Adirondack spruce top and Madagascar rosewood back and sides.
With a wider 1.75-inch nut to boot, it's designed to be as close as possible to an original '37 D-28, albeit not with Brazilian rosewood, of course – it's next to impossible to use that wood any more. A cool £5,699 will secure you one.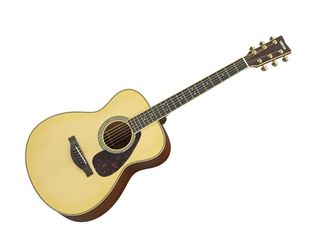 Yamaha L Series
Yamaha's L Series is the company's high-quality, traditionally-styled range of non-cutaway guitars in three body styles, LL (dreadnought), LS (grand auditorium/folk) and LJ (jumbo).
For 2014 the range has been updated with new bracing and ARE-treated, solid Engelmann spruce tops. The acronym stands for Acoustic Resonance Enhancement and is essentially 'pre-ageing', giving what Yamaha describes as a 'rich, vintage quality tone straight from the factory.'
The modified bracing is said to enhance low end. In addition, the new L Series instruments have a new, passive, SRT 'Zero Impact' pickup (Zero Impact refers to visual impact) and a new 'high comfort traditional' neck shape.
Guitars come in either spruce/rosewood or spruce/mahogany combinations: a 6 suffix means laminate back and sides; 16 means all solid; D means deluxe trim.
Pricing starts at £465 for the LL6M and LS6M, up to £872 for the top-of-the-line LL16D.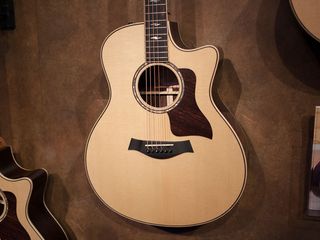 Taylor 814ce
Taylor has made significant updates to its flagship rosewood/spruce guitar range, the 800 Series, a project lead by the company's Andy Powers.
The updates are to all models and variants: dreadnought (10), Grand Concert (12), Grand Auditorium (14), Grand Symphony (16) and Grand Orchestra (18).
Changes to the 800 Series for 2014 include redesigned bracing and wood thicknesses (specific to each individual model), the use of protein glues for braces and bridge, thinner finishes and the all-new Expression System 2 electronics. The model shown is the 814ce (£2,658).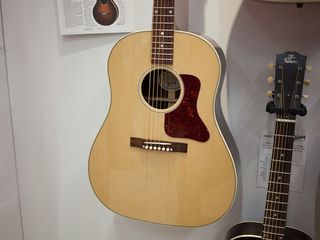 Gibson J-29 Rosewood
Rumours abound as to why it's called the J-29 ('one better than 28' was the best we heard), but following the mahogany body J-35's success in 2013, Gibson has introduced a rosewood body slope-shoulder dreadnought called, yes, the J-29 (£1,599).
Underneath the solid Sitka spruce top is Advanced, '30s style scalloped bracing for what Gibson is calling a warm and balanced tone.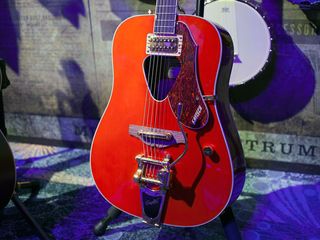 Grestch G5034TFT Rancher
You know that dream you have, the one where somebody fits a Bigsby to your acoustic?
Well for the princely sum of £706.80 that dream can become a reality, complete with neck position Fideli'Tron humbucking pickup. It's so silly it's brilliant, proved beyond doubt by the legion pickers queuing up to play it.
It's heavily braced, so don't go expecting acoustic miracles, but plug it in and this is one serious twang machine. Don't won't the wobble bar? The G5031FT (£526.80) is for you.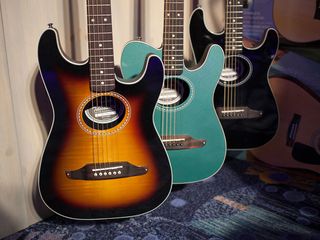 Fender Stratacoustic & Telecoustic
Fender's decision to update its hybrid Stratacoustic and Telecoustic series surprised us all, but done so it has in three spec levels: Standard (both black, £tbc); Plus (Inca silver Strat, Sherwood green Tele, £394.80) and Premier (both sunburst with laminated flamed maple veneer, £394.80).
The simple electric/acoustic concept has been bubbling around Fender for many years and actually makes a great deal of sense for anyone after a true jack-of-all-trades guitar for home and practise.
All models have a Fishman Isys III pickup/preamp system, while Plus and Premier models also get a useful mini USB output – a feature we're seeing more and more this year.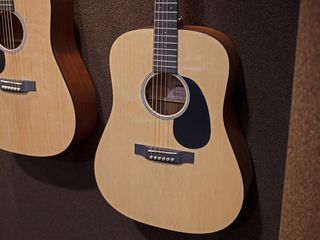 Martin DRSGT
Following the success of the recent DRS1 and DRS2 models, Martin's latest, all solid-wood Road Series guitar is the first DRS model to have a gloss top and indeed a USB output for its onboard Fishman Sonitone electronics system.
£949, it features a solid Sitka spruce top, with solid sapele back and sides. F1 enthusiasts can insert their own overtaking zone gag here.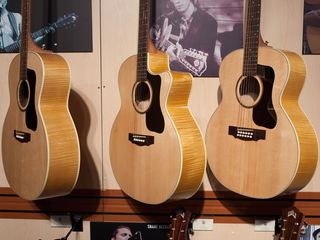 Guild Arcos Maple Jumbo Series
Guild's Mexican-made Arcos Series has new jumbo model additions.
They have solid Sitka spruce tops, laminated flamed maple back and sides, all with Fishman Presys electronics. The lovely looking maple veneers belie decent prices; the AF-50E Jumbo is £910.80; the AF-50CE cutaway version £958.80 and the AF-4212E 12-string is £1,030.80.
There's even a four-string bass version at £910.80.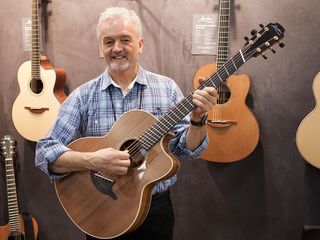 George Lowden 40th Anniversary
The much–loved Northern Irish guitar maker is celebrating 40 years of building instruments with a unique 40th Anniversary upgrade option on any guitar in the Lowden range for 2014.
The upgrade includes a specially designed label, inlay and a serial number-specific souvenir photographic record book of the guitar being made. The cost of the upgrade is £885.
We were also charmed by the delightful, small-body Wee Lowden (£2,775) featuring a solid cedar top over solid rosewood back and sides, and a scale length of 610mm.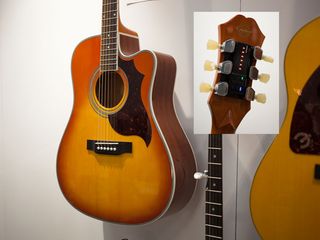 Epiphone FT-350SCE Min-ETune
We've seen the prototypes before, but now it's here! This is the first acoustic guitar to feature Gibson's Min-ETune self-tuning system.
We are knocked out with how well the system works on Gibson electric guitars, so here's hoping this cost-effective dreadnought cutaway – available in natural, black, red and sunburst – will herald the beginning of the end of those dreadful 'I-can't-tune-my-guitar-for-toffee' singer-songwriter nights, happening all over the world, right now.
£449 gets you solid-spruce-topped, good playing, good sounding electro that can actually tune itself: bargain.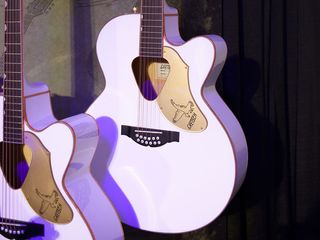 Grestch G5022CWFE-12 Rancher
Endless letters be damned: we're going to call it the White Falcon 12-String Acoustic, for that is exactly what this is, and destined to be jolly popular as a result.
£598.80 seems very reasonable for a solid spruce top over laminated maple back and sides. Gloss poly finish, loads of gold bits – hands up who doesn't want one?!