Robbie Gladwell signature guitar announced
JHS have just let the cat out of the bag concerning the brand spankin' new Robbie Gladwell AV6PRG Signature Vintage Advance

"The Vintage AV6PRG has been made to my particular specifications and features P90-style pickups that can be 'tuned' to give the classic single coil sound of the 60's via the 2nd tone control," says the good Doctor. "The bridge P90 pickup is slanted to further enhance the classic tone of this guitar and give brighter, more faithful, single coil characteristics. I decided to have a tight grain dark rosewood fingerboard fitted on to a slim maple neck for sustain, playability and enhanced harmonics.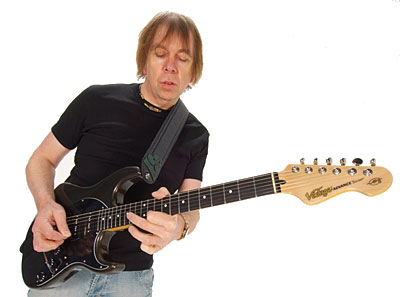 "The two piece, centre-jointed American alder body is finished in a classy Metallic Grey and the revealed scratchplate and pickups are in a complementary black. With this combination of pickups and body materials, you can achieve tones ranging from Hendrix and Stevie Ray to Slayer and Metallica! The flexible circuitry even allows you to produce warm jazz tones too.

"Pickups and hardware are designed by Trev Wilkinson to a very high standard and give me the sound and reliability that I expect and demand as a professional player. All this, plus the guitar is available at a price that is also affordable to the amateur musician."

The price? £329 to you! More info from JHS...here